Admissions for Undergraduates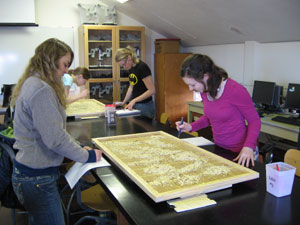 Wildlife Management Techniques Students
Admissions Basics
Any student who is admitted to Montana State University may choose to earn their degree in the Department of Ecology. There are no additional department requirements to begin your program of study for our major in Biological Sciences.
Entering Freshmen
Students who have not completed a full semester or quarter at a college or university are generally considered to be entering freshmen.
Freshmen entering in the Fall Semester are invited to attend one of several MSU Freshmen Orientation/Registration Sessions before their first semester in attendance. There are several three day sessions offered during June and July. The final Freshmen Orientation/Registration Session for each semester is scheduled close to the start of the semester. The details about these sessions is provided by the Office of Admissions when you accept your admission to MSU.
During these sessions you will meet with university and department leaders about choosing courses for your first year in the program and register online for the specific sections. When you begin attending classes, you will be assigned a specific faculty advisor from the department who will be available to meet with you until you have completed your program of study.
It is not unusual for freshmen to transfer AP credits into their program of study in the department. In addition, specific scores on an ACT or SAT test may qualify you for an exemption from a specific English or Math course or to substitute one at a more advanced level. Please check with the Office of Admissions.
Transfer Students
When you accept admission to MSU as a transfer student, you will be given a choice for preparing to register for classes. The university offers a session for transfer student advising shortly before the start of each semester which may be convenient for you to attend. Some transfer students prefer to meet with an advisor in our department some time during the registration period for continuing students. You are requested to contact us to set up an appointment. After the scheduled advising session, individual or group, you are given a verification of advising form to take to the Office of the Registrar and so that you may receive your on line advising PIN (personal identification number which is different than your student number.)
Transfer students frequently ask whether all of their credits will "transfer." Yes, all credits from an accredited college or university are accepted by MSU and the department. The grades from transferred courses will not be included in your cumulative GPA, but all credits will count toward the total credits earned.
The more important question is whether all of the transferred credits will be equivalent to a specific course that the department or university requires for graduation. This answer is not a simple, "yes" or "no." Some courses transferred into your program will be evaluated as equivalent to a specific and/or required course. Other courses you have completed may be evaluated as an "elective" course. Elective courses will not necessarily fit into our department's required program of study. Some examples: An equivalent designated course in business management will not meet any department requirement for graduation with a degree in Biological Sciences though it may count toward the university requirements. An elective designated course in biology designated "ELEC 200" will need to be reviewed by your assigned faculty advisor to determine how it may or may not fit into the program of study for your chosen option.
Students who have completed an Associates of Arts or Science degree from a Montana college before admission have the advantage of having met all of the university CORE requirements when they are admitted.
Second Degree or Second Major or Second Option before Graduation
Some students who have begun the department program of study in their chosen option may desire enough additional coursework for their interests and career goals that a second option, second major, or second degree could be considered. This should be discussed with your faculty advisor after you have arrived on campus. All of these are considered secondary and are not available as part of the admissions process and should be declared before the beginning of your junior year. Undergraduate fees and tution remain the same when the secondary program is completed before the primary degree is issued.
Post Baccalaureate
Students entering our program who have already received a bachelor's degree in any major are considered to be post baccalaureate students. In order to graduate with an additional Bachelor of Science degree from the ecology department, you must meet all department course requirements. In addition, the university requirements are that a minimum of 30 additional credit hours beyond the first degree are completed, that twenty-three of the last thirty credits are earned at MSU, and that at least nine of the additional credits are upper division.
Tuition is charged at a higher rate to students who have already received an undergrade degree. Financial Aid is rare for a second degree student.
View the Undergraduate Faculty Advisors in the Ecology Department.
Please Consult the Montana State University Undergraduate Catalog for the most current information about general admissions, departmental and University curricular and graduation requirements, including CORE 2.0, and tuition and fees.