Ecology Graduate Admissions Information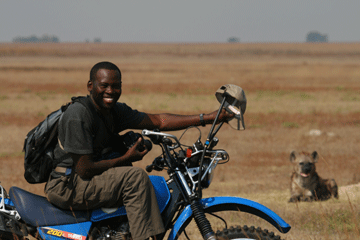 Graduate Degrees
The Department of Ecology does not offer online degrees at this time.
Application Process
The Department of Ecology admits a limited number of students into its graduate programs each year. Ecology faculty advise an average of four graduate students per tenure track faculty member, with its graduate students comprising 12 percent of all graduate students in the College of Letters and Science. Potential students must meet minimum requirements based on their academic performance, graduate record examination (GRE) scores, recommendation letters, relevant experience, and potential for scientific and professional excellence. Qualified students must secure a position with a faculty member who agrees to serve as their graduate advisor for their degree. Generally, faculty will identify a research project and possible sources of funding, advertise the position in their chosen venue, and review requested application materials. Once chosen, faculty invite applicants to apply to The Graduate School at MSU, and students must indicate the name of their faculty advisor on the Graduate School application. We do not accept applications for the program unless a faculty advisor has first agreed to supervise the student.
How to Surpass the Competition
There is an excellent article written by Dr. Al Zale, Director of the Fishery Cooperative Research Unit, "How to Surpass the Competition," which you may find helpful as you prepare for admission to a graduate program.
Required Qualifications
In addition to identifying a major professor who has agreed to serve as advisor, an applicant must fulfill the following four qualifications in order to be eligible to apply to an Ecology degree program through the MSU Graduate School's online application. In exceptional cases, at the request of the applicant's identified advisor, the Department Head may waive one of the qualifications.
A composite of the applicant's 3 letters of recommendation must indicate the student has good prospects of success in graduate school.
The applicant should have at least the equivalent of three-fourths of the science courses required in the undergraduate curriculum at Montana State University in the option chosen for graduate study.
Official Graduate Record Examination (GRE) General Test scores must be submitted at the time the student submits the full application to the Department of Ecology. The sum of the verbal and quantitative scores should be at least 1100 for GRE scores before July, 2011 and a minimum of 300 for the current GRE tests. (For information regarding the GRE, check out their website at: http://www.gre.org/) Generally the scores should not be more than five years old but exceptions can been made.
The applicant should have maintained the following minimal undergraduate grade-point averages: 3.0 average in all biology courses; 3.0 average in all courses taken during the junior and senior years; and 2.5 average in all chemistry, physics and mathematics courses.

MSU requires applicants from countries where English is a second language to present evidence (

TOEFL

: 80-internet-based [iBT] or 550-PBT,

IELTS

: 6.5, or

PTE Academic

: 54) of proficiency in the use of the English language.
Once the online application has been accepted at a departmental level, it will be sent on to the Graduate School where the Graduate Dean will give final approval.
International students have some additional qualifications to meet for approval from the Division of Graduate Education. See International Application Process page for information in The Graduate School Policies. The Office of International Programs can provide assistance to international applicants.
Department Application Deadlines
Admissions can be approved at any time during any semester though it is recommended to apply a full semester in advance for timely admission. The application process for acceptance into a degree program in the Department of Ecology begins with contacting and solidifying a faculty advisor to work with you. See "Application Process" above for more information.
The interested faculty member should be the one to request that you complete a formal application with the Graduate School for the admissions decision. The formal online application includes the completed full application form, official transcript(s), official GRE test results, three letters of recommendation, resume or CV, and a personal statement. You will receive all of the details of the final procedures at the time you are invited to submit the formal application. You will be able to track the progress of your application online.
Applications are accepted and evaluated year round, though many students begin studies in the fall semester. To be admitted for a specific term, the formal application must be completed by the dates below.
Domestic Degree Seeking Applications

Fall Semester
July 8
Spring Semester
November 24
Summer Semester
March 25
International Degree Seeking Applications

Fall Semester
May 8
Spring Semester
October 15
Summer Semester
January 25


To be considered for teaching assistantships for the following fall semester, all application materials must be received by March 1st.
Assistantships
Most graduate students in the program are supported on Graduate Research Assistantships (GRAs) provided by their major professor from grant funds. GRAs are research project-specific and are awarded by individual faculty as funds are available. GRA stipends vary between positions, and some fee waivers and health insurance may be available depending upon funding sources. A limited number of Graduate Teaching Assistantships (GTAs) are chosen during the semester before the academic semester of the assistantship, and reflect teaching needs and financial assistance needs. GTAs receive tuition waivers and a monthly stipend. Part of this amount may be used for medical insurance which is not provided directly by the department. Many GTAs receive funding as GRAs concurrently. Details of graduate school expenses are available in the MSU fee schedule as provided in the Graduate Catalog. In addition to assistantships, the Ecology Department announces a small number of scholarships each fall semester, and announces other funding opportunities as they become available throughout the year.
I'm Ready to Apply
Do you meet the qualifications required for eligibility to apply to a degree program in Ecology? Visit the Graduate School website for more information on the online application process. If you're unsure if you're eligible to apply, read the above information on application process and required qualifications.
Graduate School Policies and Procedures
If you have questions about your degree requirements, please contact the Academic Coordinator in the Department of Ecology. For more information on Graduate School Policies and Procedures, visit the Graduate School website.