2013 was a big year for the Mountain Ungulate Project. A team of surveyors completed the third year of data collection. You may view the season summary for the project. You'll even find some mountain research camp recipes to try.
Wild World by Sepp Jannotta, published in the Fall volume of the MSU publication Mountains and Minds features our Ecology department research partnership. This article details how the lessons learned from Yellowstone research are helping to preserve one of the world's most ecologically intact wildernesses, the Liuwa Plain in Zambia. A slide show on the site, narrated by Dr. Scott Creel, Professor, will help you to picture this wild world. Enjoy!
Graduate Students Ryan Lamb (Dr. Billie Kerans) and Matt Dresser (Dr. Jay Rotella) coordinated student volunteers to come to the Belgrade Middle School Ecology Field Trip on October 4, 2013. Laura Heil (Dr. Laura Burkle) and Cody Deane (Dr. Jay Rotella) were amoung those who spent about half a day with these 7th grade science students. The teachers and students were enthusiastic in their appreciation. We commend our students for this commitment in the community.
"A Critical Crossroad for BLM's Wild Horse Program" appears in the August 23, 2013, issue of Science. This article is co-authored by Dr. Robert Garrott, Director of the Fish and Wildlife Ecology and Management Program in the department. The authors present "A Way Forward" in dealing with an extremely controversial subject. Please share!
The Bozeman Chronicle featured "New Jack Creek outdoor classsroom to inspire students, assist MSU" to acknowledge of the grand opening of the Jack Creek Preserve Outdoor Education Center. The online article includes interviews with the Jon Fossel, Jack Creek Preserve Foundation founder, and Professor Robert Garrott, MSU member of the foundation board, and photos highlighting the facilities which were dedicated Saturday, August 10, 2013. This is the culmination of a huge effort on Bob's part and represents a great opportunity for students in the department and the university more generally. As the representative of he department and the Fish and Wildlife Ecology and Management Program, students will have enhanced field opportunities in our courses and labs.
MSU News spotlighted the breakthrough research on how bears use highway crossings. Coinciding with the Society of Conservation Biology's biennial international conference, the paper details what genetic testing on 10,000 hair samples showed about the demographic effect that the Banff crossings have on area bear populations. Congratulations to Thomas Clevenger, Professor Steven Kalinowski, Department of Ecology, and Michael Sawaya, 2012 doctoral graduate from the department for this significant contribution of research.
Our recently retired department ecologist, Dr. Dan Gustafson, is featured in an article about the research collection that he is donating to MSU. You may read the story at http://www.montana.edu/news/12033/msu-ecologist-makes-largest-single-donation-to-montana-entomology-collection.
CHAR WARS, "a fight against invasive lake trout in Montana's national parks," is a feature article in the Spring 2013 issue of Mountains & Minds. The article highlights research in Glacier National Park and Yellowstone National Park being conducted by Dr. Christopher Guy(Department of Ecology, Montana Cooperative Fishery Research Unit) in cooperation with several state and federal natural resource agencies. The article also describes the importance of Montana State University's fisheries science program in addressing complex research questions. Research conducted by Dr. Thomas McMahon and investigations by former graduate students, Dr. Clint Muhlfeld and Dr. Peter Brown, have contributed to the understanding of lake trout ecology and their effects on native fishes. The fisheries science conducted at Montana State University, Department of Ecology assists natural resource agencies working on strategies in this battle between native and non-native fishes.
An international team of ecologists continue to study stream ecology in the Hengill region of Iceland. Participants from the MSU lab of Dr. Wyatt Cross include post doctoral researcher, Dr. James Hood, and degree candidates James Junker and Tanner Williamson. You can follow their progress this summer at http://icelandstreams.blogspot.com/.
The Department is proud of the recent recognition given to graduate student, Alex Anderson, and faculty members, Dr. Al Zale, and Dr. Bob Bramblett of the Montana Cooperative Fishery Research Unit. Alex's leadership in conservation in Belize well prepared him for his degree work. His current research will provide information necessary to keep his country's conch industry sustainable into the future. Please read the full fearute article by Evelyn Bo0swell, MSU News Service, "Strong ties between fly fishers lead to MSU, Belize collaboration."
Erin Kenison, M.S.graduate student with Dr. Andrea Litt, was awarded the Best Poster presentation by a Student at the annual meeting of the Western Division of the American Fisheries Society. Her posted featured "Where are long-toes salamanders found in a game of hide-and-seek with trout?" This meeting was held April 15-18, 2013, in Boise, ID. Erin received a Student Travel Grant from the College of Letters and Science at MSU to support her participation at the meeting. Congratulations, Erin!
The Awards Committee of the School of Natural Resources and the Environment, University of Arizona honors outstanding achievements of students, teachers and staff of the School around this time of the year. At the same time, the School also believes it is important to honor the accomplishments of our former students. This year, the Awards Committee presented the SNRE Outstanding Alumnus Award to Dr. Andrea Litt, based on nominations supported by several faculty. The award recognizes her achievements in teaching, service to the profession, and scholarship (including, but not only, your award-winning monograph) since graduation. This announcement was received from Istvan Molnar, PhD, Associate Professor and Associate Director Natural Products Center Office of Arid Lands Studies. You may want to review the the monograph, Interactive Effects of Fire and Nonnative Plants on Small Mammals in Grasslands.
Plant-Pollinator Interactions over 120 Years: Loss of Species, Co-Occurance and Function. The publication of this research by Dr. Laura Burkle in the newest issue of Science magazine is generating international interest in the decline of bumblebees and other wild bee species. Her interview with National Public Radio on March 1 emphasizes the valuable role of wild bees in the pollinating of crops. Burkle and her colleagues revisited an area around Carlinville, IL, to compare data provided by professor Charles Robertson 120 years ago with the current flower and bee interactions and populations. She is currently researching the effects of climate change on plant-pollinator interactions at sites in the Rocky Mountains in Montana. You may view additonal perspectives featuring her research at several sites:
MSU News, The Guardian, Science on NBC News, or The Bozeman Daily Chronicle. We are celebrating this achievement!
The Daily Planet Trending recently aired "Seal Swim" which was filmed by M.S. candidate, Jesse DeVoe, in the Antarctic during his research with Dr. Robert Garrott. You will learn more about Weddell seals from this segment that aired on November 15, 2013, Discovery Channel Canada through January 19, 2014.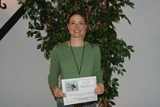 Angela Brennan
Brandi Skone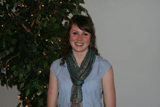 Erin Kenison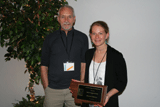 Wynn Freeman Scholarship
As in the past several years, MSU-Ecology students almost swept the awards at the annual conference of state chapter of The Wildlife Society. Angela Brennan (advisor, Dr. Scott Creel) won the best Ph.D. student presentation, and Brandi Skone (advisor, Dr. Jay Rotella) won the best M.S. student presentation, Brandi also won the Wynn Freeman Scholarship, and Erin Kenison (advisor, Dr. Andrea Litt) won a research grant to help support her thesis work. We had approximately 25 graduate and undergraduate students attend the meetings in Whitefish as well as Dr. Andrea Litt and Dr. Robert Garrott. Our undergraduates assisted at the registration desk and helped at various sessions manning computers and projection systems. They all participated in the quiz bowl and had a lot of fun. Professional connections were made, and students came away from the meetings excited about the profession and reinvigorated to tackle the rest of the academic year and gain some experience over the summer.
The Great Falls Tribune featured the research of Brian Tornabene in an extensive article titled "Scappy, Secretive Turtle Gives Up Secrets."Brian in earning the MS in Fish and Wildlife Management under Dr. Bob Bramblett and Dr. Al Zale. He is investigating the ecology of the spiny softshell turtle, the northernmost example of this species found in the USA. A follow-up editorial, "Speedy, spiny turtles turn heads," emphasized the value of this research.
Michael Simanonok, candidate for the MS in Biological Sciences inwith Dr. Laura Burkle, was selected by the Graduate School as a recipeint of a Meritorious Graduate Fellowship for the 2013-14 Academic Year to begin his PhD degree program. This fellowship is awarded for a truly outstanding academic record. Congratulations, Mike!
The Department of Ecology is collaborating with the Zambian Carnivore Programme (ZCP) and the Zambia Wildlife Authority (ZAWA) in an ambitious study of large carnivores in Zambia's huge but mostly unstudeid nationl parks. Details and photo at http://issuu.com/montanastateuniversity/docs/confluence2012, p. 31.
Senior Ryan McClure spent the summer conducting research on stream ecosystems in Iceland through the research experience for undergraduates (REU) program with Dr. Wyatt Cross and Dr. James Hood. Details and photo at http://issuu.com/montanastateuniversity/docs/confluence2012 p. 31.
The Mountain Ungulate Research Team recently completed a full season in the Greater Yellowstone Ecosystem. Led by Jesse DeVoe, graduate student of Dr. Robert Garrott, the team included technicians who graduated from MSU: Carson Butler, Marcus Hockett, Kaitlin Macdonald, and Jordan Meyer-Morey. The team produced a beautiful summary of their activities. Click here to experience the science and the adventure.
The department welcomed Assistant Professor, Dr. Jia Hu, on March 4 as our plant physiological ecologist working on climate change impacts. Dr. Hu comes from the University of Sydney where her research has been supported as The Australia Research Council, Discovery Early Careers Research Award Fellow. Her PhD was earned from the Department of Ecology and Evolutionary Biology at the University of Colorado, Boulder, under Dr. Russell Monson. She brings experience in teaching and developing undergraduate courses on both campuses.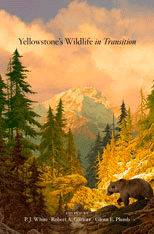 Yellowstone's Wildlife in Transition examines the changes to the Park's ecology in the past several decades. This readable and well illustrated book for ecologists and nature enthusiasts is edited by Professor, Robert Garrott, and wildlife biologists, P.J. White and Glenn Plumb, of the US National Park Service. Many of the chapters reflect research in collaboration with department faculty and affiliates: Matthew Becker, Thomas Oliff, Charles Schwartz, David McWethy, Wyatt Cross, Cathy Whitlock, Robert Gresswell, and Lisa Baril, in addition to the editors, White and Plumb. The forward by the distinquished Edward O. Wilson emphasizes the value of this book available through Harvard Univerisity Press. Professional photographer for the book, Cindy Goeddel, is earning her BS in Biological Sciences through the department. The Bozeman Chronicle features an interview with Dr. Garrott.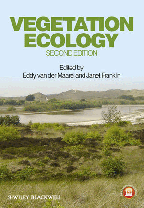 Dr. David Roberts
Dr. David Roberts, Chair and Professor in the Department of Ecology, collaborated with Dr. Robert Peet to write Chapter 2 in Vegetation Ecology, Second Edition, just published by Wiley-Blackwell. Vegetation Ecology is a comprehensive, integrated account of plant communities and their environments that was written by leading experts in their field from four continents. This new edition is aimed at advanced undergraduates, graduates and researchers and teachers in plant ecology, geography, forestry and nature conservation. Chapter 2 reviews the classification of natural and semi-natural vegetation. Dr. Roberts teaches several vegetation courses for the department.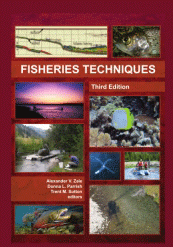 Dr. Al Zale
Dr. Al Zale, Director of the Montana Cooperative Fishery Research Unit in the Department of Ecology, is lead editor of the 3rd edition of Fisheries Techniques. This resource was published in December 2012 by the American Fisheries Society. It is the primary text and reference volume on fisheries sampling and analysis techniques. Dr. Zale has been at MSU since 1994, serving as Leader of the Montana Cooperative Fishery Research Unit since 2002. He works primarily on fisheries conservation, restoration, and management problems in close collaboration with the Montana Department of Fish, Wildlife & Parks, U.S. Department of Interior agencies, and various NGOs and teaches a graduate course entitled "Human Dimensions of Fish and Wildlife Management."