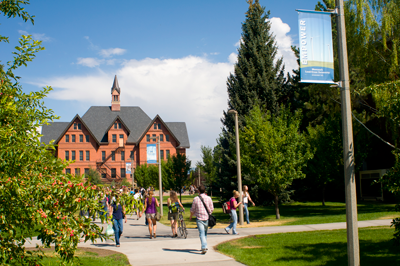 MSU is committed to shaping and supporting the educational experience of recent Montana high school graduates who want to play an active and deliberate role in advancing their futures. The MSU Hilleman Scholars Program is by invitation only. Hilleman Scholars should be eager to build something better for themselves and their communities through service to others.
Only Montana residents and 2017 high school graduates who have submitted an application for enrollment at MSU will be considered. Applications for the program are due no later than Friday, March 24th. Applications must be submitted online unless an alternative format is requested in advance from the MSU Hilleman Scholars Program at (406) 994-3434.
Invitations
Hilleman Scholar Program invitations are based upon:
Montana residency.
Graduation from a Montana high school in 2017.
Pell eligibility.
Selection
Hilleman Scholars Program selection is based upon:
Your academic, leadership, and career potential, as demonstrated in your essay and letter of reference.
Commitment to actively participate in the Summer Success Academy (tentative dates are July 17 - August 22, 2017).
Commitment to graduate from MSU in four years.
Commitment to fully comply with all Hilleman Scholars Program requirements (including adhering to the MSU Academic Success & Career Plan during all four years of enrollment).
Benefits
The program includes:
A Summer Success Academy, a month-long intensive math, writing, and critical thinking experience before you begin your first year. You will stay in the residence halls (with free room and board) and work with top faculty, mentors, and tutors to get a head start on college-level coursework while you get to know MSU, Bozeman, and your classmates. In exchange for your time and commitment, you'll receive a $2,000 stipend. You'll also receive college credit for your work (at no cost to you).

Scholars who receive a B average or better in the math and writing courses offered during the Summer Success Academy could qualify for an additional bonus of up to $2,000 to use toward educational expenses.
In order to become a Hilleman Scholar, you must attend, actively participate in, and complete the Summer Success Academy. Failure to satisfactorily complete the Summer Success Academy will result in the four-year scholarship offer being rescinded.

A four-year, $4,000 per year scholarship/stipend, disbursed monthly—total value: $16,000 (in addition to the Pell Grant).

Hilleman Scholars are required to graduate from MSU in four years. Therefore, the annual $4,000 scholarship award is contingent upon satisfactory academic progress (as determined by GPA and credits earned).
In order to earn the monthly scholarship/stipend payment, Hilleman Scholars are also required to participate in mentoring, learning development, internship, and community development activities for 10-15 hours per week during each of the four years of the scholarship.

$3,000 toward a Hilleman Scholar group study abroad experience at the end of your junior year (contingent upon satisfactory academic progress and exemplary program commitment during your first three years of college).