News from 2015-2016 Semester

Human rights attorney and award-winning filmmaker Kelly Matheson is dedicated to exposing human rights abuses through film, across the globe. As a filmmaker, attorney, and head of the Video as Evidence program under the international organization called WITNESS, Kelly Matheson teaches activists worldwide the filmmaking skills necessary to preserve their work as admissible evidence in courts of law. An Alumni of MSU's College of Film and Photography, Matheson has taken this knowledge to work on a wide range of human rights issues ranging from Ebola prevention to climate change to the trafficking of children and war crimes.

Author Irshad Manji is the Director of the Moral Courage Project, dedicated to equipping people with the ability to make decisions without compromising their integrity. Irshad Manji seeks to encourage and empower people of all faiths and backgrounds to stand up to abuse, even in the face of fear. Known for her best-selling books, including Allah, Liberty, and Love and Trouble with Islam Today, Manji's writing focuses on empowering individuals to question and make choices in the face of fear and adversity.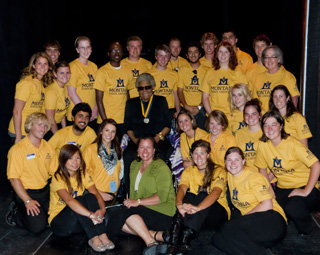 Maya Angelou with the Leadership Institute.
Founded in 1997 by the Associated Students of Montana State University to provide leadership opportunities and inspiration to students, the MSU Leadership Institute offers answers, resources, and connections for the future leaders of business, government, and education. Acting as a catalyst to the awakening of students' natural leadership skills, communication abilities, and creativity, the Institute empowers students to do more.
The Leadership Institute will lead Montana forward by generating further student involvement through increased leadership connections, trainings, film series, dynamic lunch discussions, and quality keynote speakers. Students will be constantly challenged to think deeper about their current leadership roles and their future impact. By leveraging powerful ideas into action, the Leadership Institute provides an environment for growing student leadership innovations.
To donate to the MSU Leadership Institute click on the above link to access the MSU Foundation online donation form. Be sure to use the "Other" blank when choosing the designation for your gift to indicate that you want your donation to go to the MSU Leadership Institute.