Spring 2016 Programs & Workshops
Spring Leadership Summit
Survivor: Next Level Leadership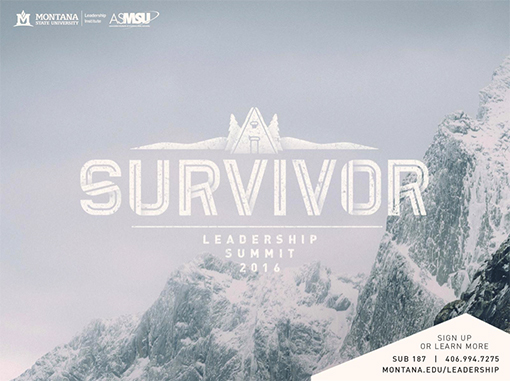 Dates: Friday, February 26th – Saturday February 27th, 2016
Location: Secret
Cost: $15 and includes lodging, meals and materials
Open to all MSU students, limited space available
Through hands-on leadership experiences, inspirational activities and speakers, impactful workshops and teambuilding, students are empowered to dream and plan for their immediate leadership impact in their organizations, at MSU and with their personal growth. Based around the hit television series Survivor, students will be challenged from the moment that you arrive to work together in a team setting and compete against other teams in a series of fun and creative survival tasks. For those attending, the 2016 Leadership Summit will strengthen your existing leadership skill and test and discover your inner survivor.


Shave Your Head & Support Childhood Cancer Research!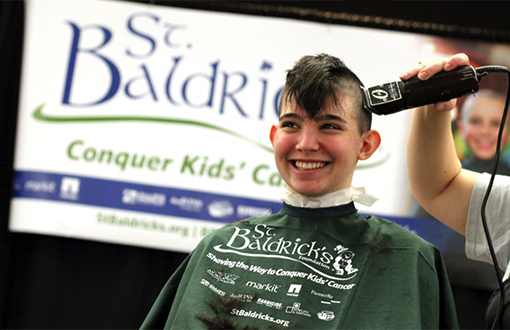 Date: Tuesday, April 12th
Location: MSU SUB Ballrooms
MSU is looking for brave individuals to shave their heads and raise money in support of childhood cancer research. On April 12th at 7:00pm, the MSU Leadership Institute will host a Head Shaving Event in conjunction with the St. Baldrick's Foundation.
News
Alex Sheen has promises to keep. In fact, since he launched because I said I would, an international social movement and nonprofit dedicated to the betterment of humanity through promises, he has had a part in 3.15 million promises kept in 150 countries. Sheen, a gifted speaker and a master at using social media for positive impact, spoke to a sold-out crowd in the Fall of 2015. He has appeared on CNN, ABC World News with Diane Sawyer, the TODAY Show, Good Morning America, NPR, Fox News, CBS Nightly News and many other programs. Sheen's efforts in social media were featured in BuzzFeed's "Most Important Viral Videos of 2013." His posts have made the number one spot on the front page of Reddit.com more than 10 times.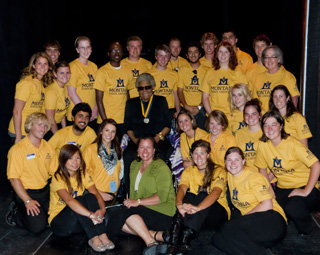 Maya Angelou with the Leadership Institute.
Founded in 1997 by the Associated Students of Montana State University to provide leadership opportunities and inspiration to students, the MSU Leadership Institute offers answers, resources, and connections for the future leaders of business, government, and education. Acting as a catalyst to the awakening of students' natural leadership skills, communication abilities, and creativity, the Institute empowers students to do more.
The Leadership Institute will lead Montana forward by generating further student involvement through increased leadership connections, trainings, film series, dynamic lunch discussions, and quality keynote speakers. Students will be constantly challenged to think deeper about their current leadership roles and their future impact. By leveraging powerful ideas into action, the Leadership Institute provides an environment for growing student leadership innovations.
To donate to the MSU Leadership Institute click on the above link to access the MSU Foundation online donation form. Be sure to use the "Other" blank when choosing the designation for your gift to indicate that you want your donation to go to the MSU Leadership Institute.