MSU Leadership Summit -- Root Down, Forge Ahead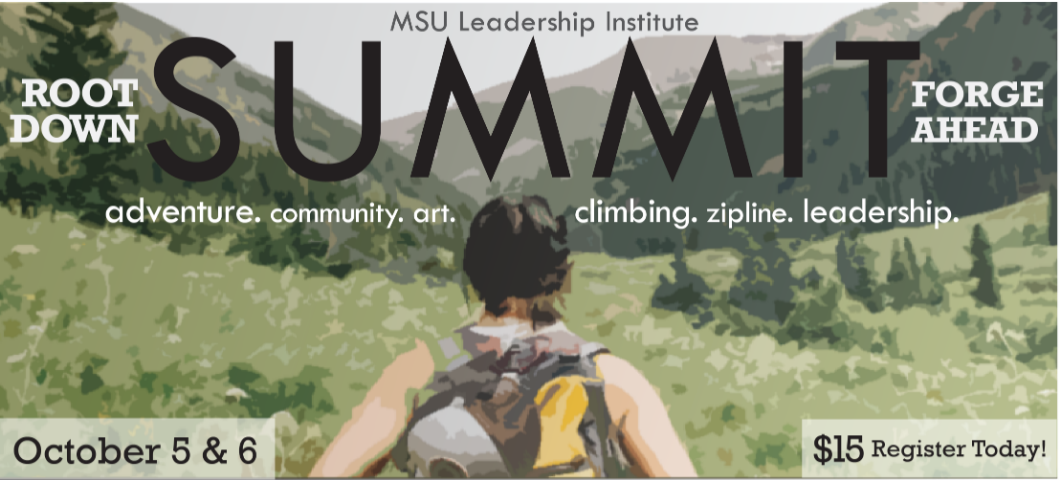 This overnight retreat focuses on encouraging MSU students to set intentions, trust their perspective, and ultimately, find courage in leadership. Interactive workshops, outdoor skill-building activities, a keynote speaker, lodging, meals and materials are included.
The Summit utilizes the backdrop of the Gallatin mountains to strengthen a participant's leadership skills and foster meaningful relationships. Activities such as hiking, climbing, and ziplining will be used to personify the power of intention setting within courageous leadership.
The retreat features actor, author, and professor Kent Davis as the keynote speaker. Davis teaches within the MSU Honors College and is an accomplished author of the critically acclaimed action and adventure series, "A Riddle in Ruby". Alongside his work with students, Davis teaches improvisation and the importance of courage in creativity through his company, Snake Oil Workshops.
"Kent Davis' experience with improvisation and acting give him an energy that rivals that of the great entertainers of our world. His innovation and imagination are sure to catalyze creativity and leave students with the ambition to be leaders amongst their peers," says Anna DeCan, a student staff member of the MSU Leadership Institute.
Partnering with the ASMSU Outdoor Recreation Program, the Leadership Institute will offer rock climbing available for an additional fee of $15. "We are incredibly excited about what students will walk away with after this year's Summit," says DeCan. Those interested in this rock climbing opportunity should select the "Limited Availability: Included climbing gear and rental" option when registering on Eventbrite.
Registration is open for MSU students only. It costs $15and will cover attendance, transportation, lodging, and meals. Scholarships are available; contact our office at 406-994-7275 to learn more. The deadline to register is Friday, September 27th.
*If you would like to pay in cash or register in person, please visit us at our office in SUB 187.