POSTPONED: April 15th Lecture with WNBA All-Star Tamika Catchings
ATTENTION Tamika Catchings Ticket Holders: Due to concerns of COVID-19 and recommended precautions, we will be POSTPONING our 4/15/20 lecture with WNBA Star Tamika Catchings.
Stay tuned for the new dates, as we will be announcing them here and on our social medial platforms. FOR REFUNDS:
Tickets must be returned by May 31st.
TicketsWest Website or TicketsWest Call Centers:
Patrons who purchased their tickets on-line at www.ticketswest.com or called a TicketsWest Call Center will automatically receive a refund on the card used to purchase the tickets.
Bobcat Ticket Office or ASK US Desk in the Strand Union Building (in person or via the phone): Customers who purchased their tickets at the Bobcat Ticket Office, ASK US Desk, or by calling 994-2287 should return their tickets to the Bobcat Ticket Office for a refund. If you paid by credit card, please have that card with you. If patrons wish to return their tickets via mail, they MUST sign each individual ticket, and include their name, phone number and address. Mail tickets to:
Bobcat Ticket Office
Attn: Tamika Catchings Refunds
#1 Bobcat Circle
Bozeman, MT 59717
WNBA All-Star Tamika Catchings to lecture April 15th at MSU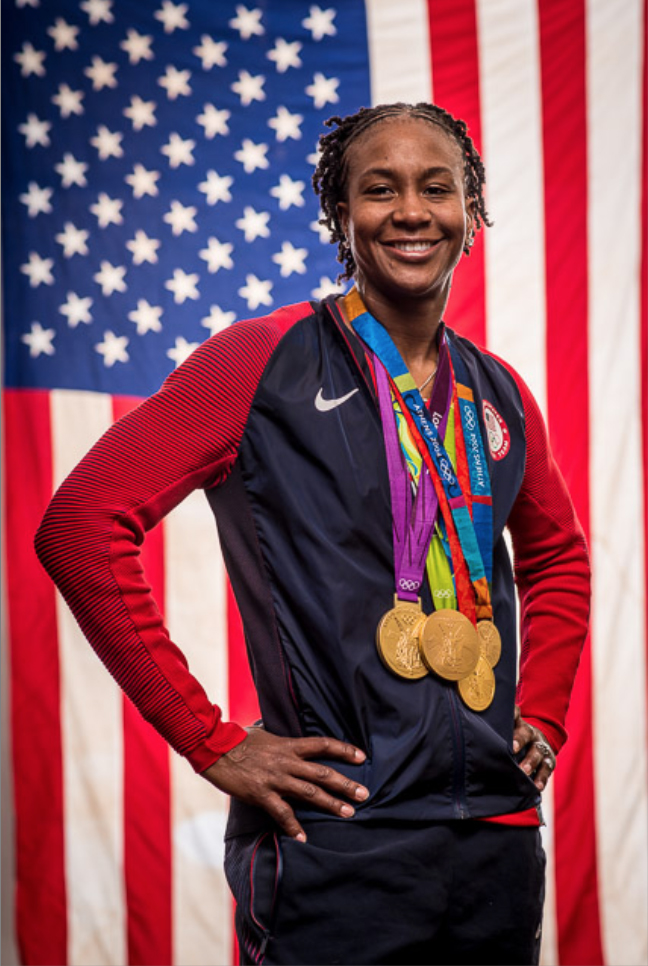 Tamika Catchings, the winner of an NCAA National Championship, WNBA Championship, four Olympic gold medals and the first ESPN Humanitarian Award, will lecture April 15 at MSU. Tickets on sale now for the lecture, in which Catchings will speak about "Catch a Star: Shining Through Adversity to Become a Champion." Photo courtesy of Tamika Catchings.
Tickets on sale now for a Montana State University lecture by Olympian and Women's National Basketball Association great Tamika Catchings. Her lecture will be held at 7:30 p.m. Wednesday, April 15, in MSU's Strand Union Building ballrooms. Doors open at 6:45 p.m.
A humanitarian, businesswoman, entrepreneur, athlete and leader, Catchings will share her story of overcoming hearing loss, separation from family, high expectations and the pain of debilitating physical injuries during her lecture, "Catch a Star: Shining Through Adversity to Become a Champion."
Catchings has won an NCAA national championship, WNBA championship and four Olympic gold medals. She received the first ESPN Humanitarian Award in 2015. A 10-time WNBA All-Star while playing for the Indiana Fever, Catchings was twice named the winner of the league's Kim Perrot Sportsmanship Award and won the WNBA's Defensive Player of the Year award five times. She was named the Associated Press College Player of the Year and won the Naismith College Player of the Year while playing at the University of Tennessee. When she retired from the WNBA following the 2016 season, she led several of the league's all-time player categories.
Currently, Catchings is the vice president of basketball operations and general manager of the Indiana Fever. She also founded Catch the Stars, a nonprofit that helps disadvantaged youth follow their dreams through fitness, literacy and youth development.
Recently, Catchings has been in the national media for her lifelong friendship with the late NBA great Kobe Bryant. The two met while growing up in Italy, both children of former NBA stars who finished their careers in Italy. Both Catchings and Bryant went on to be superstars in their respective leagues.
Tickets to Catchings' lecture are $5 for students and $10 for the general public. Tickets will be sold at the Bobcat Ticket Office, online at ticketswest.com, and at all Tickets West locations. There are convenience fees of $2.50 per ticket. There is an additional service charge for tickets purchased online, at TicketsWest outlets and over the phone.
Catching's lecture is presented by the MSU Leadership Institute. It is sponsored by the Office of the President, Office of the Provost, MSU Athletics, Office of Diversity and Inclusion, Division of Student Success, Office of Disability Services, Diversity and Inclusion Student Commons, the MSU Women's Center, the Associated Students of MSU, Murdoch's Ranch and Home Supply and First Interstate Bank.