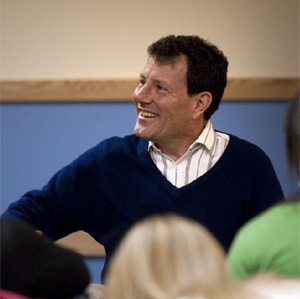 Pulitzer Prize winning author Nicholas Kristof at a Leadership Institute Master Class for MSU students.
The MSU Leadership Endowment Fund seeks visionary donors who appreciate the value of continued student leadership programs at MSU.
The MSU Leadership Institute Endowment will serve as an enduring base of support for the work of the MSU Leadership Institute, acting to cultivate and broaden initiatives that develop quality student leaders. Established by the MSU President, the Endowment is devoted to increasing leadership opportunities for MSU students and will serve as a long term financial foundation.
The MSU Leadership Institute will lead Montana forward by generating further student involvement through increased leadership connections,
trainings and quality keynote speakers. Students will be constantly challenged to think deeper about their current leadership roles and their future impact.
By leveraging powerful ideas into action, the Institute will provide an environment for growing student leadership innovations.
We will expand impactful trainings centered on providing positive personal change, professionalism, and cross-disciplinary leadership experiences to the coming generations of leaders.
We will add to the strength (length of stay, Master Class, etc.) of hosting influential individuals. Previous keynote speakers have included world-renowned primatologist Dr. Jane Goodall, Nobel Peace Prize Laureate Shirin Ebadi, former President of Poland and Noble Peace Prize Laureate Lech Walesa, author Stephen Covey and author Salman Rushdie – and we will fund expanded leadership learning opportunities from such individuals.
The MSU Leadership Institute is a charitable organization and is tax exempt under 501(c)(3). If you would like to learn more about donating to the Leadership Institute please contact us via email at [email protected].