Work Study Opportunities Available!
Do you desire to grow as a leader and help others do the same at MSU? Are you qualified for work study? If your answers are yes to both these questions, then consider applying to be a "Student Associate" at the Leadership Institute!
Student Associates have a variety of roles and responsibilities: public relations and community outreach, leadership seminars, trainings, hosting guest speakers, facilitating film series, mentoring other students and student organizations and hosting dynamic discussions.
Open to all work-study students who have an interest and/or passion for leadership study, practice and delivery of leadership development services. To apply, please send an "email cover letter" and resume is to joshiverson92@gmail.com. Please copy cmcspadden@montana.edu.
2016 Fall Convocation
Wes Moore, a bestselling author and social entrepreneur who credits inspiring mentors for his improbable journey from an imperiled childhood to become a Rhodes scholar, Army combat veteran, White House Fellow to former Secretary of State Condoleezza Rice, will speak at Montana State University's 2016 Freshman Convocation. The event is scheduled at 7:30 p.m. Thursday, Sept. 1, in the Brick Breeden Fieldhouse. Moore's book, "The Work: My Search for a Life That Matters," is the 2016 MSU freshmen book selection.
Master Class with Wes Moore
The Master Class with Wes Moore will take place on Thursday, September 1 from 4:00-5:00pm.
To apply for the Master Class, please fill out this online survey.
Fall 2016 Programs & Workshops
Fall Leadership Summit
Survivor 2.0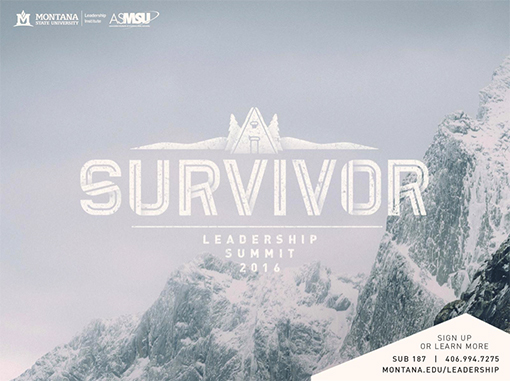 Dates: September 23-24
Location: Secret
Cost: $20 and includes lodging, meals and materials
Open to all MSU students, limited space available
The 2016 Fall Leadership Summit: Survivor 2.0 bring additional challenge and opportunity for participants of the 2016 Spring Summit. All MSU students are welcome to attend (rookies or veteran attendees).Through hands-on leadership experiences, inspirational activities and speakers, impactful workshops and teambuilding, students are empowered to dream and plan for their immediate leadership impact in their organizations, at MSU and with their personal growth. Based around the hit television series Survivor, students will be challenged from the moment that you arrive to work together in a team setting and compete against other teams in a series of fun and creative survival tasks. For those attending, the 2016 Leadership Summit will strengthen your existing leadership skill and test and discover your inner survivor.

News
Alex Sheen has promises to keep. In fact, since he launched because I said I would, an international social movement and nonprofit dedicated to the betterment of humanity through promises, he has had a part in 3.15 million promises kept in 150 countries. Sheen, a gifted speaker and a master at using social media for positive impact, spoke to a sold-out crowd in the Fall of 2015. He has appeared on CNN, ABC World News with Diane Sawyer, the TODAY Show, Good Morning America, NPR, Fox News, CBS Nightly News and many other programs. Sheen's efforts in social media were featured in BuzzFeed's "Most Important Viral Videos of 2013." His posts have made the number one spot on the front page of Reddit.com more than 10 times.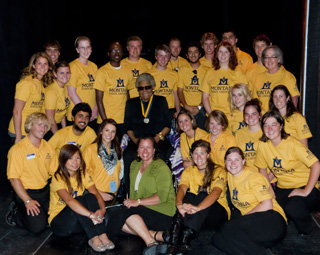 Maya Angelou with the Leadership Institute.
Founded in 1997 by the Associated Students of Montana State University to provide leadership opportunities and inspiration to students, the MSU Leadership Institute offers answers, resources, and connections for the future leaders of business, government, and education. Acting as a catalyst to the awakening of students' natural leadership skills, communication abilities, and creativity, the Institute empowers students to do more.
The Leadership Institute will lead Montana forward by generating further student involvement through increased leadership connections, trainings, film series, dynamic lunch discussions, and quality keynote speakers. Students will be constantly challenged to think deeper about their current leadership roles and their future impact. By leveraging powerful ideas into action, the Leadership Institute provides an environment for growing student leadership innovations.
To donate to the MSU Leadership Institute click on the above link to access the MSU Foundation online donation form. Be sure to use the "Other" blank when choosing the designation for your gift to indicate that you want your donation to go to the MSU Leadership Institute.