Fall 2015 Programs & Workshops
MSU Convocation 2015
Presentation by Rebecca Skloot, author of New York Times' bestseller The Immortal Life of Henrietta Lacks. This is an opportunity to meet MSU students, connect with faculty and staff, and listen to the inspiring words of Rebecca Skloot, author of the New York Times' bestseller The Immortal Life of Henrietta Lacks, as well as members of the Lacks family as they tell the story of the woman whose cells were harvested without her knowledge and used for discoveries that launched a scientific revolution that has changed our world. Join author Rebecca Skloot and members of the Lacks family as they tell the true story of Henrietta Lacks and discuss what happens when issues of ethics, race and scientific discovery collide.
Leadership Institute Open House
Date: Thursday, September 17th
Location: SUB 187 (MSU Leadership Institute Office)

The Open House is an opportunity for the MSU students, faculty, staff, and guests to interact with the Leadership Institute and learn more about the variety of ways the Leadership Institute serves and benefits MSU and the greater community.
.
News
Neil deGrasse Tyson is an astrophysicist, cosmologist, author and one of the most recognized science communicators in America today. On March 4, on his first visit to Montana, he gave an evening lecture at Montana State University. The sold-out event – the largest audience Tyson has addressed in person -- was hosted by the MSU Leadership Institute.
Coverage of Neil deGrasse Tyson's Visit to MSU: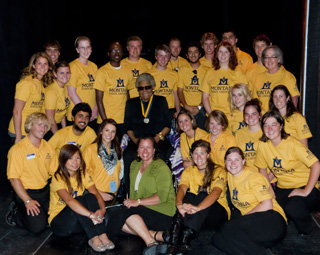 Maya Angelou with the Leadership Institute.
Founded in 1997 by the Associated Students of Montana State University to provide leadership opportunities and inspiration to students, the MSU Leadership Institute offers answers, resources, and connections for the future leaders of business, government, and education. Acting as a catalyst to the awakening of students' natural leadership skills, communication abilities, and creativity, the Institute empowers students to do more.
The Leadership Institute will lead Montana forward by generating further student involvement through increased leadership connections, trainings, film series, dynamic lunch discussions, and quality keynote speakers. Students will be constantly challenged to think deeper about their current leadership roles and their future impact. By leveraging powerful ideas into action, the Leadership Institute provides an environment for growing student leadership innovations.
To donate to the MSU Leadership Institute click on the above link to access the MSU Foundation online donation form. Be sure to use the "Other" blank when choosing the designation for your gift to indicate that you want your donation to go to the MSU Leadership Institute.