Gender Equality and YOU
A Conference to Create, Foster, and Catalyze
The MSU Leadership Institute will host "Gender Equality and You: A Conference to Create, Foster, and Catalyze" on Saturday, March 25th from 9AM to 3PM in the MSU Strand Union Building Ballrooms. This conference will include a panelist luncheon led by famed ultrarunner Nikki Kimball, MSU's Professor Brian Kassar, member of President Cruzado's ADVANCE team Dr. Bryce Hughes. These individuals are experts in the areas of gender in athletics, gender in politics, men and masculinity, intersectional feminism, and bias recognition.
This conference will provide attendees the tools to build strong, inclusive communities that are sensitive to the needs of all gender and sexual identities. "Even more important now than before, and because of a mistaken impression that the gender problem has been solved, this dynamic conference offers attendees well-developed strategies to bring about sustainable positive change," said Carmen McSpadden, Director of the MSU Leadership Institute. "A priority of this conference is improvement of gender inequity, as there is no point presenting problems without striving for solutions," McSpadden added. There will be opportunities to network and engage with individuals that share a passion for equality and leadership. Breakfast and lunch will be provided.
Tickets will be available starting at [time] on [date] at the ASMSU Office in the Strand Union Building. The cost is $10 for students and $15 for community members. Please visit www.montana.edu/leadership to register for the conference and visit the ASMSU Office to purchase your ticket. Registration will close on Monday, March 6th.
This event is sponsored by Montana State University ASMSU, the Office of the Provost, MSU Athletics, Jake Jabs College of Business and Entrepreneurship, The Office of Health Advancement, the Women's Center, the Diversity Awareness Office, the VOICE Center,
News from Fall 2016 Semester
The Leadership Summit held on September 23-24 was a weekend packed full of intrigue, excitement, betrayal, turmoil and thrill. Specially designed for students, the MSU Leadership Summit 2.0 was an overnight retreat focused on an activity-centered learning environment that includes area such as team dynamics, decision making, and playing to one's strengths. Summit 2.0 provided participants with a chance to explore leadership in a whole new fashion. From the time students stepped off the bus at the "undisclosed" outstanding location, their leadership skills were put to the test and competed to determine which teams were the Ultimate Survivors.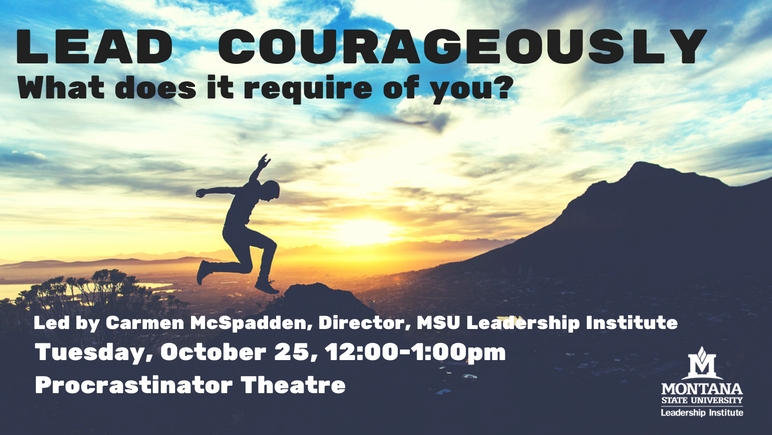 Free and open to the public, the Lead Courageously workshop held on October 25, 2016 focused on learning what it takes to communicate when you do not have all the answers and how to make decisions to move ahead. Conducting the workshop was Carmen McSpadden, Director of the MSU Leadership Institute. McSpadden was joined by panelists Liz Ann Kudrna, triathlete and entrepreneurial founder of "Body in Balance" Pilates studio and Ryan Erickson, graduate assistant for LGBTQ Student Support in the MSU Diversity Awareness Office. Kudrna and Erickson shared their personal stories of courage and perseverance.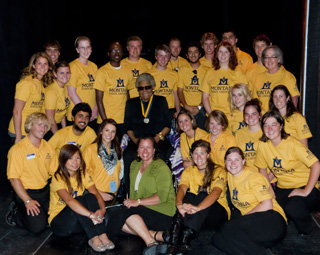 Maya Angelou with the Leadership Institute.
Founded in 1997 by the Associated Students of Montana State University to provide leadership opportunities and inspiration to students, the MSU Leadership Institute offers answers, resources, and connections for the future leaders of business, government, and education. Acting as a catalyst to the awakening of students' natural leadership skills, communication abilities, and creativity, the Institute empowers students to do more.
The Leadership Institute will lead Montana forward by generating further student involvement through increased leadership connections, trainings, film series, dynamic lunch discussions, and quality keynote speakers. Students will be constantly challenged to think deeper about their current leadership roles and their future impact. By leveraging powerful ideas into action, the Leadership Institute provides an environment for growing student leadership innovations.
To donate to the MSU Leadership Institute click on the above link to access the MSU Foundation online donation form. Be sure to use the "Other" blank when choosing the designation for your gift to indicate that you want your donation to go to the MSU Leadership Institute.