Virtual Center for Rural Poverty, Traditional Ecological Wealth, Teaching and Learning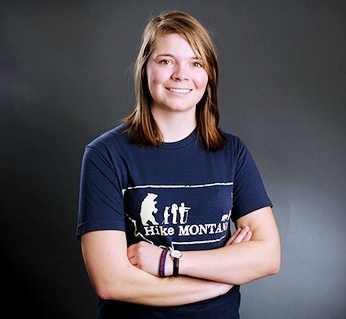 Congratulations to Cara Thuringer, a member of the Spring 2014 class AGSC 465R Health, Poverty, Agriculture: Concepts and Action Research.
Two Montana State University students who were already recognized as inspirational leaders have won the prestigious Udall Scholarship from the Morris K. Udall and Stewart L. Udall Foundation. Cara Thuringer of Sioux Falls, S.D., was named a Udall Scholar in the environmental category, and Emery Three Irons from the Crow Indian Reservation was honored in the Tribal Public Policy category.
Two Minutes and a Thousand Thank You's
"There are at least a thousand people I want to thank in these 2 minutes. First I want to thank President Cruzado for her dedication to our University and for the energy, creativity, caring, and encouragement she brings to all of us.
To my husband, Robert Diggs, I owe a huge Thank You and to all of our children and grandchildren, and the rest of the extended family, I thank you for the many sacrifices of time and assistance you have given me.
A new paradigm has been developed that bridges the gap in teaching and research between technology and Western scientific knowledge and indigenous peoples, mainly subsistence farming communities in Africa, and in Native American Reservation communities and their traditional knowledge.
As my department head, Dr. John Sherwood, honestly reminds me, and I quote, "...but she did not accomplish these innovations by herself." This revolution in teaching and research happened because 2 MSU faculty have contributed amazing mentoring to me. Dr. Ada Giusti, Department of Modern Languages, helped me reach a deeper understanding of subtle nuances of other cultures, particularly in the francophone country of Mali. Dr. Cliff Montagne, Department of Land Resources and Environmental Sciences, patiently taught me the fundamentals of the holistic process that focused on a community's desired quality of life and the community resources and forms of production required to reach that quality of life.
Along the way, there were many site mentors in the communities where we learned and worked, such as Sara Young, Jason Baldes, Kurrie Small, Francesca Pine, the 7 Malian MSU students, the Malian villagers and Northern Cheyenne Elders.
To accomplish this quiet revolution required hours of mentoring with students and their willingness to try something new in teaching and learning.
And so now I would like thank Ada and Cliff, my husband Bob, John Sherwood, Joseph Fedock, Lori Lawson, and all my students. This is a shared honor that we accomplished together."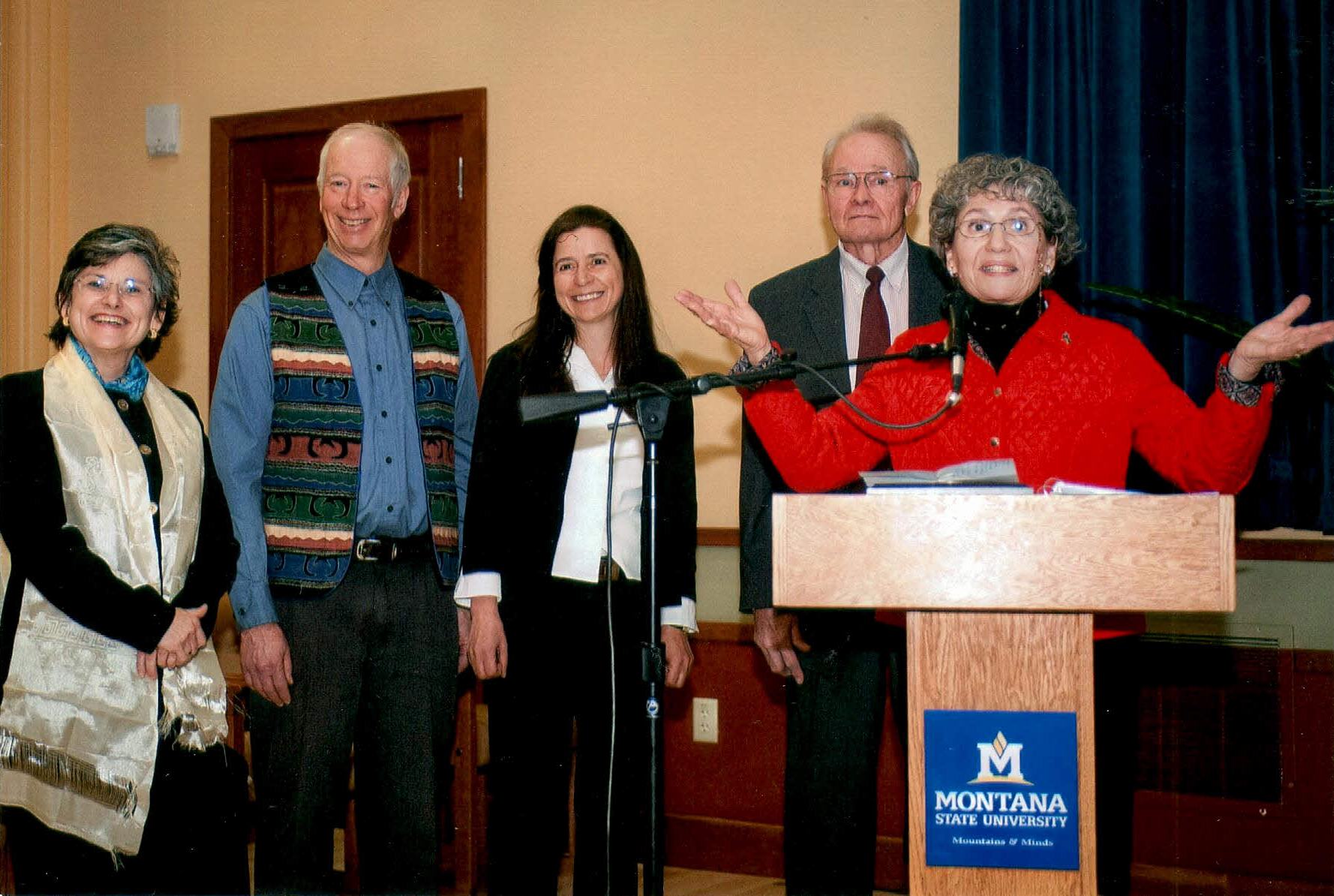 Dr. Florence Dunkel speaks as she accepts her MSU President's Excellence in Teaching Award on 10 January 2013 with her MSU "family."
L to R: MSU President Waded Cruzado, Dr. Cliff Montagne, Dr. Ada Giusti, husband Bob Diggs, and Dr. Dunkel.
Refereed publications (Book and Journal Articles) Teaching and Research from the New Paradigm
Published March 2013
Dunkel, F.V., +K. Coulibaly, C. Montagne, **K.P. Luong, A. Giusti, +H. Coulibaly, and +B. Coulibaly. 2013. Sustainable Integrated Malaria Management by Villagers in Collaboration with a Transformed Classroom Using the Holistic Process: Sanambele, Mali and Montana State University, USA. American Entomologist. 59:15-24.
Published December 2012
Dunkel, Florence and Ada Guisti. 2012. French students collaborate with Malian villagers in their fight against malaria. Pages 135-150. In Jacqueline Thomas, Ed. Etudiants sans Frontieres (Students without Borders): concepts and Models for Service-Learning in French. American Association of Teachers of French.
Shams, Ashley, Susan Smith-Cunnien, and Camille George. 2012. French, engineering and sociology students working in Mali: A necessary collaboration. Pages 151-166. in Jacqueline Thomas. ed.Etudiants Sans Frontieres: Concepts and Models for Service Learning in French. Carbondale, IL: American Association of Teachers of French.
**Luong, Ky-Phuong, F.V. Dunkel, +Keriba Coulibaly, and Nancy Beckage. 2012. Use of neem (Azadirachta indica A. Juss.) leaf slurry as a sustainable dry season management strategy to control the malaria vector Anopheles gambiae Giles s.s. (Diptera: Cluicidae) in West African villages. J. Med. Ento. 49(6): 1361-1369.
**=former graduate student and Mali extern
+= Malian site mentor and agronomist with ICRISAT on leave from I'Institut d'Economie Rurale (IER) Sikasso, Mali
Links to News About Project Activities
Last updated 6 February 2014