News from the Virtual Center
Bozeman Daily Chronicle Article, 10 Dec 2011 - AGSC 465R Students at Montana State University Understanding and Appreciating Cultural Differences to Fight Poverty and Malnutrtition in Africa and Montana
Congratulations Dr. Dunkel
Dr. Florence Dunkel, Project PI, is featured in New Yorker Magazine article - Aug. 15 & 22, 2011 Edition
Dr. Florence Dunkel, Montana State University - Bozeman, and Dr. Camille George and Dr. Ashley Shams, The University of St. Thomas, St. Paul, MN, have just had two articles accepted for publication in the National Association of College Teachers of Agriculture (NACTA) Journal.
The articles describe their work in Mali, West Africa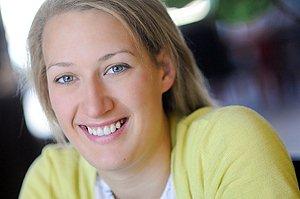 Kathleen Hansen awarded a Rhodes Scholarship.
Congratulations, Katy
Katy was the first solo Mali extern in our national program. Her Mali Agri-Business Center Mentor in June 2008 was Professor Belco Tamboura.
Her Montana State University Mentor was Florence Dunkel. Katy also won a Boren Award for International Study. She studied water issues in the Middle east. From Bozeman, MT, Katy graduated from Montana State University with degrees in Industrial Engineering and Economics in May 2010.
Wendy with Village Chief and his family in Sanambele, Mali, 2009.
Congratulations, Wendy!
Wendy Nickisch:
MSU Mali Extern March 2009.
Wendy, Forsyth, MT, graduated in May 2010
Wendy Enters Dental School in Fall 2011.
The Department of Entomology at Virginia Tech (VT) wins University Exemplary Departments Award for developing and sustaining innovative and effective approaches fostering international awareness and education. Thank you: Professors Don Mullins and Rick Fell, Co-PI's at VT, on this USDA Challenge Grant
Former Mali Extern, Ashley Williams and HED Participant, Sidy Ba, collaborated with New Paradigm faculty, Dr. Sarah Halvorson, University of Montana, and Dr. Florence Dunkel, Montana State University, for the article about perceptions of water quality in subsistence fishing communities in Mali. Accepted for publication in 2010. Sarah J. Halvorson, Ashley L. Williams, Sidy Ba, and Florence V. Dunkel. Water quality and water borne disease along the Niger River, Mali: A study of local knowledge and response.
Health & Place. Vol 17, Issue 2, March 2011, Pages 449-457.
Last updated on 12 April 2012 by Robert E Diggs diggs@montana.edu