VIRTUAL CENTER
Dr. Florence Dunkel speaks as she accepts her MSU President's Excellence in Teaching Award on 10 January 2013 with her MSU "family."
L to R: MSU President Waded Cruzado, Dr. Cliff Montagne, Dr. Ada Giusti, husband Bob Diggs, and Dr. Dunkel.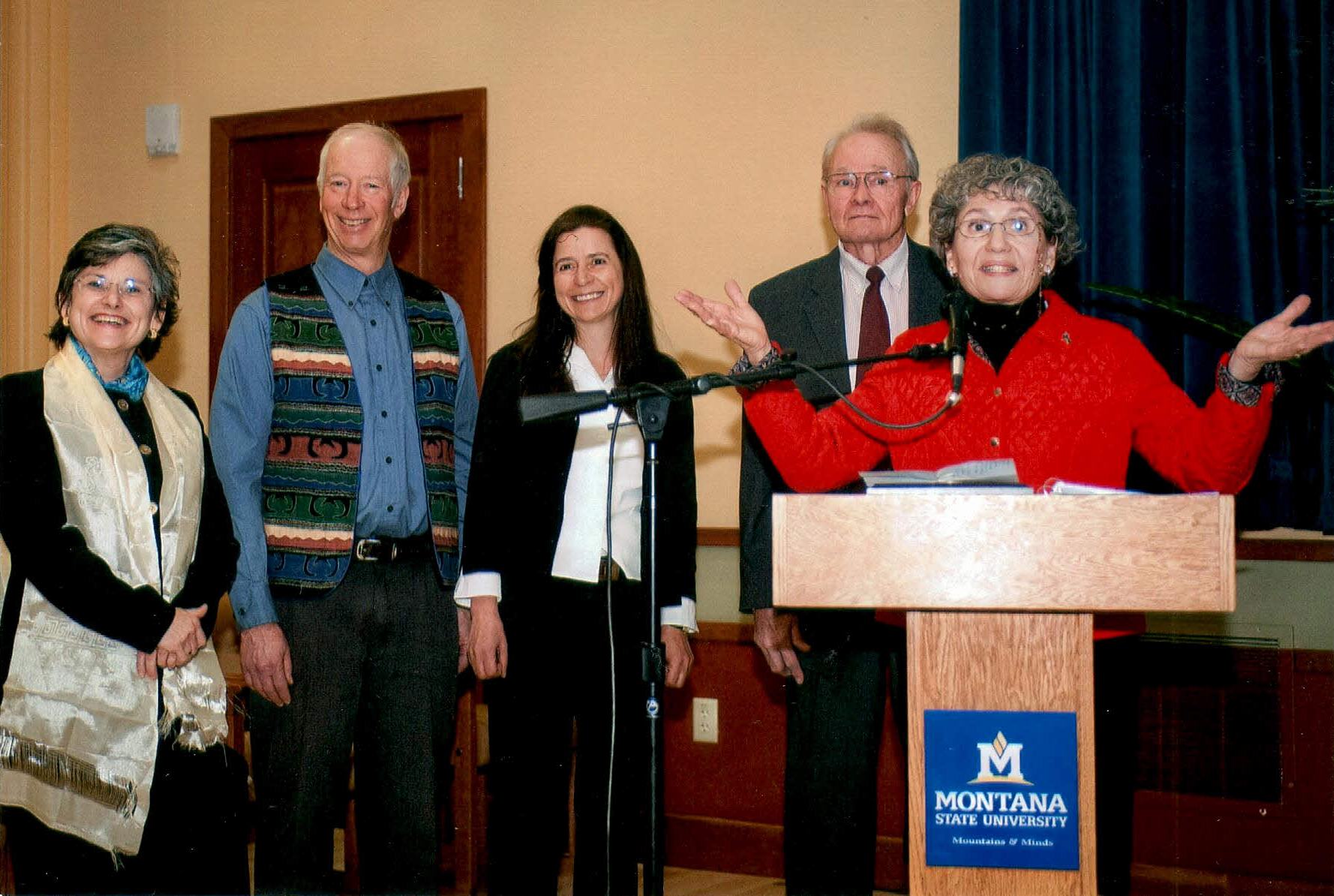 Two Minutes and a Thousand Thank You's
"There are at least a thousand people I want to thank in these 2 minutes. First I want to thank President Cruzado for her dedication to our University and for the energy, creativity, caring, and encouragement she brings to all of us.

To my husband, Robert Diggs, I owe a huge Thank You and to all of our children and grandchildren, and the rest of the extended family, I thank you for the many sacrifices of time and assistance you have given me.

A new paradigm has been developed that bridges the gap in teaching and research between technology and Western scientific knowledge and indigenous peoples, mainly subsistence farming communities in Africa, and in Native American Reservation communities and their traditional knowledge.

As my department head, Dr. John Sherwood, honestly reminds me, and I quote, "...but she did not accomplish these innovations by herself." This revolution in teaching and research happened because 2 MSU faculty have contributed amazing mentoring to me. Dr. Ada Giusti, Department of Modern Languages, helped me reach a deeper understanding of subtle nuances of other cultures, particularly in the francophone country of Mali. Dr. Cliff Montagne, Department of Land Resources and Environmental Sciences, patiently taught me the fundamentals of the holistic process that focused on a community's desired quality of life and the community resources and forms of production required to reach that quality of life.

Along the way, there were many site mentors in the communities where we learned and worked, such as Sara Young, Jason Baldes, Kurrie Small, Francesca Pine, the 7 Malian MSU students, the Malian villagers and Northern Cheyenne Elders.

To accomplish this quiet revolution required hours of mentoring with students and their willingness to try something new in teaching and learning.

And so now I would like thank Ada and Cliff, my husband Bob, John Sherwood, Joseph Fedock, Lori Lawson, and all my students. This is a shared honor that we accomplished together."
Dr. Florence V. Dunkel Receives
2012 Distinguished Achievement Award in Teaching
from the
Entomological Society of America
REFEREED PUBLICATIONS (BOOK and JOURNAL ARTICLES)
TEACHING AND RESEARCH FROM THE NEW PARADIGM
Published March 2013

Dunkel, F.V., +K. Coulibaly, C. Montagne, **K.P. Luong, A. Giusti, +H. Coulibaly, and +B. Coulibaly. 2013. Sustainable Integrated Malaria Management by Villagers in Collaboration with a Transformed Classroom Using the Holistic Process: Sanambele, Mali and Montana State University, USA. American Entomologist. 59:15-24.
Published December 2012
Dunkel, Florence and Ada Giusti. 2012. French students collaborate with Malian villagers in their fight against malaria. Pages 135 – 150. In Jacqueline Thomas, Ed. Etudiants sans Frontières (Students without Borders): Concepts and Models for Service-Learning in French. American Association of Teachers of French.
Shams, Ashley, Susan Smith-Cunnien, and Camille George. 2012. French, engineering and sociology students working in Mali: A necessary collaboration. Pages 151 – 166. in Jacqueline Thomas. ed. Étudiants Sans Frontières: Concepts and Models for Service Learning in French. Carbondale, IL: American Association of Teachers of French.
**Luong, Ky-Phuong, F.V. Dunkel, +Keriba Coulibaly, and Nancy Beckage. 2012. Use of neem (Azadirachta indica A. Juss.) leaf slurry as a sustainable dry season management strategy to control the malaria vector Anopheles gambiae Giles s.s. (Diptera: Culicidae) in West African villages. J. Med. Ento. 49(6): 1361-1369.
** = former graduate student and Mali extern
+ = Malian site mentor and agronomist with ICRISAT on leave from l'Institut d'Economie Rurale (IER) Sikasso, Mali
---
In Memorium: Dr. Nancy E. Beckage
Nancy Beckage was a distinguished scientist and we were honored to have her among our New Paradigm faculty. One of her main contributions to our program was exemplifying the Expansive Collaboration Model with the Global Health and Agriculture course she initiated as part of the honors program at University of California-Riverside. Nancy was present at the launching of the Mali Agri-Business Network in Bamako, September 2007, and visited with the village of Sanambele and the Coprakazan Cooperative in Zantiebougou. Her main contribution to our community-based research and service learning work in Mali was her collaboration in the laboratory phase of the malaria neem project which was part of the integrated management of malaria in Sanambele, Mali. This, combined with other faculty's work in the village strengthening economic empowerment of women of the village, sharing mosquito-protozoan life cycle stories, and physical management of mosquito rearing pools by villagers resulted in an absence of deaths from malaria since the end of the 2008 malaria season.
Article from InsideUCR, University of California-Riverside, 27 Feb 2008
Chancellor Timothy White
University of California-Riverside
Nancy E. Beckage, Professor Emerita of Entomology and of Cell Biology and Neuroscience, died at her home on April 2, 2012. She was 61.

Dr. Beckage was born September 10, 1950. She attended the College of William and Mary and received her B.S. from the University of Wisconsin in 1972. She was awarded a Ph.D. in zoology from the University of Washington in 1980, and remained there for a postdoctoral appointment. From 1983 to 1987 Dr. Beckage was a program director at the Seattle Biomedical Research Institute, before being named an assistant professor of entomology and USDA assistant entomologist at the University of Wisconsin-Madison in 1987.

Dr. Beckage joined the faculty of UCR's Department of Entomology at UC-Riverside on March 1, 1990, as an assistant professor and assistant entomologist. By 1997 she had achieved full professor rank. She retired on March 7, 2011, and was named Professor Emerita, after 21 years of service to the University of California.

Dr. Beckage's research was in the area of host-parasite interactions, a field in which she performed cutting-edge work. She was known for having made the significant discovery that primary molecular effects of parasitism on the host are due to the injection of a polydnavirus by the female wasp parasitoid. In 2004 she was elected a Fellow of the American Association for the Advancement of Science, for "contributions to the field of insect physiology." In 2008 she received an Honorary Doctorate from ETH Zurich (Swiss Federal Institute of Science and Technology) for "contributions to the fields of insect endocrinology, insect immunology, and host-parasitoid interactions."

Other awards included the 2005 UCR Chancellor's Faculty Award for Excellence in Mentorship of Undergraduate Research and the 1996 UCR "Woman Who Makes a Difference" Award. She was a member of Sigma Xi, Gamma Sigma Delta, the Society of Invertebrate Pathology, the American Society of Zoology, and the American Society of Virology.

Dr. Beckage was known for her exceptional record of professional and university service and for her devotion to her students.

Services will be private. The family has requested that memorial gifts be made in Dr. Beckage's name to whatever charitable organization the donor chooses.