Monday, March 6 || 1:00 – 2:15 p.m. || Procrastinator Theater || Reception to follow
What Would Justice Demand? Re-imagining Diversity in STEM
Presenter: Donna Riley, Professor of Engineering Education and Science, Technology, and Society at Virginia Tech.
From 2013-2015, Riley served as Program Director for Engineering Education at the National Science Foundation. Riley's research interests include engineering and social justice; engineering ethics; social inequality in engineering education; and the liberal education of engineers. In 2005, she received a National Science Foundation CAREER award on implementing and assessing critical and feminist pedagogies in engineering classrooms.
Click to learn more about all upcoming ADVANCE Project TRACS Events.
2016 Campus Climate Data Charrette Posters Available Online
Our primary goal is to transform Montana State University and broaden the participation of women faculty in STEM and underrepresented areas of Social and Behavioral Science (SBS). 50% of the new faculty hires made in 2012-2013 in STEM/SBS were women! Currently, MSU's STEM departments are 22.6% women, and SBS departments are 34.0% women. Overall, MSU faculty is 37% women. If you'd like to access or analyze MSU faculty data (by rank, gender, and department) click here.
Our second goal centers on our novel application of Self-Determination Theory' s tenets of "basic psychological need-support," whereby we will test the process of institutional transformation, thus generating direct empirical evidence for whether and how our initiatives bring about cultural transformation.
This short film showcases how ADVANCE Project TRACS broadly cultivated the recruitment, retention and advancement of STEM/SBS women faculty at Montana State University.

Our objectives are:
ADVANCE institutionalizes systematic support for women faculty in STEM/SBS fields through grant pre-proposal assistance, establishes a mentoring network of successful grantees, and establishes needed infrastructures to facilitate women engaging in inter-disciplinary research.
ADVANCE generates new programs, such as a family "care.com" network and dual career assistance program, and builds on existing programs, such as providing more flexible solutions for work-life integration in general and during major life transitions.
ADVANCE promotes respectful communication, sensitivity to the dynamics of relationships within a culture, and respect for the values and beliefs of cultures. It comes from the active and vigilant practice of maintaining cultural humility, and represents active attention and ongoing mindfulness. To realize this, we implement diversity depth hires, build an equity search toolkit and equity advocate program, and continue to engage the MSU community in unconscious bias education.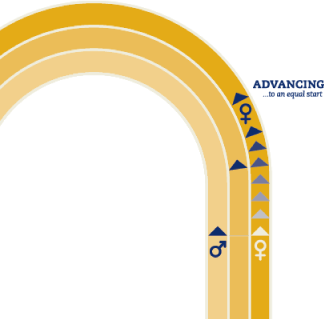 Invoking the metaphor of a "runner' s track" suggests women faculty in STEM/SBS frequently find themselves on an "outside" track with hurdles to overcome and a longer distance to run than their male counterparts.
We aim to transform MSU by removing those hurdles and advancing women to an equal staring point.
The material on this site is based upon work supported by the National Science Foundation (NSF) under Grant No. 1208831. Any opinions, findings, and conclusions or recommendations expressed in this material are those of the author(s) and do not necessarily reflect the views of the National Science Foundation.