Summer Master's Degree Programs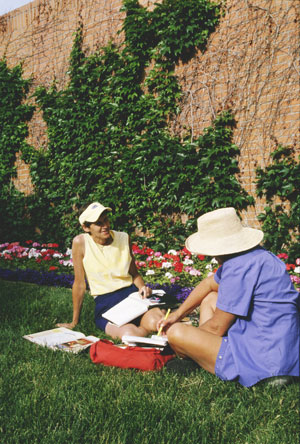 Mathematics Education
The Master of Science Degree in Mathematics under the Mathematics Education Option is designed for practicing high school mathematics teachers. The degree consists of 30 semester hours of course work.
Designed specifically to meet the needs of secondary mathematics teachers, the core courses and electives are drawn from common core content including mathematical modeling, statistics, algebra, geometry, analysis and discrete mathematics, as well as pedagogy courses focusing on technology, standards, curriculum and assessment. The program of study emphasizes inquiry-based learning and use of technology in the context of the Common Core State Standards for mathematics. Classroom research projects give teachers the opportunity to try new ideas for improving mathematics teaching and learning in their schools.
Courses are offered on the Bozeman campus each summer. Additionally, two Internet-based courses are offered each summer, fall, and spring.
All course credits may be applied toward teacher recertification.
Courses
The Summer Session Mathematics Education courses can be found here.
More Information
For more information about the Master of Science in Mathematics – Mathematics Education option. Consult our website or contact:
Jennifer Luebeck
Dept. of Mathematical Sciences
Montana State University
Bozeman, MT 59717-2400
(406) 994-5341
luebeck@math.montana.edu
Science Education (MSSE)
Designed to be completed in two Summer Sessions with five or more semesters interim distance learning course work.
The Master of Science in Science Education degree program is designed for practicing science educators. This intercollege-interdisciplinary degree is sponsored by the colleges of Agriculture; Education, Health and Human Development; Letters and Science; and The Graduate School at MSU. The degree program is coordinated by Intercollege Programs for Science Education.
Thirty semester credits of course work are required for the degree. The program of study includes distance courses that students take by computer-mediated conferencing from their homes or work places and summer campus courses. The program ends with an on-campus summer session in which the student presents the culminating capstone project.
All students complete core courses (12 credits) in education and develop interdisciplinary combinations of courses (18 credits) from offerings in biology, chemistry, earth sciences, microbiology, physics, and other areas. About three-fourths of the courses are offered through a distance learning mode of instruction.
Each student is advised by a three-person faculty graduate committee, and graduate programs are designed taking into account the student's background, interests, and career goals.
Courses
The Summer Session Science Education courses can be found here.
More Information
For more information about the Master of Science in Science Education (MSSE) Program. Visit our website or contact:
Diana Paterson
MSSE Associate Director
401 Linfield Hall, P.O. Box 172805
Montana State University
Bozeman, MT 59717-2805
(406) 994-5679
dianap@montana.edu