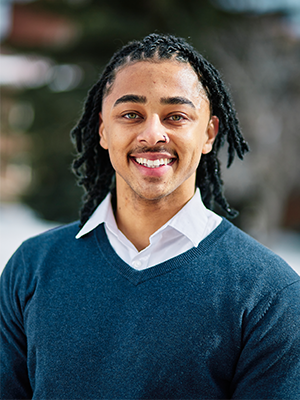 Admissions Counselor responsibilities include visiting high schools, attending college fairs and meeting with prospective students and families on campus.


Hometown:
Tacoma, Washington
Alma Mater & Major:
Undergraduate: Central Washington University - Business Management
Favorite thing to do in Bozeman:
I love being active and exploring this beautiful town! If I am hanging out in town, I love going to the local thrift stores like Sack's of Bozeman on Main Street. If I'm on a mountain you can catch me biking, snowboarding, or just hiking with some buds. I truly love going up to Big Sky in the summer and riding their beautiful downhill terrain. We go riding during the day and then end it with Music in the Mountains at night. Music in the Mountains is a fantastic festival that happens once a week in the summer! There are food trucks, live music, and just amazing people all around which are all my favorite things!
Best college memory:
My first time moving into my Residence hall! I applied for housing extremely late and had no idea what dorm I was staying in or who my roommate would be. I walked into my room and there was my new roommate Derrick. Turns out we lived not too far from each other growing up and he introduced me to all his friends. He was my first friend at a brand-new place and really made me feel known and cared for. Derrick to this day is one of my good friends and I'm extremely thankful that he was my roommate!
Words of wisdom:
Don't be afraid to fail. College is the time where you find out what you like and what you really do not like. Some things you are going to be amazing at and others you might not be great at, and that is okay! We all aren't teacher, we all aren't engineers, we all aren't musicians... However, we are all needed. Be bold and courageous and soak up these next years because they are truly the best!
Follow our New Blog!
Introducing BlogCats: a blog created for prospective students and family members to help them explore all that MSU has to offer! Read posts by current students, Admissions Counselors, and faculty and staff from across campus. Come see for yourself why Montana State is Montana's Premier University! Explore the blog >>

Want more information about MSU? We're here to help.
If you have questions, please don't hesitate to reach out to us! You can email our staff at [email protected], or call us Monday - Friday, 8:00am-5:00pm MT at 1-888-MSU-CATS.