Travel to Bozeman
Nestled in southwest Montana just over an hour north of Yellowstone National Park, Bozeman is an incredibly accessible community. Located along Interstate 90, we are within easy reach of day trips from several surrounding states. For longer trips, Bozeman Yellowstone International Airport is the state's largest and busiest airport, and offers non-stop flights to 15 U.S. cities, with connecting flights to dozens more.
Image courtesy of Big Sky Resort.
Lodging
MSU has agreements with several hotels in town for discounts for visitors to the MSU campus. Please click here to view available discounts.
Directions to Campus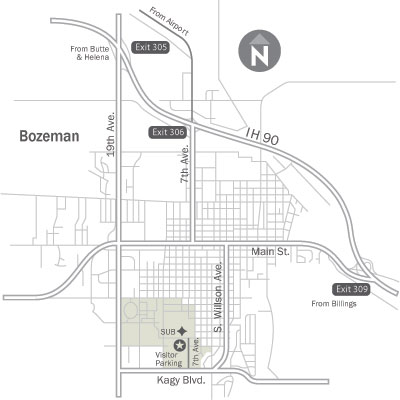 Bozeman, Montana is located on I-90. Two interstate exits will bring you to the MSU campus in Bozeman. Exit 309 provides the most direct route to our campus.
The Admissions & Orientation Office is located across Grant St. from the parking garage and Norm Asbjornson Hall in the Strand Union Building (SUB) Room 103. You can also contact our office via phone at 406-994-2827, or [email protected]
Many of our visitors prefer to use Google Maps to locate campus. Although the Admissions office does not have an actual physical address, you can use the intersection outside of the Strand Union Building to generate good turn instructions. The intersection is: South 7th Ave and West Grant St, Bozeman, MT 59715.


From the East
Take exit 309 onto Main Street and proceed west to Willson Ave.
Turn left on Willson Ave. and travel 18 blocks to Kagy Blvd. (Willson will curve slightly here)
Turn right on Kagy Blvd. and continue to South 7th Ave.
Turn right on South 7th Ave. and continue to the hourly parking/garage entrance on the left side.
From the West
Take exit 305 onto North 19th Ave. and follow it south approximately 3.5 miles to Kagy Blvd.
Turn left onto Kagy Blvd. and continue to South 7th Ave.
Turn left and continue to the hourly parking/garage entrance on the left side.
Campus Maps
Printable Campus Map
Download and print the campus map to take with you while you visit the Montana State University campus.
Online Campus Map
Find your way around campus to locate specific buildings and services through the MSU Campus Map powered by Google.

Questions? We're here to help.
If you have questions, please don't hesitate to reach out to us! You can email our staff at [email protected], or call us Monday - Friday, 8:00am-5:00pm MT at 1-888-MSU-CATS.