Whether it's your first time visiting, or you're a seasoned veteran of southwest Montana, Bozeman offers something for everyone. From unparalleled access to outdoor adventure and natural beauty, to a thriving arts and cultural scene, our town is the complete package. While you're here, be sure to explore our historic downtown district. If outdoor adventure is more your speed, take a drive up to Hyalite Canyon or explore the Bridger Mountains. Don't forget to ask our staff for their recommendations when you visit!

Explore more information on southwest Montana below, including some of our favorite places!
Bozeman: Montana's Best College Town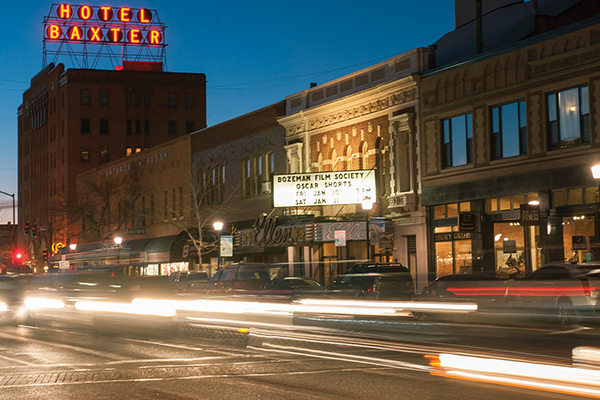 Bozeman's Main Street and downtown district offers something for everyone.
As a town of approximately 60,000 people, and just under 110,000 people in the greater surrounding area, Bozeman has all the benefits of a small town and larger city. With an integrated town and campus community, as well as endless outdoor opportunity, there's never a lack of things to get involved in in Bozeman.
Bozeman was recently named one of the best small college towns in the U.S. and the best in Montana. Whether you're catching a local film at one of our downtown theaters, grabbing a coffee at a locally-owned business or hitting the slopes on a bluebird day at Bridger Bowl, Bozeman offers something for everyone in every season.
Weather
Averages 300 days of sunshine each year.

Average high temperature in January is 32 degrees F.

Average high temperature in July is 85 degrees F.

In town, average 86 inches of snow.

In the mountains, expect around 350-400 inches of snow.
Main Street
Bozeman's Main Street is home to exclusively locally-owned businesses.
It's also home to a variety of events every year, including Music on Main, the Christmas Stroll, Sweet Pea festival, art walks, farmers markets and more!
Top 5: Our Favorite Bozeman Things
1. Check out downtown Bozeman
Support some of our amazing locally-owned businesses!
2. Hike the M
Check out the hiking trail to a Bozeman landmark, established by MSU's very own Class of 1918!
3. Head to Yellowstone
Take a day trip to one of the country's most popular national parks - only 89 miles away!
4. Hyalite Canyon Adventures
Head to Bozeman's backyard for some great hiking, biking and swimming options less that 20 minutes from campus.
5. Museum Minds
Explore MSU's Museum of the Rockies, home to one of the world's largest collections of dinosaur fossils.

Great in Any Season
No matter what time of year you visit us, there's always something going on! Check out some of our favorite seasonal activities and recommendations below.
Winter
Check out the area's local hot springs including Bozeman Hot Springs, Chico Hot Springs and Norris Hot Springs

The Christmas Stroll

Ice fishing at Hyalite Reservoir or

Glen Lake Rotary Park

Ice skating at Haynes Pavilion, the Bogart Pavilion or Beall Park

Cross-country skiing at

various trails

in and around Bozeman

Winter's Farmers Market at the Emerson Cultural Center
Spring
Take a stroll through

Story Mill Community Park

Biking trails

Run to the Pub

on St. Patrick's Day

Attend one of Bozeman's many downtown parades including the Memorial Day Parade

Fish in the area's hundreds of miles of blue ribbon rivers and streams

Attend a concert at the Elm or Rialto theaters or a performance at the Ellen Theater
Summer
Music on Main

Sweet Pea Festival

Shakespeare in the Parks

White water rafting and kayaking

Paddleboarding, hiking, mountain biking and rock climbing in Hyalite Canyon

Ziplining

Check out the Big Sky Country State Fair or the Bozeman Stampede Rodeo
Fall
MSU kicks off each fall semester with their annual Community Cat Walk

Check out the MSU Homecoming Parade

Go to an

MSU football game

Check out one of the many

5K, 10K, half-marathon or marathon runs

in the area

Support Small Business Saturday where the entire community comes out to shop local
Visitor Discounts by Category