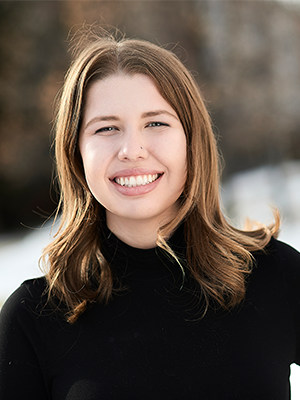 Admissions Counselor responsibilities include visiting high schools, attending college fairs and meeting with prospective students and families on campus.
Hometown:
Spanaway, Washington
Alma Mater & Major:
Undergraduate: Montana State University - Business (Marketing)
Favorite thing to do in Bozeman:
One of my very favorite things to do in Bozeman is to watch the sunsets. We aren't called the Big Sky State for nothing! Blasting music and going for a drive to the top of Pete's Hill or further out towards Cotton Wood Road and Gallatin Gateway is the perfect way to get some fresh air and take in some of the beautiful scenery that surrounds us here in Bozeman. The sunsets here are phenomenal, and you're always guaranteed to get a great picture and create some fun memories along the way.
Best college memory:
Some of my best college memories come from random last-minute adventures with my friends throughout Bozeman and the surrounding mountains. Whether it was camping up at Hyalite, window shopping on Main Street, hiking Drinking Horse Mountain, taking a drive up to Big Sky or floating the Madison River there is so much to do! Before coming to Bozeman I never considered myself a super outdoorsy person, but living here the past four years has opened up a lot of great opportunities to get outside. No matter your comfort level or skill there is something for everyone.
Words of wisdom:
College is truly what you make it and Montana State University provides countless possibilities to make your time here remarkable. Try and say "Yes!" more, take advantage of the opportunities that come your way, and seek out new ones as you go. It can be overwhelming but trust that your family, peers, faculty, and staff are there to support you along this journey and never be afraid to ask for help.
Follow our New Blog!
Introducing BlogCats: a blog created for prospective students and family members to help them explore all that MSU has to offer! Read posts by current students, Admissions Counselors, and faculty and staff from across campus. Come see for yourself why Montana State is Montana's Premier University! Explore the blog >>

Want more information about MSU? We're here to help.
If you have questions, please don't hesitate to reach out to us! You can email our staff at [email protected], or call us Monday - Friday, 8:00am-5:00pm MT at 1-888-MSU-CATS.