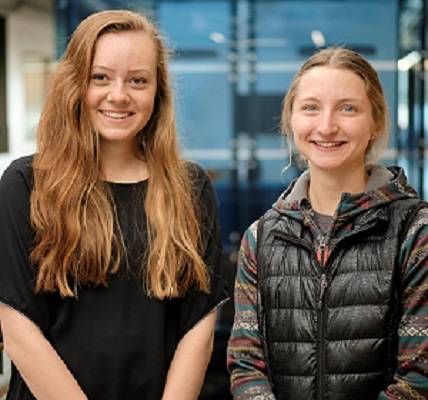 Brooklin Hunt and Shannon Hamp, both Montana State University students are the two most recent recipients of the prestigious national Goldwater Scholarships.
The Barry Goldwater Scholarship is the nation's premier scholarship for undergraduate students pursuing a research career in the natural sciences, mathematics, and engineering. The Goldwater Foundation aims to ensure that the U.S. is producing the number of highly-qualified professionals the Nation needs in these critical fields.
Over its 30-year history, Goldwater Scholarships have been awarded to thousands of undergraduates, many of whom have gone on to win other prestigious awards like the National Science Foundation's Graduate Fellowship, Rhodes Scholarship, Churchill Scholarship and the National Defense Science and Engineering Graduate Fellowship that support our Scholars' graduate school work.
Today, Goldwater alumni can be found conducting research that is helping defend the Nation, finding cures for catastrophic diseases and teaching future generations of scientists, mathematicians and engineers.
Montana State University has produced 84 Goldwater Scholars since the scholarship's founding. Meet some of our students, and learn more about their experiences below.

1,570
Number of students enrolled in Honors courses across campus.

Meet our Goldwater Scholars
Montana State is currently tied for 8th nationally for Goldwater Scholarship recipients. With 84 scholars, we're ahead of places like MIT, Yale, and Cornell. Other notable schools in the top 10 include Harvard and Stanford.