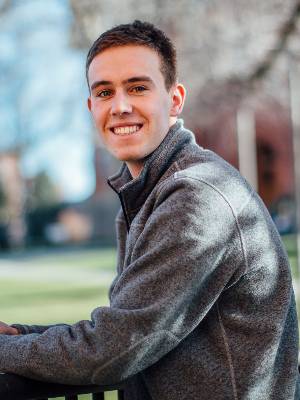 Riley Shearer, a senior at Montana State University from Lake Oswego, Oregon, was MSU's first Schwarzman Scholar.
Designed to prepare young leaders to deepen understanding between China and the rest of the world, Schwarzman Scholars is the first scholarship created to respond to the geopolitical landscape of the 21st Century. Whether in politics, business or science, the success of future leaders around the world will depend upon an understanding of China's role in global trends.
With the inaugural class enrolled in 2016, the program gives the world's best and brightest students the opportunity to develop their leadership skills and professional networks through a one-year Master's Degree at Tsinghua University in Beijing – one of China's most prestigious universities.
Students pursue a Masters in Global Affairs, working with an academic advisor to design an academic plan that best suits his or her academic and professional goals.
Students spend a year immersed in an international community of thinkers, innovators and senior leaders in business, politics and society. In an environment of intellectual engagement, professional development and cultural exchange, they learn from one another and pursue their academic disciplines while building their leadership capacities. This experience will expand students' understanding of the world and create a growing network of global leaders that will build strong ties between China and the rest of the world.
For those ready to make their mark on the world, Schwarzman Scholars represents a once-in-a-lifetime opportunity.
MSU has produced five Schwarzman Scholars since the scholarship's founding. Meet our students and learn more about their experiences below.
5
Number of Schwarzman Scholars MSU has produced.
2016
Inaurgural class of Schwazman Scholars.
Meet our Schwarzman Scholars

"Mayuri Singh graduated In December 2021 with degrees in both chemical and biological engineering and a minor in biomedical engineering. She plans to complete a master's degree in global affairs with an emphasis in health care at Tsinghua University, en route to a doctorate and an eventual career in sustainable health care policy and research."
Hometown: Pune, India
Field of Study: Chemical and Biological Engineering

"Budeski is a program assistant for the Nuclear Threat Initiative's global biological policy and programs team. The team works to identify gaps in national and global health security capacity; define concrete actions on biosecurity; develop mechanisms to support the prevention, detection and response to outbreaks, whether naturally occurring of engineering; and mitigate risks posed by rapid advances in biotechnology and research. Following her Schwarzman year, Budeski wants to continue to work in global health security. She said she wishes to drive "policy towards informed, data-driven solutions that are interdisciplinary and equitable."
Hometown: Bozeman, Montana
Field of Study: Biochemistry

"Blossom coordinated MSU's voter registration program during the 2020 elections. Blossom said his interest in election law was developed while working with politics at several levels, including MSU and state and local politics. He believes the Schwarzman scholar year will help him better understand politics on a global scale. Following his Schwarzman year, Blossom plans to attend law school and pursue a career in election law."
Hometown: Helena, Montana
Field of Study: Chemical Engineering and Economics
"Leach currently works with BlackRock, a global investment management firm, in Princeton, New Jersey. He said he plans to use his experience in China, and in industry, to study the long relationship between that country and Montana and to develop connections that one day will benefit his home state's economy. He will also explore how private capital may be deployed to bring economic development to Montana, balanced with protection of its natural environment."
Hometown: Missoula, Montana
Field of Study: Finance
"Shearer said after his year earning a master's degree in public policy in China, he hopes to attend an M.D., Ph.D. program. He envisions a career where he will practice medicine while also being involved in public health care policy. His model for that job description is mentor Dr. Jennifer DeVoe, an MSU graduate and one of MSU's 11 Rhodes Scholars who also serves on the Honors College External Advisory Council."
Hometown: Lake Oswego, Oregon
Field of Study: Chemical Engineering, Biochemistry, Economics

Want more information about MSU? We're here to help.
If you have questions, please don't hesitate to reach out to us! You can email our staff at [email protected], or call us Monday - Friday, 8:00am-5:00pm MT at 1-888-MSU-CATS.