Mountains & Minds: Learners and Leaders
Engagement
Engagement is the collaboration between MSU and its local, state, national, and global communities for the mutually beneficial exchange of knowledge and resources in a context of partnership and reciprocity (Carnegie Foundation, 2006). Engagement, a form of scholarship that bridges teaching, research and service, brings the university's intellectual resources to bear on societal needs (Association of Public and Land Grant University's Council on Engagement and Outreach (APLU CEO)).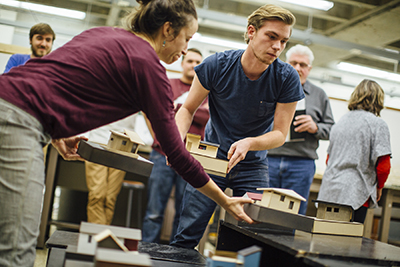 Goal:
Members of the Montana State University community will be leaders, scholars and engaged citizens of their local, national and global communities, working together with community partners to exchange and apply knowledge and resources to improve the human prospect.
Engagement improves scholarship, enhances the learning experience, and magnifies MSU's impact on external constituencies (APLU CEO). As a land-grant institution, MSU has a strong foundation of engagement with the local community, Montana, the nation and, indeed, the world. Members of the MSU community aspire to engage in diverse ways across many communities.
MSU faculty, staff, and students also actively participate in service and outreach. MSU's Extension is the model for this kind of interaction with the community. The emphasis in this plan on engagement in addition to service and outreach underscores the reciprocity that can emerge for the benefit of all participants. With this goal, MSU renews its land-grant commitment: increasing opportunities for and participation in service, outreach, and engagement by all MSU community members, fostering cultural attunement to better understand and engage diverse communities here in Montana and around the world, and creating focused leadership development.
Evidence:
MSU is nationally recognized for enabling students to apply their knowledge for the improvement of society:
Through a rigorous application process, MSU earned the Carnegie Foundation for the Advancement of Teaching's Community Engagement Classification, which acknowledges superior integration of learning and service to others. MSU is one of 173 public institutions and one of just 51 RU/VH institutions in this exclusive group.
Montana State University won the Association of Public and Land-grant Universities 2018 Economic Engagement Connections award, recognizing the university's contributions to Montana's economic and social prosperity and opportunity.
MSU's student chapter of Engineers Without Borders is a campus organization that enables students across a broad array of disciplines, not just engineering fields, to apply what they learn in the classroom to real-world problems, to developing solutions that change people's lives for the better. In addition, several students who participated in such opportunities have gone on to win Fulbright, Rhodes and Boren awards to further their education with the goal of helping individuals to improve the human prospect.
In addition to seven Agricultural Research Centers, Montana State University Extension faculty and staff serve each of Montana's 56 counties and seven tribal offices across the state. The MSU Extension publications list includes dozens of free brochures covering topics as diverse as home gardening, energy efficiency, and family economics.