Mountains & Minds: Learners and Leaders
Learning
Since its inception, MSU has prepared graduates to meet the challenges of tomorrow. Successful, sought-after graduates are part of our legacy, and preparing students is central to our mission. MSU students learn in the classroom, lab, studio and field, through a hands-on, student-centered curriculum that integrates learning, discovery, and engagement in and out of the classroom.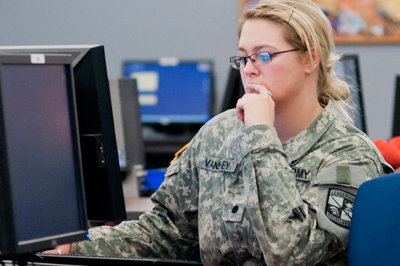 Goal:

MSU prepares students to graduate equipped for careers and further education.
Student learning sits at the heart of the university. MSU students make an impact on society, acquiring broad general education that allows them to make critical and ethical judgments, learning specialized knowledge to be successful in their careers or further study, and developing the skills to be active, informed citizens and leaders of Montana and the world. MSU prepares students not only to solve today's problems but also to rise to tomorrow's emerging challenges.
MSU excels in educating students with a variety of pedagogies and measured in a variety of ways. Every department has specific learning outcome assessments, and the general education curriculum, Core 2.0, uses course-level assessments to gauge student achievement. MSU graduates score well on national exams, place in competitive graduate programs, and find career success.
This goal pushes MSU to seek continuous improvement in student learning and to create innovative, compelling student learning opportunities that will increase retention and graduation rates. Combining rigorous assessment of student learning outcomes with nationally-normed measures of student success encourages MSU to build on its traditional excellence in teaching and learning.
Evidence:
MSU's success in this arena is wide ranging:
Undergraduate students regularly outperform their peers on a variety of professional exams, including the national nursing licensure exam (NCLEX-RN), Major Field Test in Business and Dietetics, and the Praxis II exams for education major, to name a few.
MSU students' medical school acceptance rates are approximately 20 percent higher than the national average.
MSU students frequently earn graduate scholarships and fellowships from federal granting agencies and a variety of other funding organizations that help student pursue graduate education at MSU and other prestigious institutions.
At the graduate level, MSU students have received a variety of prestigious honors and awards, including Science to Achieve Results (STAR) Graduate Fellowships, Student Emmy Awards, Fulbright Fellowships and Jack Kent Cooke Graduate Arts Awards.