Office of Return to Learn outreach project in partnership with Native American Studies
Christen Falcon's Outreach in the 2018-2019 Academic Year
The Office of Return to Learn (R2L) and Department of Native American Studies (NAS), together, share the goal of returning Native American students who previously attended Montana State University (MSU) to come back and finish their degrees. Through generous foundational support, R2L supports students through scholarships and helps advance robust recruitment efforts.
Christen Falcon before a presentation at the Fort Peck Community College.
Christen Falcon speaks to her own story, as she traveled across Montana to develop community partnerships with 6 Tribal Colleges and MSU. Christen, a senior at MSU, Business Management major and Native American Studies minor, visited the colleges- Aaniiih Nakoda, Stone Child, Blackfeet, Fort Peck, Chief Dull Knife and Little Big Horn in the academic year 2018-2019.
Falcon leads a new generation of students towards education while inviting a former generation back by engaging the interest of each community. She works with each school that she visits to tailor her message to her audience. "Each tribe has those people who are hungry for a change," Falcon states, "I find that really inspiring when I can get my point across and the students who want to be there are listening."
Curiosity is at the heart of what she hopes to achieve. It moves her audience to strive for a greater depth of understanding and hopefully to reach out to MSU or to encourage someone they know to reach out. "I, myself, have been in many of the same boats they have been in. So, seeing someone who has been through that and [is] still continuing to pursue education and career goals, no matter what their difficult situation, they too can [fulfill] their own aspirations." Falcon adds, "Visiting tribe after tribe, each one is unique; however, what each one has in common is a hunger to expand themselves in ways they never thought possible. Sometimes all a person needs is to see a real person making change happen."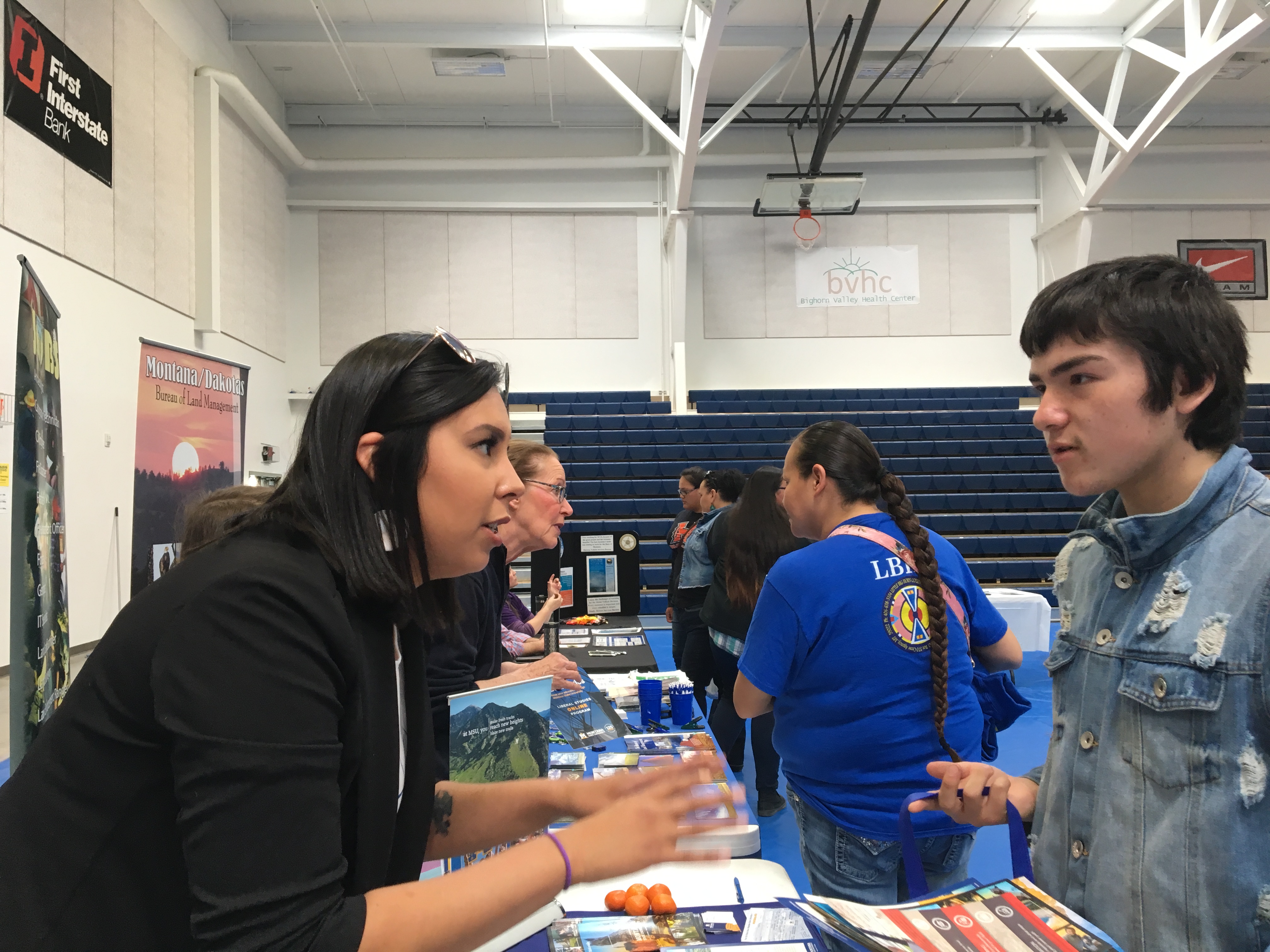 Christen Falcon speaks with potential returning students at Little Big Horn College.
For communities further away from MSU, this approach can be particularly powerful. Many of the individuals that
Falcon communicates with will be faced with a decision that entails moving away from a tight knit community into an environment that is wholly unfamiliar. Most importantly, seeing their hope realized in Falcon's story can transform the unknown into an opportunity worth exploring.
MSU's Office of Return to Learn has successfully been supporting returning students since its inception in 2014. During this time, each R2L scholar is supported through a comprehensive advising approach with an emphasis on career focus, all within an integrated University experience to improve their chances for a strong finish toward completion.
Above: Francesca Rodriguez. Francesca traveled to six tribal colleges and rural communities across Montana to share her story.
Rodriguez states, "I have a story of my own personal journey, about how I was able to graduate with the help of Return-to-Learn. I felt my story echoed a lot of other potential students or students who were students and now aren't." When Rodriguez speaks about her outreach she unfailingly places a strong emphasis on hospitality: "I try to feed people at the minimum."
Rodriguez always creates a relationship between herself and her future audience. She states that she is "really passionate about being an advocate for people to come to college" and that, "we need an education if we are going to, at all, have a shot in trying to either change things or even just trying to keep things the way we like to do them." After becoming familiar with the community that she's visiting, Rodriguez will organize and host a food, gift, and information filled gathering for future MSU students. During her speech, Rodriguez retells her own story of heartbreak and drama before explaining how returning to school afterward positively shaped who she is today.
Rodriguez's most memorable presentation took place on the Fort Peck Reservation. Rodriguez spent her time at Fort Peck speaking to a crowd that was noticeably smaller and quieter than the crowds that typically attended her gatherings. Rodriguez powered through her speech while mentally reciting a personal mantra, "if I embarrass myself then I just laugh and I'm hopefully making other people laugh." Following her presentation, Rodriguez was approached by the local college's student services representative. The representative spoke to her enthusiastically, "you know, I've never heard anything like that. Your story is powerful and next time you come here I'm going to make it personal because I think that this is something that everyone should hear, regardless of if they've been to MSU or not." His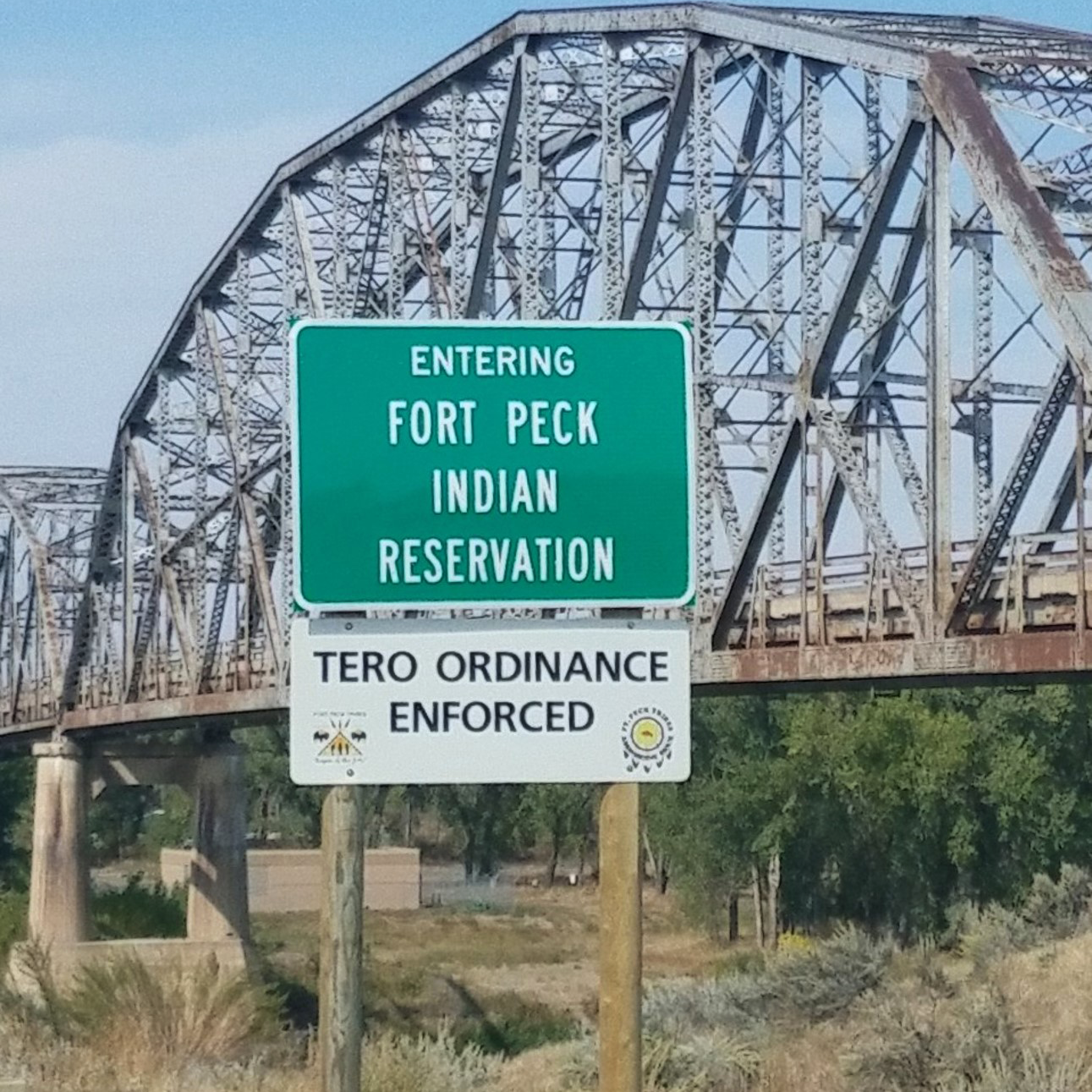 Fort Peck Reservation Sign
feedback is still the most inspirational feedback that Rodriguez says she's received—it drives her forward.
When Rodriguez goes "to these communities they've just been so welcoming and happy that I'm [she's] there. Even at Fort Belknap, a place where I [she] didn't know anybody they were saying 'nobody comes here, it's nice to see you here, I'm glad you're doing this.'"
Using her story, Rodriguez hopes to reach her audience more deeply. "If you can tell a good story, then you can communicate" Rodriguez expresses. Her mission is to inspire people from all educational backgrounds. "A lot of the people who come [to the presentations] are not former MSU students, but they know somebody—their granddaughter or their niece—who they want to return."
Rodriguez's presentations are an approximate combination of eighty-twenty/personal story telling- non personal outreach. Though the exact composition of each presentation can vary, Rodriguez's goal is always to show her audience that higher education is attainable. Using her story, Rodriguez shows her audiences that "not only can they do it, but they'll receive help when they get here".
During her undergraduate studies, Rodriguez focused her research on college based Native American retention rates. According to Rodriguez, "It's hard for our students to be away from home and missing all of the things that happen within the community." She states that sometimes, coming to Bozeman is almost the same as a foreign exchange program. Her outreach toward Montana's reservations aims to make any feelings of alienation that might exist between future students and MSU a less intimidating obstacle. She wants future Native American students to know that they will find a family, and a home, ready and waiting when they arrive.
Rodriguez began her outreach toward Native American Communities in Fall 2017 and will soon accept a position within a non-profit organization that focuses on telling the stories of Native American elders around America. Francesca plans to continue spreading incredible stories throughout the world.
Making a notable difference:
The majority of Native American students face substantial financial challenges that can make returning to college unfeasible. Montana's Native American population is economically disadvantaged, as evidenced by significantly lower household income than those in Montana households and nationally: US - $53,046; MT- $45,456; Montana Native American - $25,696 (US Census Bureau, 2010). These students are often first generation to attend college and arrive at MSU with minimal financial resources making returning to college even more challenging.
R2L's collaboration with the NAS Department: Francesca traveled to six tribal colleges and rural communities across Montana to share her story, one of past adversity. It is on common ground visiting with each of these communities, she has uncovered what difficulties students are facing and seeks to help by providing steps to overcome them. Francesca's communications are focused on graduating with 4-year degrees, so they may return home and make life better in their tribal communities. Francesca raises awareness of alternative options such as online degree options, technical certificates and undergraduate degree programs that are available through MSU. To date, she has connected with five tribal communities and has provided the R2L program with 81 Native American prospects.
It is through generous foundational support and partnerships with the The Office of Return-to-Learn that The Office of Return-to-Learn offers Native American (NA) student scholarships, develops community partnerships and advances recruitment efforts. Native American R2L Scholars are supported by a multitude of academic support teams and show improvement in both academic performance and retention rates.