Pack the Place in Pink 2022
Montana State University and Bobcat Athletics are encouraging fans to participate in the fourth annual "Pack the Place in Pink" event at the Oct. 22 home football game to promote breast cancer awareness.
To participate, individuals are invited to purchase limited-edition apparel and wear it to the game against Weber State in Bobcat Stadium. This year, the items for purchase include a pink short-sleeved shirt, a white crew neck sweatshirt and a black hooded sweatshirt. The apparel will retail for $20, $30 and $40, respectively.
In addition, local businesses are encouraged to decorate their windows with pink during the week leading up to the football game to show support for breast cancer awareness.
For each item sold, participating retailers will donate a portion of the sale to Pack the Place in Pink, a Billings-based nonprofit founded in 2007 by Vicki Heebner Carle, an MSU alumna, retired teacher and retired volleyball coach at Skyview High School in Billings. Carle, a two-time breast cancer survivor, played basketball for Montana State in the 1980s and was inducted into the Bobcat Hall of Fame in 1996.
For every dollar raised by the nonprofit, which is operated by volunteers, 95 cents go directly to breast cancer patients in Montana to help with things like rent, medical bills and childcare. Assistance is provided through a vetted application process.
"Once again, MSU has partnered with Pack the Place in Pink to help us generate funds for Montana Breast Cancer Warriors," Carle said. "We are honored to have the Bobcats in our Pink Corner. Being a Bobcat myself, I am humbled that MSU supports this cause and assists our fundraising year-round!"
Pack the Place in Pink Bobcat merchandise is available at the MSU Bookstore in the Strand Union Building and at Bobcat Stadium, as well as online at msubookstore.org. It will also be sold at Universal Athletic locations in Bozeman, Billings, Butte, Helena, Great Falls and Kalispell and online at universalathletic.com.
For more information, contact Amy Kanuch in MSU Communications at 406-994-7462 or [email protected].
MSU/Bobcat Logo Pumpkin Stencil Available
Show your Bobcat spirit on Halloween this year, by carving your pumpkin with an MSU or Bobcat logo.
Carve your pumpkin and tag your photos on any of Montana State University's social media outlets: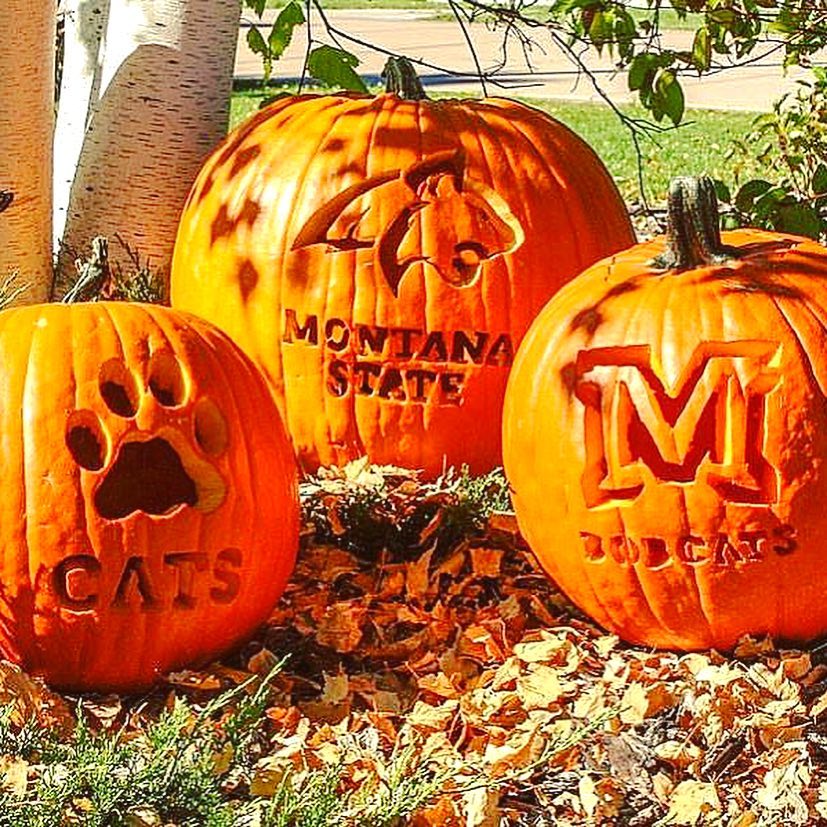 The Tradition Continues...
Gold Rush Huckleberry Lemonade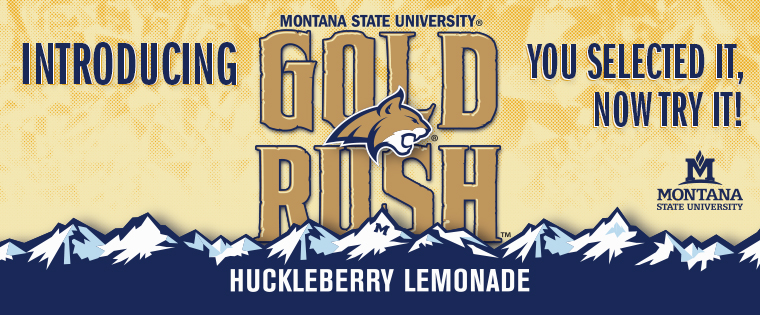 Montana State University and Harrington Pepsi continue the distribution of the beverage designed for Bobcat students, alumni and fans.
Gold Rush Huckleberry Lemonade was launchesd in tandem with the 2019 MSU Gold Rush football game.
The lemonade is available on soda fountains across the MSU campus and in Bobcat Stadium. It is also bottled and available in retail stores, including Town Pump and ThriftWay. It is also distributed in retail outlets in Yellowstone National Park.
"Our longtime partnership with Montana State keeps getting better," said Jim Bennett, vice president of Harrington Pepsi. "This new beverage combines two great Montana traditions — the Bobcat Gold Rush game and wild huckleberries. We're thrilled that we've achieved our goal to create a unique beverage that keeps the Gold Rush spirit alive all year long."
In the spring ot 2019, MSU students taste-tested several flavor options. The top two flavors were sampled on fountain machines in the university's dining halls to see which proved more popular. More diners chose huckleberry lemonade with their meals.
"Thanks to Harrington Pepsi, we were able to customize a flavor for our fan base," said Julie Kipfer, MSU director of marketing. "We couldn't have done this without our students, who selected the flavor. Now students, alumni and fans can experience the Gold Rush every day."
Now Montana State University and Bobcat fans can fly in style.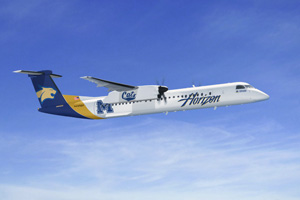 MSU is one of the newest additions to Horizon Air's fleet of aircrafts that are university-themed. The MSU plane is painted in blue and gold and displays the bobcat head mark on the tail, the collegiate "M" at the back of the plane, Go Cats text on the wings, and the university logo near the front of the plane.
"This is certainly one of our biggest promotional opportunities to date," said Julie Kipfer, director of marketing and creative services at Montana State University. "We are excited to increase our exposure and visibility in the Northwest region where many of our students, alumni and fans live and travel."
The first flight of the freshly painted Q400 Turboprop will be from Seattle to Bozeman on November 30, 2010. After that, the plane will travel on all Horizon routes and may be seen all over the Northwest region.
Free Go Cats Signs
The Bobcat Spirit program was created to engage the community and rally support for Montana State University and the Bobcats. MSU is keenly aware of the role we play in our local and statewide community. To recognize this partnership and continue to build excitement, MSU is offering a limited number of free "Go Cats" signs for anyone wishing to show their Bobcat pride. MSU is thrilled to be a part of the community and MSU invites you to show your support of the Bobcats during the sports seasons.
Businesses and individuals are invited to decorate their businesses and homes with blue and gold. Ask your employees to wear Bobcat gear on game weekends. There are a limited number of free Go Cats signs available, so pick them up at one of the following distribution points:
Bozeman Area Chamber of Commerce
MSU Communications Office
Drive with Pride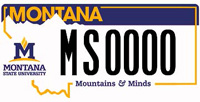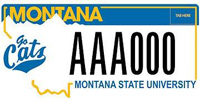 Show your support of Montana State University by choosing an MSU license plate.
Choose a Montana State University, Go Cats, or Bobcat Athletics themed plate when you renew your vehicle registration. Not only do you get to show your MSU and Bobcat pride, the cost of the plates and renewing them each year includes a donation that goes directly to scholarships for MSU students and student-athletes.
To find out more about collegiate license plates, visit:
https://doj.mt.gov/driving/plate-designs-and-fees/collegiate/