The Bio-Tek Synergy HT is a flexible monochromator-based multi-mode plate reader that includes Fluorescence Intensity (FI), Fluorescence Polarization (FP), Time-Resolved Fluorescence (TRF), Luminescence, and UV-visible Absorbance. Synergy HT uses a unique combination of monochromator, filters, and dichroic mirrors. Its three broad-spectrum light sources have been chosen for optimal illumination and excitation in all applications. Synergy HT has user-adjustable orbital shaking, temperature control, and 6-, 12-, 24-, 48-, 96-, 384-, and 1536-well microplate compatibility. The reader is computer-controlled using Bio-Tek's Gen5 PC software for all operations, including data reduction and analysis. It is the ideal system for all the standard microplate applications found in life science research laboratories.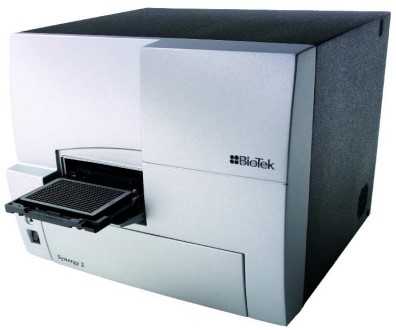 Synergy HT micoplate reader.
Click here to find available commercial assays:
https://www.rndsystems.com/products/elisas
https://www.abcam.com/nav/elisa-and-matched-antibody-pair-kits
https://www.biovision.com/products/metabolism-assays.html/
Information and image courtesy of Bio-Tek Instruments Inc.