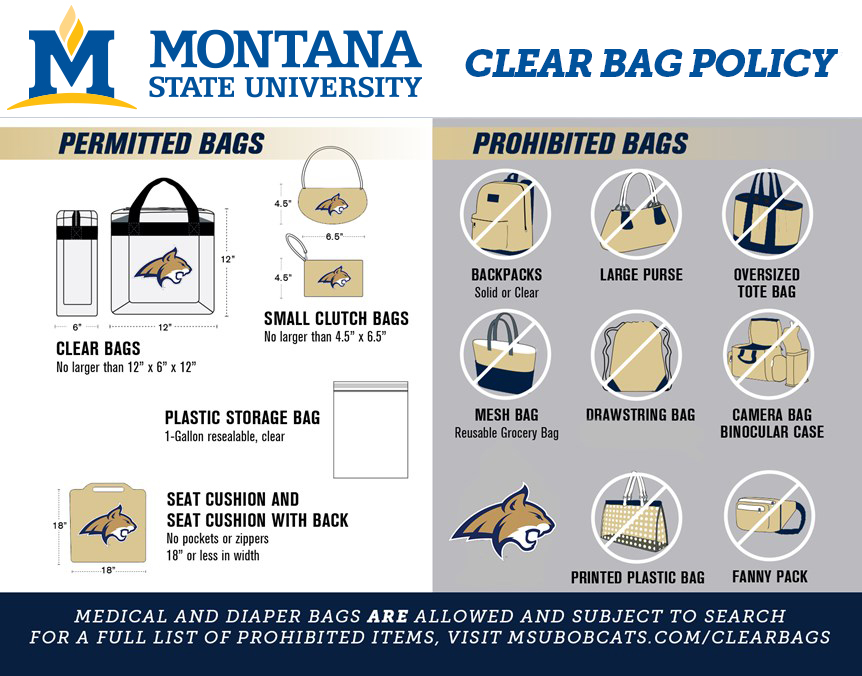 ---
Montana State University's Clear Bag Policy is intended to maintain the safety and security of events while increasing the efficiency for fans entering the event venue by expediting bag searches.
What types of bags are prohibited?
Backpacks (whether solid or clear in color)
Large purses
Oversized tote bags
Mesh bags or reusable grocery bags
Drawstring bags
Camera bags or binoculars cases
Printed plastic bags
Fanny packs
Clear bags measuring larger than 12" x 6" x 12"
Laptop and tablet bags
Luggage of any kind
Briefcases
Non-clear wristlets/clutches/wallets/bags measuring larger than 4.5" x 6.5"
What bags are allowed?
Clear bags no larger than 12" by 6" by 12"
Small clutches no larger than 4.5" x 6.5"
Gallon-sized plastic storage bags
Seat cushions or seat cushions with backs (no pockets or zippers, no wider than 18 inches)
Please Note
Attendees may bring one allowable bag and an allowable clutch/wallet.
You are limited only in the type of bags carried into the venue, not the items that you might normally bring that fit in pockets or clutch bags (e.g., keys, makeup, feminine products, comb, phone, wallet, credit cards).
Attendees may carry a blanket over their arms and binoculars and/or camera around their necks or in their hands without the case.
Every member of a family may carry in a permissible bag.
Do I need to empty my pockets of all items similar to an airport screening?
No. Please leave all personal items including cellphones, keys and wallets in your pockets and leave belts on. Only bring what is necessary in your approved clear bag.
What about diaper bags or medically necessary bags?
Non-clear diaper bags and medically necessary items/bags will still be permitted but will go through a thorough search process. Placing those necessary items for infants and toddlers in a 12" x 6" x 12" clear bag will reduce the amount of time needed to search your bag.
I forgot my clear bag. Is there a place on campus I can purchase one?
The MSU bookstore sells approved bags, but be aware the store's stock may be limited.
If I place my non-approved bag inside of an approved bag, will it be permitted?
No, the non-approved bag will be denied despite it being inside an approved bag.
Is there a place at the venue I can store my non-approved bag?
No. Attendees are encouraged to leave non-approved bags and items at home or in their vehicle. Bags and items left near the venue's entryways will be discarded
I have a question regarding the policy. Is there someone I can talk to?
Please call Guest Services at 406–994–7117, Monday-Friday, 8 a.m. to 5 p.m.