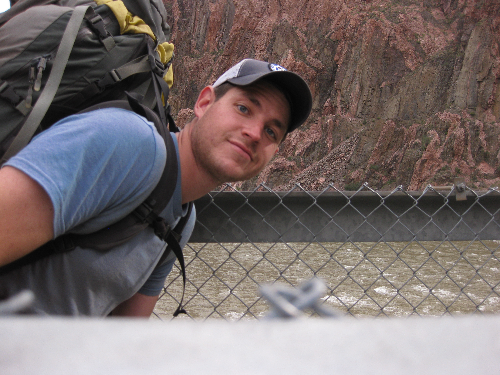 Degree(s) Held:
B.S. Chemistry/History John Carroll University 2006
M.S. Earth Sciences Montana State University 2015
Degree Sought:
Ph.D in Earth Sciences
Email Address:
Website:
https://sethmangini.wordpress.com/
Advisor:
Dr. Jean Dixon
Title of Research Project:
Understanding the timing and impacts of arroyo erosion in a wet meadow system, regional context and potential for restoration
Project Summary:
I am studying erosion in semi-arid climates, how human land use influences it, and what the implications are for responsible human management of sensitive riparian areas in the desert southwest. We propose to study erosion in a model southwestern wetland, Bonito Creek, located in the Sangre de Christo Mountains of northeast New Mexico. Wetlands in the watershed are being lost due to arroyo formation (riparian erosion via channel incision). Geologic evidence has shown that arroyo incision and infilling is a cyclic process in semiarid climates, but the timescales and forces which control these cycles are not quantitatively understood. This study will determine the geomorphic processes, timing, and drivers of wetland formation and erosion.
Research/Professional Experience:
Summer Field Work in New Mexico, Montana State University, 2019
Erosion in wetlands on Bonito Creek.
In 2019 I conducted my first field season at our primary study site, Bonito Creek in New Mexico. I recorded sedimentary profiles, collected sediment samples for geochemical dating, and conducted geophysical surveys using Ground Penetrating Radar (GPR) and Electric Resistivity (ER). This data will be used to determine the sedimentary history of the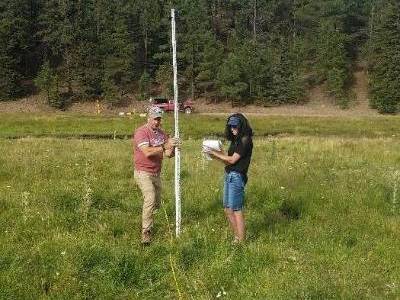 "Volunteers" (my very supportive and wonderful parents!) helping to conduct an ER cross section.
watershed and determine how human land-use has influenced the erosional and depositional cycle. I also located several other watersheds with similar erosional profiles that bore evidence of past cycles of erosion and infill. We hope to date these prior episodes and see if they correlate with one another regionally, which would indicate that an outside driver such as climate may be responsible of whether erosion is driven by geomorphic thresholds within each watershed.
Consulting Geochemist, Montana State University, 2017-2019
I continued the work begun during my Master's as a consultant working with Dr. Colin Shaw and postdoc Dr. Omotyao Omosebi. We conducted experiments using the equipment and methods that I developed during my Master's research. We injected simulated groundwater and supercritical CO2 into carbonate rock cores from a proposed Department of Energy CO2 disposal site (the Jefferson Formation in the Kevin Dome of northern Montana). We determined the physical effects of injection on the rocks and the chemical effects on the rock and the groundwater.
Research Assistant, Big Sky Carbon Sequestration Partnership: DOE/Montana State University 2012 – 2015
As part of my M.S. research I studied the effects of supercritical CO2 injection on whole rock and individual mineral samples as part of the Department of Energy's Big Sky Carbon Sequestration Partnership. I developed the experimental systems and methodology that would later be used to test the effects of injection on samples of the Devonian Jefferson (Duperow) Formation. I conducted whole rock tests on the Berea Sandstone and studied the reactions of scCO2 and simulated groundwater with the individual minerals muscovite, magnetite, pyrite, and hematite. I discovered that minerals containing iron(II) are highly reactive with dissolved CO2 and those containing iron(III) are inert.
The experimental equipment we used during my M.S. research. This machine is a flow-throw reaction capable of pumping scCO2 and saline brine through rock cores at temperatures and pressures designed to simulate reservoir conditions.
The "bomb" reactor was used to conduct experiments on single mineral samples.
Field Study of Jefferson Formation, Sun Canyon Montana 2013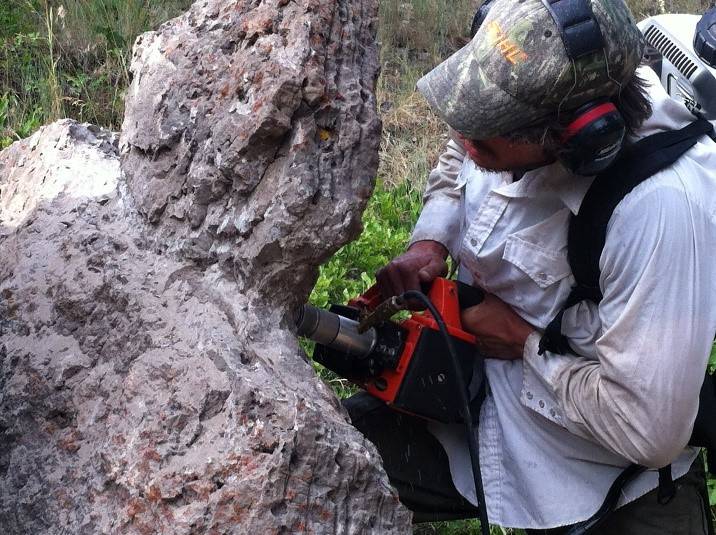 The outcrop is an ancient reef built by now extinct sponges called "stromatoperoids." These beds have significant porosity and permeability which made them potential targets of the disposal of CO2 emissions.
The second part of my M.S. research consisted of an outcrop study of the Devonian Jefferson Formation in order to help assess its feasibility for long term CO2 The study focused on the sedimentology, stratigraphy, chemistry, and mineralogy, and reservoir properties. We
How my field assistant and I crossed the swift Sun River each morning.
also collected samples that could be used for experiments in the laboratory. It added an element of adventure to the project in that involved paddling a raft across the Sun River each morning to the outcrop which lay on the fringes of the Bob Marshall Wilderness.
Associate Director of Conservation, Philmont Scout Ranch 2008 – 2012
Directed Philmont's Camper Conservation program, which is responsible for conducting large trail construction and environmental restoration (forest thinning, stream restoration, invasive species control, etc.) projects on the property and directs the volunteer labor, logistical support, and planning related to these projects. Staff included a team of 7 field crews comprising 18-22 members. The original survey of Bonito Creek was one of my projects and it became clear that significant scientific background would be needed to design a successful restoration project.
Trainings/Affiliations/Certifications/Awards:
Montana Association of Geographic Information Professionals (MAGIP) (2020)
Clay Minerals Society Research Grant (2014)
GSA Graduate Research Grant (2013)
Mineralogical Society of American Carbon Capture and Sequestration Short Course (2012)
Noxious Weed Control Grant from US Forest Service and New Mexico State Forestry 2010 and 2012
Presentations and Publications:
Mangini, S. A., Skidmore, M.L., Shaw, C.A., 2015, An Investigation of the Reactions of Supercritical CO2 and Brine with the Berea Sandstone, Muscovite, and Iron-Bearing Minerals M.S.: Montana State, 206 p.
2019 AGU Fall Meeting Poster Session; Experimental investigation of the evolution of 3D pore network geometry during supercritical CO2 injection in a carbonate reservoir, Kevin Dome, Montana Colin A Shaw, Montana State University, Omotayo Omosebi, Seth Alexander Mangini, Montana State University Bozeman, Michael Laase, Elijah Olusola Adeniyi, Lee Spangler
2014 Rocky Mountain GSA Sectional Meeting Poster Session; Reactivity of Phyllosilicate Minerals in the Berea Sandstone Resulting from the Injection of Supercritical CO2 Seth Mangini, Mark Skidmore, Colin. A. Shaw; Montana State University, Department of Earth Sciences
2013 AGU Fall Meeting Poster Session; Experimental Determination of Clay Mineral Reactions in Clastic Reservoir Rock Resulting from the Injection of Supercritical CO2 Seth Mangini, Mark Skidmore, Colin. A. Shaw; Montana State University, Department of Earth Sciences