The MSU Vertebrate Museum has been operating since the early 20th century and contains historically significant specimens and research collections, some of which date as far back as 1900. Located in 401 Lewis Hall, the collection has grown to include more than 60,000 vertebrate specimens, including a wide variety of birds, fish, amphibians, reptiles, and mammals, some of which are now protected by CITES (the Convention on International Trade in Endangered Species). These specimens have been used as educational outreach tools for students and the public and can be used by researchers examining historical distribution patterns of species that are now rare. The MSU Vertebrate Museum Collection is a major resource that has helped shape the "Mammals of Montana" guide and the "Fishes of Montana" app, and has resulted in long-standing relationships with donors. These are just a few ways the Vertebrate Museum has had a positive impact on our community. See our Vertebrate Museum History page for more insight into how the museum was formed over the years and other interesting historical facts.
Collections
Museum Needs
Over the years, there has been a common theme in museum needs (see Vertebrate Museum History Timeline): adequate funding. When the museum has received funding, the benefits have been measured through increased community outreach, the ability to accommodate specimen loan requests, repairing and cleaning specimens, receiving visitors from the general public, and increasing our specimen collections. Here are current priorities:
Curatorial Care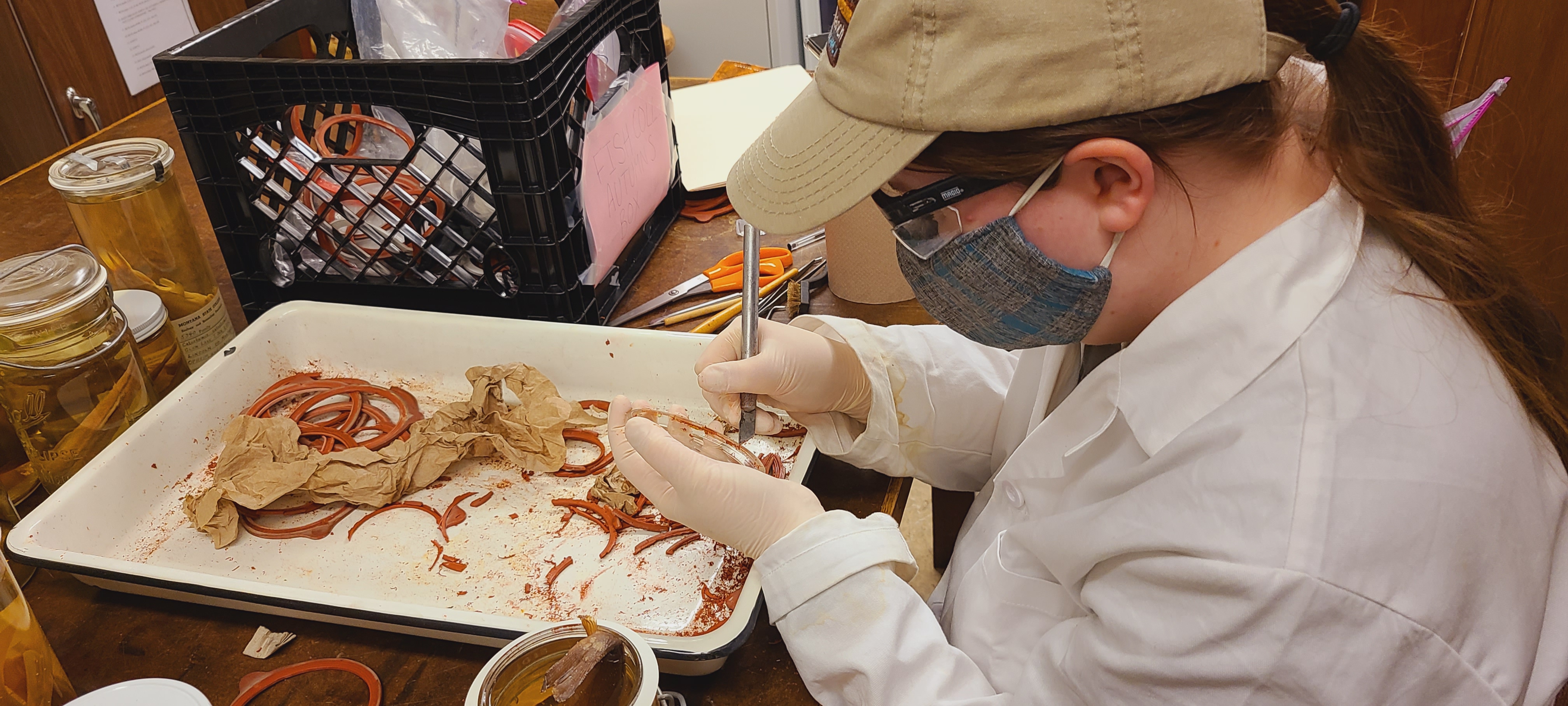 Student worker, Autumn Evans, works on one of many needed curatorial tasks: scraping away dried-out red gasket seals on alcohol-filled specimen jars and replacing them with new white seals.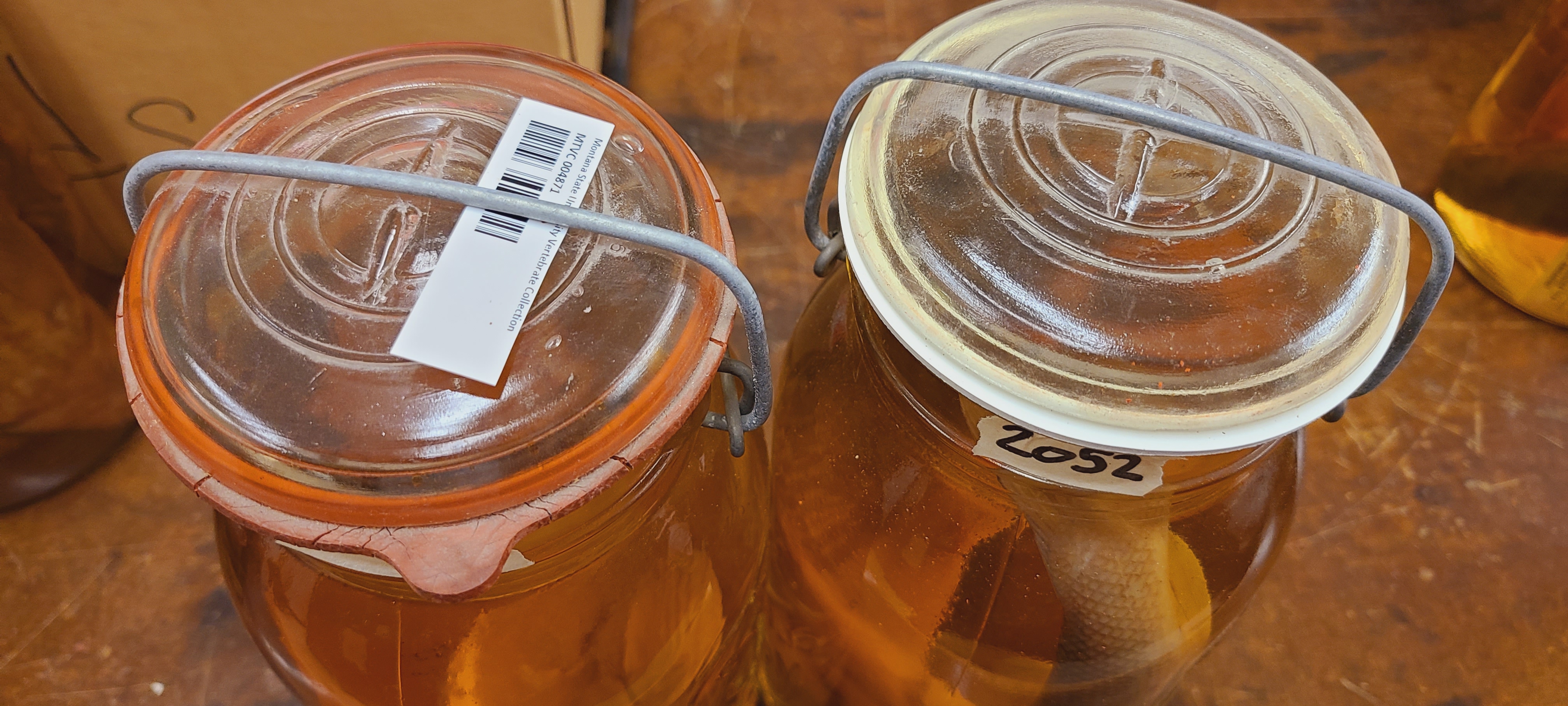 One specimen jar with cracked, dried-out seal, and one with a new white seal.
Curatorial care is the #1 priority to keep this collection viable for the next 100+ years. Having a curator present on a regular basis to organize, clean, and care for the specimens is critical for both the usability and longevity of the collection. For example, it was during the beginning efforts of the CLIR grant work (see below) that we noticed that the seals on the fish collection jars had become brittle and were no longer air-tight. Likewise, specimens that are frequently handled in classroom settings succumb to wear and tear damage that requires them to be mended or replaced. Curatorial care is vital for the oversight of the collection to maintain the specimens so that we will have them for generations to come.
Here are examples of actual curatorial care costs:
Student Workers (part-time): $12,000 per year per student
Full-time Professional Curator: $65,000 per year
Our 2021 "Giving Day" fundraiser raised just over $4300 dollars towards curatorial care--it all helps!
Other wish list items:
Replacement of damaged specimens: Approximately $200 per item, and we currently have at least 4 classroom specimens that we consider high-priority for replacement.
Suitable space on campus that would afford adequate ventilation and climate control for the large number of specimens (primarily fish) stored in alcohol ($200-300K+ depending on location)
Compactible storage units (pictured): Approximately $250K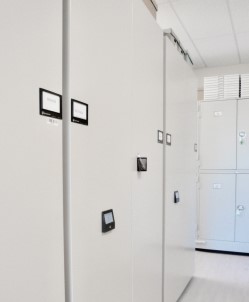 Museum Compacting Storage Units (Photo courtesy of University of Montana "Phillip J. Wright Zoological Museum")
Future Museum Improvement Campaign:
In the next few years, our hope is to raise funds through donors, a major grant, and university support to fund these much needed improvements, similarly to what has been accomplished a the University of Montana with the Phillip J. Wright Zoological Museum. For a detailed description of their museum campaign results, check out their Spring 2020 Newsletter.
Donate to Support the Museum
Donations to help fund the museum are gratefully accepted. If you wish to fund something specific (ie. curatorial care, specimen replacement, etc.), please note that in the memo line of the donation form and your request will be honored. Thank you for your help in preserving this treasure!
Current/Recent Funding:
CLIR "Hidden Collections" Grant for Information Accessibility
Through a collaborative effort with the Department of Ecology, the Montana Entomology Collection, the MSU Library and the Montana State library, MSU received a $300,000 CLIR (Council on Library Information Resources) grant. One of the accomplishments of this grant was to fund the digitization of the fish specimens in the MSU Vertebrate Museum, including all fish documentation collected over the years, making it possible for researchers world-wide to access the information housed at MSU. This grant will also fund the development of educational materials to be used at the university level, as well as for K-12 students and educators, to further the public outreach of the MSU Vertebrate Museum.
NPR (National Public Radio) recently aired and published a story on the value of hidden collections to the research community and the need to make them accessible. To hear the radio story or read the article, visit Scientific Specimens are Going Online, but Much Remains Hidden In Storage.
Montana State University Vertebrate Museum Fish Collection is now available online:
Rice, Chloe L., Debinski, Diane M., Bramblett, Robert G., Rubin, Sarah E., Ivie, Michael A., Clark, Jason A., Evans, Autumn C., Smithers, Brian V., & McMahon, Thomas E. (2022). Montana State University Vertebrate Museum Fish Collection (Version 1) [Data set]. Zenodo. https://doi.org/10.5281/zenodo.5847350
Bramblett, R.G., C.L. Rice, J.A. Clark, M.A. Ivie, H.E.D. Stewart, and D.M. Debinski. 2021. Montana Prairie Fish Collection, Montana State University. Data Publication. https://zenodo.org/record/5585950#.YdzSUo5KhaQ