Upcoming Dates
Date TBD: Shooting Sports Leader Training
June 14: Summer 2023 Outbound Exchange Program: Japan 8-week, June 14-August 10
June 21: Summer 2023 Outbound Exchange Program: Costa Rica, June 21-July 20
February, Ongoing: Hosting Opportunities
Call to Action! Consider hosting the following 4-H youth:
2 Norwegian Delegates for approximately 4 weeks, mid- to end of June

13 Japanese Delegates for approximately 4 weeks, mid- to end of July
2 Japanese Delegates for the Academic Year Program (AYP) beginning in August (lasting approximately August through June)
Experience cultural exchanges firsthand and broaden your global experience.
First come, first serve!
More information contact Christine Sommers-Austin at [email protected]
Deadline February 14: Montana 4-H Foundation Scholarship Applications
Scholarships and grants provide opportunities for youth and adults to strengthen their skills and maximize their positive impacts on the communities in which they live.Montana 4-H Foundation Scholarship Details and Applications are available on the 4-H Foundation website.
February 17-19: Montana 4-H Volunteer Institute
Join us for essential training and meaningful connections with statewide 4-H Volunteers!
This event is open to all Montana 4-H Volunteers and will be held at the DoubleTree by Hilton Hotel in Billings, Montana.
Learn more about the Montana 4-H Volunteer Institute.
March 3-5: Montana 4-H State Shoot
The 28th Annual Montana 4-H Shooting Sports Invitational will be held in Bozeman on March 3-5, 2023. This event is open to all enrolled 4-H members ages 9-19 in the Shooting Sports Projects. The registration will open on January 13, 2023, and close on February 24, 2023. Please see the State Website for all information regarding the State Shoot. The events held at the State Shoot are Air Rifle, Air Pistol, Smallbore Rifle, Smallbore Pistol, Target Archery, and 3D Archery.
The State Shoot will serve as the qualifier for the Air Rifle, Air Pistol, Smallbore Rifle, and Smallbore Pistol events. The top 4 individuals in each event will be invited to represent the State of Montana at the 4-H Shooting Sports National Championships to be held in Grand Island, Nebraska, June 25 – 30, 2023. Those individuals trying out for the Sporter Air Rifle Team must compete in Sporter 3P and Sporter Standing. The top 4 finishers will be determined from the combined scores from these two events.
To attend the 4-H Shooting Sports National Championships, participants must have passed their 14th birthday by January 1, 2022, of the current year and may not have passed their 19th birthday before January 1 of the current year in which the championships are held.

We hope to see you in Bozeman in March. Good luck, shoot straight, and have fun!
Registration information is available today.
March 17-19: Montana 4-H Recreation Lab
Start planning your trip to Culbertson Montana!
Montana 4-H District 8 invites you to Rendezvous 4-H March 17-19, 2023.
What is Rec Lab? It sounds like a funny name for a 4-H event. Rec Lab stands for Recreation Lab and means that everything is hands-on and fun! This event is a 4-H member favorite and provides an opportunity for youth and adults to enhance their leadership, communication and team building skills in an action packed and interactive setting. Rec Lab is designed to provide participants with tips and tricks for being a better club, camp and community leader.
Registration will open in February in 4h.zsuite. All 4-H members 13 4-H age+, volunteers and MSU Extension staff welcome.
Look for more information on workshops and speakers coming soon.
March 31 – April 1: Billings Shooting Sports Leader Training
Billings, March 31 – April 1, 2023. Disciplines offered; Shotgun, Archery, Pistol, Rifle, and Coordinator.
Visit the Shooting Sports Leader Trainings page for more details.
Deadline April 1: 4-H Foundation Innovative Programming Grants
This grant opportunity provides financial support to new programs with innovative efforts and specific outcomes that can be duplicated from one county to another.
Any Montana county 4-H youth program is eligible. Grant criteria:
Innovative youth or adult volunteer leader educational programs. Program efforts that are currently conducted are not eligible.
Programs currently being conducted in other states qualify.

Project must have potential to be replicated in other Montana counties.

Project can reach existing or new audiences.

Application team and teaching team (can be different) must include an Extension staff person, an adult volunteer, and a teen volunteer.

Project and evaluation must be completed within one year of submission deadline.
Apply on the Montana 4-H Foundation's website.
April, TBD: National Volunteer Week
In celebration of our 4-H volunteers, we designate a week in April to recognize volunteers' contributions in each county and community.
April 21-22: Logan Shooting Sports Leader Training
Disciplines offered; Shotgun, Muzzle-loading, Hunting, and Western Heritage.
Visit the Shooting Sports Leader Trainings page for more details.
4-H Greytak Calendars
We still have a few 4-H Greytak calendars, and they are now deeply discounted. Help us clear our inventory and raise funds for 4-H in Montana. These are now about the same price as a greeting card, so send one to a friend! You can add notes inside for them to enjoy throughout the year! You can order by clicking on calendars.
Celebrations
Welcome to Gabby Sexton, Agriculture and 4-H Extension Agent in Dawson County
A note from Gabby: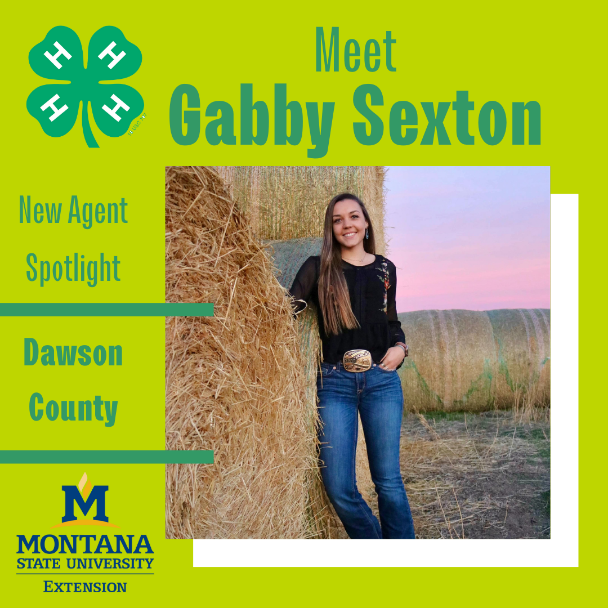 "Hi! My name is Gabby Sexton and I am originally from Seeley Lake, MT where I grew up riding my horses, raising show lambs and steers on my family's small farm.
I recently graduated from Montana State University with a degree in Agricultural Education…GO CATS GO!
I was a member of the Seeley Lake Trailblazers 4-H Club since 2nd grade and it's where I discovered my passion for agriculture. I am very excited to be here and work with all of you!
What I value most about 4-H is the vast opportunities and the lifelong skills that it provides members, parents, leaders, volunteers and supporters. 4-H molded me into the person I am today and took me to some amazing places, so I am excited to see where it takes this next generation of 4-Hers.
There are so many things that I am looking forward to in this position but mostly what I'm looking forward to is that this position is providing me with the ability to do what I love every day: agriculture and 4-H!
I am looking forward to sharing my passion for agriculture and 4-H as well as being an advocate for both of them. I also look forward to watching my kids here in Dawson County grow and develop!"
Welcome to Elizabeth D'Imperio, Agriculture and 4-H Agent in Gallatin County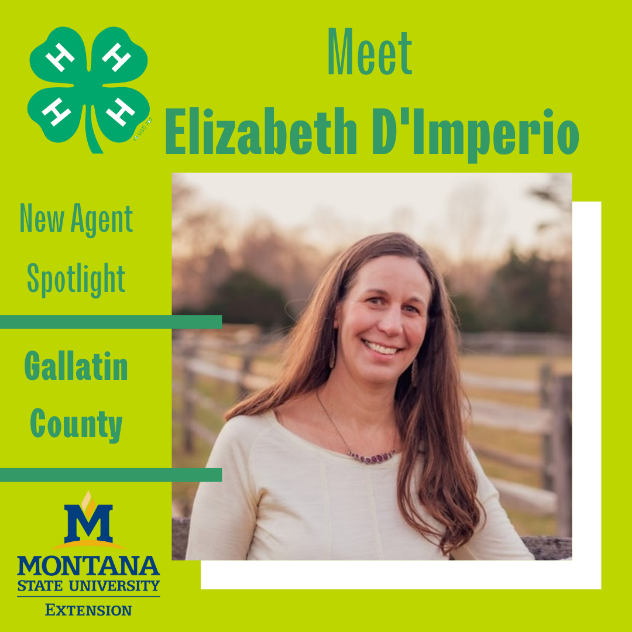 A note from Elizabeth:
"Although not a native to Montana, Bozeman has been home on and off for almost 25 years. I earned my master's degree from MSU in Land Resources and Environmental Science and have spent most of my career working as a researcher and educator. Outside of work you will likely find me mountain biking with my family (or coaching with the NICA team), or walking my dog (a 4-H dog program alum).
I think 4-H does a great job helping youth to develop real life skills such as communication, leadership, and time management. I also love the diverse projects that let students explore interests that they may not be exposed to in other settings.
I am excited about the opportunity to create education programs and workshops on topics important to the community as well as working one on one to help support landowners."
Welcome to Colette (CJ) Werk, Agriculture and 4-H Agent in Fort Belknap
A note from CJ: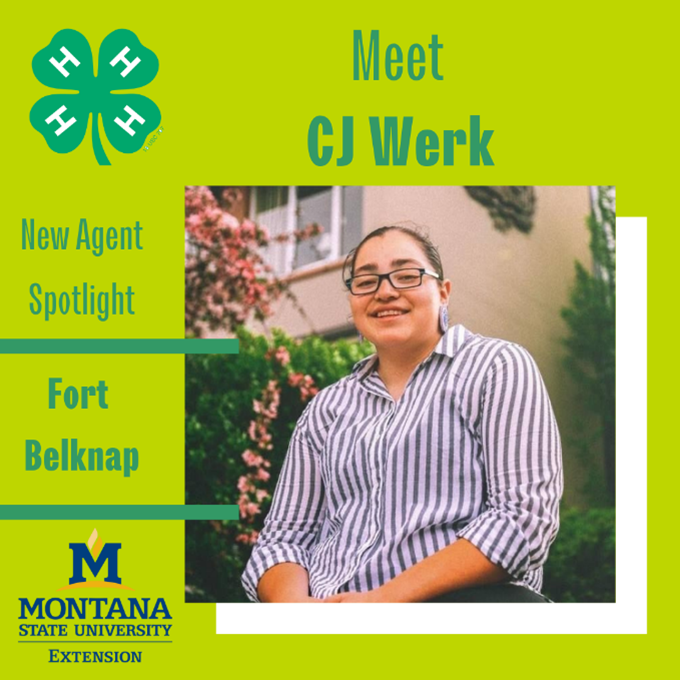 Naha, Naaniccahit An-a,'Ɔ́ɔ́'ɔ́ɔ́ɔ́níííhnen
Hello my name is CJ Werk. I am an enrolled 'Ɔ́ɔ́'ɔ́ɔ́ɔ́níííhnen White Clay, or Gros Ventre, our federally recognized name.
I am from Hays, Montana, on the southern end of the Fort Belknap Indian Reservation. I like to hunt, fish, and garden.
What I like about 4-H is the value of responsibility and growth the children gain from it. It builds character and sets them on a path to see the future they could have.
What I'm looking forward to most in my new position is finding creative ways to help my community. I've lived in Fort Belknap all my life and serving the community is even more challenging when it's your home. It's something new for me to be in a such a position but willing to learn and excited for what's to come.
Volunteer Spotlight
Kodie Olsen, Fallon County
Kodie stepped up this year to keep the shooting sports program going in Fallon County when all other leaders stepped down. She was the only other certified leader, and was certified in archery. She kept the program going, holding shooting sports practice for members that were interested in archery.
Thank you, Kodie!
Barb Larsen, Toole County
From a Parent: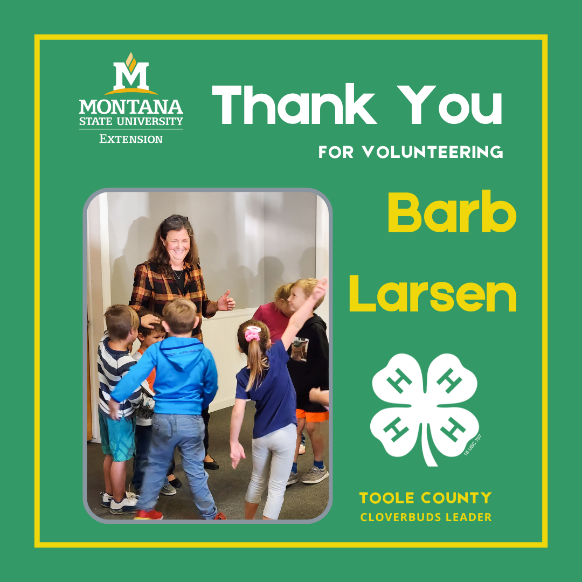 "Barb Larsen, coordinates the Cloverbuds Robotics Group and makes it an awesome experience for these young members. At the Cloverbud Robotics meetings, the kids get to pair up and work together, building a robot. The robot is basically a Lego creation that, if done correctly and all the steps are completed, will follow simple commands from a tablet/device to move certain directions or do certain things.
While this is certainly a fun thing for these kids to get to learn how to do, as a mother I also pick up on the other "things" my son is gaining from this experience: Problem solving, following directions, collaboration, patience, teamwork, confidence, and leadership.
I admire Barb for how she rounds up all these energized 6- and 7-year-olds, make them pay attention, give them a task, and then send them on their way to get it done! She helps them when they need it, encourages them, and gives directions.
We meet Barb twice a month, once for 4-H Cloverbud Robotics and once for a 4-H Cloverbud Project Day. The kids get to do fun hands-on activities where they build, create and learn about something interesting. It makes me so happy that my son has this opportunity to participate in these 4-H activities at such a young age.
These are very special programs that Barb is coordinating; I'm thankful for all she does. She really is wonderful with these young Cloverbuds and it makes me happy that my son has this opportunity to be involved. Thank you, Barb."
Thank Yous from Citizenship Seminar
A special thank you to all who participated, served, donated, presented, or were engaged to make this year's 2023 Montana 4-H Citizenship Seminar a tremendous success!
The amazing 60+ 4-H youth, adult volunteers, agents and staff who participated!

The 2023 Planning Committee: Roubie Younkin, Melody Harris, Roni Baker, Jackie Pondolfino, and Rick Balestra

Montana 4-H Foundation, Inc.

Mark A. Smith and Bikes for Goodness Sake

Dillon Key with Great Divide Cyclery, Helena

AgWest Farm Credit Services and Shelby Martinell

Lewis and Clark County MSU Extension Office, Lexi Foust and Mat Walter

Delta Colonial Hotel, Helena, Kris, Zada and Joe

McDonald's Helena and Candice Paasche

Big Sky 4-H Club from Lewis and Clark County and Eran Saunders

Page Program – Montana State Legislature and Jean Johnson

Big Brothers Big Sisters of Central Montana and Mike Buchanan

Family Promise of Greater Helena and Renee Bauer

Montanans for 4-H

Speakers: Todd Kesner, Janelle Booth, Justice James Rice, Governor Gianforte, and Secretary of State Christi Jacobsen
I apologize in advance if I missed someone.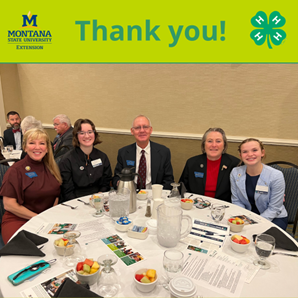 Appreciatively,
~Christine Sommers-Austin
International and Citizenship Associate Specialist
Thank Yous from the Legislative Breakfast
Special thanks to Montanans for 4-H for hosting February's Legislative Breakfast!
Learn more about Montanans for 4-H and their impact on Montana Youth.
Thanks also to all of the state senators and representatives that attended the breakfast in support of Montana 4-H and MSU Extension. We hope you enjoyed having a conversation with 4-H members and hearing from youth and alumni speakers!