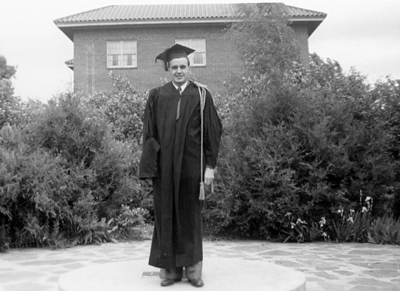 The MSU Hilleman Scholars Program is named after Maurice Hilleman, a graduate of MSU, who is credited with saving the lives of millions through his work in vaccine development. Becoming one of the world's most respected scientists didn't happen without a tremendous amount of effort and a little gumption. While a high school curiosity in chemistry might, in retrospect, have been an obvious marker for a life dedicated to science and a desire to improve the human condition, the path there was a bit more uncertain.
Maurice Hilleman began life under tragic circumstances in his family's home on the banks of the Tongue and Yellowstone Rivers near Miles City, Montana. His twin sister died in childbirth, and his mother passed away shortly thereafter. He was raised by an aunt and uncle on the family farm. From the earliest of years, Maurice knew what it meant to work hard, beginning at age four when he was sent to sell strawberries (unsuccessfully) at a local market. As Maurice grew older, he was responsible for many other duties typically associated with farm life, including becoming an expert on poultry production (a skill that would later serve him—and the rest of society—well).
As a recent high school graduate, Maurice had been given a coveted career-track job at the J.C. Penney in Miles City. However, his brother encouraged him to attend college. And while many high school students might have considered a university closer to home, Maurice Hilleman selected Montana State University. These two decisions—not working after high school, and accepting a scholarship to attend Montana State University—would forever shape Maurice and the lives of millions of others around the world.
After graduating top in his class at MSU, Maurice went on to attend the University of Chicago. Life didn't become much easier in the Windy City. His studies were rigorous and his professors fierce with their expectations. Thanks to limited personal finances, Maurice ate one meal a day, as evidenced by his 138-pound frame. As a graduate student, his research project eventually helped develop a treatment for chlamydia by discovering it was a bacteria and not a virus. This discovery, remarkable in itself, represented just a glimpse of Dr. Hilleman's genius and ability.
From the University of Chicago, Dr. Hilleman advanced his career working as a scientist for Walter Reed Army Institute of Research and Merck Pharmaceutical, where he was responsible for creating and producing vaccines that would shape modern day healthcare and, as a result, save millions of lives around the world.
Dr. Hilleman accomplished his work with great tenacity and even greater humility. Today, he is remembered by many as being one the world's top scientists who was able to advance global public health through his ethics, values, and hard work—qualities that can be traced back to his Montana roots.
To learn more about Dr. Hilleman, see the following resources: