The mission of the Honors College is to prepare academically motivated students to think for themselves and become their own best teachers, all within a challenging and supportive community. To this end, Honors provides students with opportunities to take unique interdisciplinary seminars designed and taught by Montana State University's most distinguished faculty members. Seminars are capped at fifteen students, thus permitting close interaction with faculty and peers. There are also special sections of departmental offerings in chemistry, computer science, earth science, economics, English, history, mathematics, music, psychology, sociology, engineering, and physics. These courses are restricted to Honors students and are considerably smaller than regular departmental classes. Additionally, Honors students are routinely invited to join outstanding scientists in their laboratories or pursue independent studies with acclaimed scholars and artists in a variety of fields.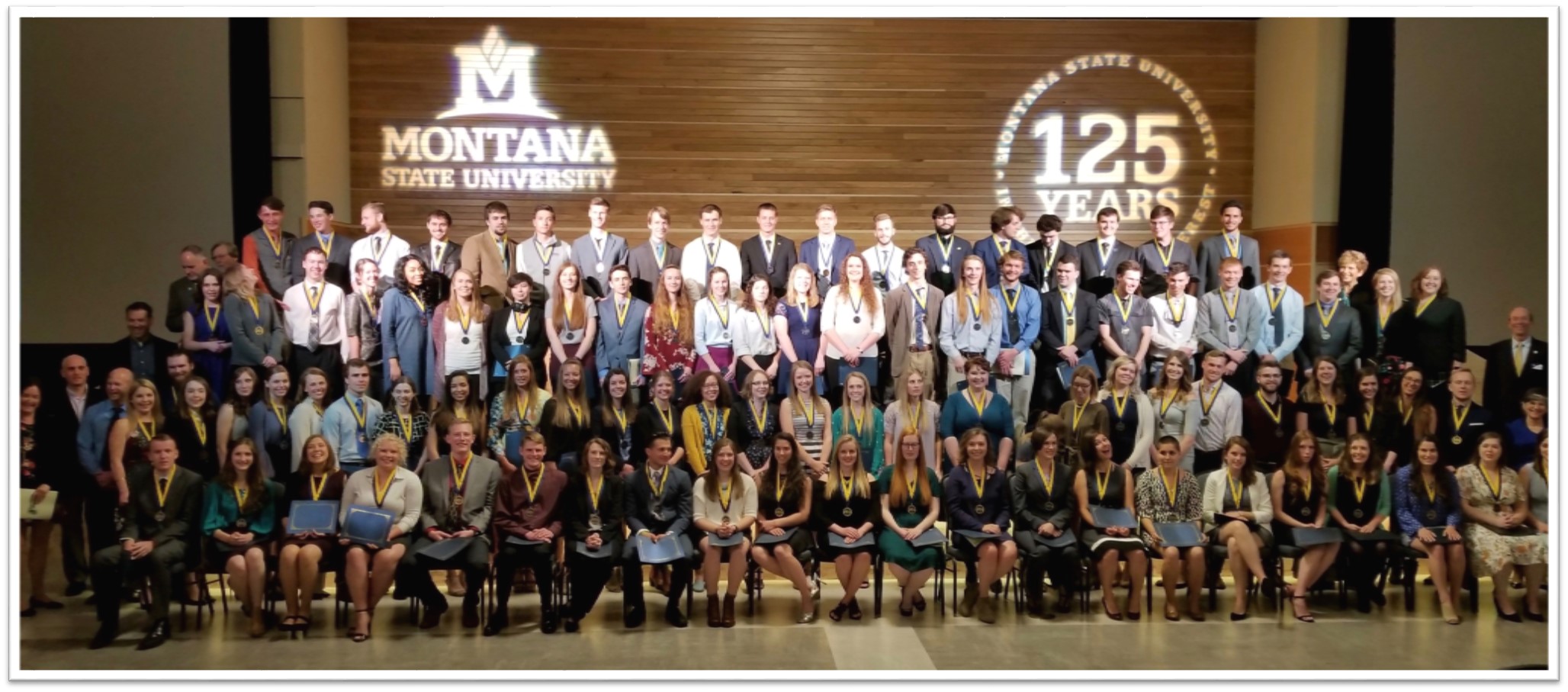 Honors Graduation Spring Class of 2018
Hyalite Lake with Honors students, Hike & Read
Extending the dynamic energy that are at the core of all Honors classes, students also engage in social activities that further personal and intellectual growth. Each academic year begins with a two-day excursion for incoming freshmen to beautiful Hyalite Canyon, during which students participate in vigorous hikes, book discussions and faculty presentations.
Special lectures and symposia are also featured throughout the year. Service opportunities within the campus and local community are both encouraged and made available through the Honors College.
Honors students may choose to live in either the Atkinson Quadrangle (The Quads) or on the Honors floor in South Hedges. The "Quads" are gracious buildings surrounded by giant blue spruce trees and lawn. The buildings are coed, with women on one floor and men on another. The South Hedges honors floor is a centrally located residence hall and is adjacent to the newly renovated Miller Dining Hall with amenities that include kitchens, study lounges, laundry facilities, elevators, a convenience store, as well as fitness and weight rooms.
****Due to increased demand, we are pleased to announce that Honors housing will also be available in Hannon and Langford Halls, in addition to the Quads and the 3rd floor on South Hedges.***
Atkinson Quadrangle, Honors Housing
The Honors College provides assistance and guidance to students applying for major national and international scholarships. Our students enjoy an exceptional record of achieving such awards, and have experienced equal success with research grants and fellowships to major graduate, medical, veterinary and law schools.
Students may graduate from the university with a degree in their major field plus an Honors Baccalaureate degree, which they receive, along with a distinctive medallion bearing the President's seal, during the Honors College commencement ceremony.