A note from your advisor regarding current remote advising
Liberal Studies majors and minors,
In light of concerns around the COVID-19 pandemic, I will advise students via email and remotely until further notice.
All declared Liberal Studies majors should have received personal advising notes from me. Please check your inbox and degree works.

Course lists for fall 2020 are available from the liberal studies webpage.
Please read the following updates carefully:
MSU's Office of Academic Technology and Outreach has created an online and remote learning guide for students. This guide has useful suggestions and resources for you as you transition to online learning. You can access that information using the following link:
http://ato.montana.edu/learnanywhere/students/
Students in the Online Liberal Studies Program, or those who are interested in the online program, may contact Dr. John Townsend-Mehler at 406-994-3102 or [email protected]. Please use the online appointment scheduler at https://www.montana.edu/scheduler to make an appointment with him.

Thank you for your patience and grace during this interesting time.
Stay well,

Teresa Greenwood
Academic Advisor and Instructor/Liberal Studies Program
Getting Started in Liberal Studies
The Liberal Studies degree values a broad and interdisciplinary approach to higher education. It also offers flexibility in course curriculum. Advising and course planning, therefore, are critical to student success. Liberal Studies advisors help students decide on a program of study and develop a preliminary curriculum plan. If you are interested in finding out more about the Liberal Studies degree at MSU, please visit https://www.montana.edu/scheduler/login/student/ to schedule an appointment.
Completing the Major
Liberal Studies students meet periodically with their advisors to make sure they are on track to complete their plan of study. Advisors assist students with course selection, proposed course substitutions, scheduling variances and conflicts, and study abroad and internship opportunities.
Liberal Studies Advisors
Teresa Greenwood
Teresa Flynn Greenwood is an academic advisor and instructor in the Liberal Studies program. Originally from Grand Junction, CO, she received her B.A. degree in English and an M.A. degree in Communication Development from Colorado State University. Teresa has been working at MSU since 2004 and was the assistant director of the CLS 101 University Seminar from 2006 - 2010. When she's not working with students, Teresa enjoys reading, gardening, hiking, mountain biking, skiing, traveling and spending time with her husband and her dog.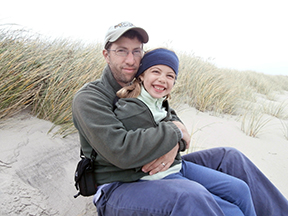 John Townsend-Mehler
John Townsend-Mehler is an academic advisor and instructor in the Liberal Studies Online distance learning program. John received his BA in Sociology/Anthropology from Earlham College and, more recently his BS in Biology from Montana State University. In 2010 he received PhD from Michigan State University in Zoology & Evolutionary Biology with a specialization in Cognitive Science. He began working at MSU in 2012 and enjoys fishing, zombie films, and traveling with his family.