Faculty and students make connections through the following Liberal Studies courses.
LS 101: Ways of Knowing
LS 102: Introduction to Liberal Studies
LS 301: Integrative Seminar
LS 490R: Senior Project (formerly LS 401, LS 499)
Students and faculty share responsibility for learning. The seminars represent rich potential conversations between scholars and students and across disciplines.
Senior capstone experience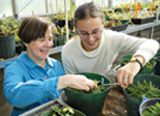 Students are challenged to meaningfully integrate and synthesize their course work and college experiences on a broader scale that includes practical applications and personal enrichment. They gain confidence in their abilities to ask important questions, discover significant answers, support their conclusions, and articulate their viewpoints regarding the issues at stake. Students demonstrate their capacity to bring information, skills, and ideas to one significant project, exhibition or performance.
Previous Liberal Studies course topics
The Nature of a Liberal Education
Leadership
Health and Society
Extra-terrestrial Life
The Nature of Creativity
What Liberal Studies courses do:
Provide a sense of community
Heighten students' knowledge of faculty across campus
Help students adapt their knowledge, skills and responsibilities to new settings and questions
Improve critical and creative thinking and communication skills
Connect learning across fields Integrate classroom work with experiences in the larger campus and community