Human Factors, Ergonomics & Work Design Laboratory
Human Factors & Ergonomics Equipment
Monark Cycle ergometer 818E
Research treadmill 16-50
SensorMedics VMaxST portable metabolic measurement system
LIDO WorkSet II Isokinetic dynamometer, with task simulation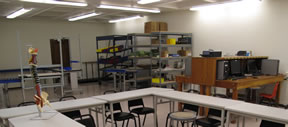 Various ergonomics measurement systems: anthropometic kit, hand grip dynamometers, vibrometer, pinch gage, stethoscope, heart rate monitors, light, sound, and temperature meters, vibration sensor, and weight scales.
Biosensor Hardware:
APDM Opals with Access Point.
Shummer HR electrodes, GSR/EDA electrodes and EMG electrodes.
Neuroelectrics Enobio 8 EEG Headset.
Smart Eye AI-X Screen-based Eye Tracker and Affectiva Facial Experssion Analysis.
(4) Networked Computers
Software: JACK Ergonomics Analysis Software, 3DSSPP Biomechanics Software, Minitab, iMotions Suite (EDA/GSR, Eye Tracking, Facial Expression Analysis, EEG, ECG, EMG, API, Survey), Mobility Lab & Moveo Explorer, and Neuroelectrics Instrument Controller (NIC).
Work Design Equipment
Various work measurement equipment, including: digital stopwatches, clipboards, practice devices and videos, hardware for simulated assembly tasks
(3) 48" adjustable height industrial workstations
(1) 48" Keneco mobile flow rack
(3) gravity roller conveyors, linear, on casters
(2) gravity roller conveyors, 90° curved, on casters
(4) Networked Pentium 4 PCs
Supervisor
The lab is supervised by EFIN and IMSE Faculty.
Contact
Dr. Bernadette McCrory, [email protected]