Come Join Us and Make a DIFFERENCE!
We're a department of the Norm Asbjsornson College of Engineering at Montana State University that focuses on helping students become problem solvers who make a difference in the world.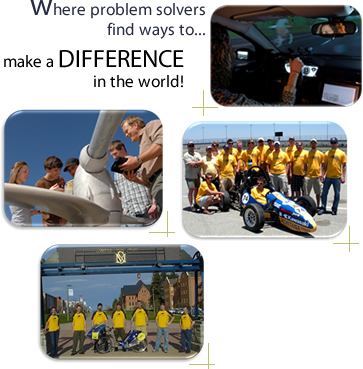 What is MSU like?
MSU is a land-grant institution of approximately 12,000 students located in Bozeman, Montana. Get a brief overview of MSU.
What is Bozeman like?
Bozeman is a culturally-oriented Rocky Mountain community of approximately 30,000 situated between Yellowstone and Glacier National Parks. The scenic grandeur of surrounding mountains and networks of rivers, lakes, and streams provides a veritable year-round recreation paradise. Learn more about Bozeman's location and find visitor information (in a new window).
Will I get a high-quality engineering education at MSU's M&IE Department?
Yes! The engineering programs are ABET/EAC accredited, and the technology program is ABET/TAC accredited. An Engineering Internship Program is available to all undergraduate students.
Our students consistently pass the Fundamentals of Engineering (FE) exam at a much higher rate than the national average. The FE exam is a step toward becoming a licensed professional engineer.
We excel in research while focusing on undergraduate education. MSU is in the top 3% of universities rated by the Carnegie Foundation for the Advancement of Teaching. MSU is classified as having "very high research activity", along with Massachusetts Institute of Technology (MIT), Stanford, and the University of California-Berkeley. But MSU is one of only two U.S. universities classified as having both "very high research " and a "very high undergraduate enrollment profile."
What are my M&IE degree options?
We have four degree programs: Financial Engineering, Industrial & Management Systems Engineering, Mechanical Engineering, and Mechanical Engineering Technology.
If you want to earn a Master of Science degree, you can pursue one in Industrial and Management Engineering or in Mechanical Engineering. A Doctor of Philosophy is available at the college level.
What are the specialties of Mechanical & Industrial Engineering faculty?
At MSU, M&IE is particularly focused on excellence in the following thrust areas:
Design & Manufacturing
Energy Systems
Materials & Structures
Measurement Systems
Service Engineering
Human Factors Engineering
Faculty guiding graduate students participate in a wide range of research activity funded by agencies like the Department of Defense, Department of Energy, NASA, and the National Science Foundation, plus private and state agencies.
Will I get a chance to apply what I learn in class?
You'll benefit from active learning. M&IE houses several laboratory and computing facilities in discipline-specific areas. All undergraduate students are also exposed to a senior design experience with "real world" applications.
What opportunities will I have outside of class?
Your choices are endless. Click here for a snapshot of student life in the Norm Asbjornson College of Engineering (in a new window.)
Will the Department help me when I need it?
M&IE is one of MSU's most popular, and hence largest, academic units, but as one of our students, you'll get the personal attention you need. We see our size as a sign that our students' success attracts attention. We have relevant programs and successful students.
If you want to connect with your professors and to the Department's staff, M&IE has what you want. All of our faculty teach undergraduate students and mentor students outside the classroom. Many work alongside students, including undergrads, in research labs. At MSU, exciting research opportunities aren't just for graduate students.
Staff members recognize students' faces and make themselves available to answer questions and provide advice.
Kathy Campbell is our Graduate Students and Scholarships Coordinator as well as our Class Schedule and Course Catalog director and she can answer a multitude of departmental questions.
Alex Reynolds and Mary Horner-Richardson areour Undergraduate Academic Advisors

and can answer questions regarding course registration, progress towards degree, and DegreeWorks, as well as many departmental questions.

Taci Etherington is our Budget Analyst and can answer questions regarding travel expenses, capstone budgets, and disbursement as well as payroll and direct deposit.
Vacant Assistant to the Department Head and has answers to many questions regarding Factulty Schedules, Departmental Contacts, Navigating MSU as well as Navigating the Norm Asbjornson College of Engineering!
Several programs and student organizations that help students build communities and support networks are available, including for women and ethnic minorities (EMPower, Society of Women Engineers, and American Indian Science and Engineering Society (AISES)).
How do I transfer to MSU and bring credits along?
Transferring of AP and college credits to MSU is handled by the University Admissions Office. Evaluation of transfer courses into the MSU curriculum will be completed upon successful admission indicated intention to enroll at the University. Established Transfer Equivalencies can help aid in planning a successful transfer to MSU. There are transfer procedures for International students as well.
Come join us and make a difference!