Mechanical Engineering Program
Mechanical & Industrial Engineering Department
Mechanical Engineers collaborate with engineers from all other disciplines. You may work with electrical engineers on a new generation of computers, civil engineers to create earthquake-resistant buildings, or chemical engineers to advance environmental clean-up. Your skills will be some of the broadest and most adaptable in the engineering profession.
In the broadest terms, ,mechanical engineering is concerned with the conversion, transmission, and use of energy. Of the four basic forms of energy - thermal, mechanical, chemical and electromagnetic - the mechanical engineer is is primarily concerned with thermal and mechanical energy. These "tracks" of mechanical engineering - thermal sciences and mechanics - make mechanical engineering one of the most diverse fields of engineering, with a tremendously wide variety of career opportunities.
No Limits Ideation
Design next generation spacecraft, airplanes automobiles and cycles

Develop alternative energy systems

Build "nano" machines with biomedical applications

create environmentally friendly "green" buildings

Generate devices to assist those with differing physical abilities

Learn how nature solves problems and use that to inspire new engineering designs

Specialty Areas
Mechanical engineering is very broad, and ME's are employed in most areas of technology. Following are a few examples:
aerospace industries, including commercial and defense aircraft and satellites;
manufacturing industries including cars and trucks, recreational and sporting equipment, and robotics;
conventional and alternative energy industries including solar and wind energy, heating/ventilating/air-conditioning systems, and fuel cells;
laboratories performing a wide variety of research and development;
consulting work, including product development and forensic engineering.
Students graduating in Mechanical Engineering from MSU-Bozeman will be well-versed in the in the fundamentals and will be on top of the latest innovations. Students will also have plenty of hands-on experience. For instance, the capstone senior design projects require students to work in teams (just like on the job) to help companies solve real-world problems.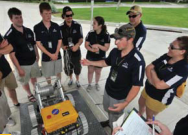 The Mechanical Engineering undergraduate program is accredited by the Engineering Accreditation Commission of ABET, 415 North Charles Street, Baltimore, MD 21201. Telephone: +1-406-347-7701.
ABET accreditation is an important seal of approval for many employers.
Mechanical Engineering program Accreditation Status, Mission, Objectives, Outcomes, Enrollment and Graduation information can be found here.
More information, including coursework requirements can be found in the Course Catalog here.
Program questions can be directed to [email protected].