Amskapi Piikani (Blackfeet) Planning

About Our Partnership

The history of planning among the Niitsitapi ( Blackfoot Confederacy) is a rich story of values and relations, from Iinnii (Buffalo) to Mistakis (mountains). While more than 50% of the remaining biodiversity in the state of Montana alone lays within Amskapi Piikani territory, the story of a land stewardship ethic is deeper and more nuanced. Being able to spend ample time in this Indigenous territory monthly offers our MSU research team a unique opportunity to connect with Indigenous planners and political leadership. In this time we have gained a better understanding of these lands, situation, needs, planning practice and vision.
Working with community members, leaders and partner organizations we have been able to better understand how Blackfeet values inform existing programs, many of which we see as partners or potential partners in documentation. Working alongside Blackfeet planners we reviewed planning agendas and policy documents, and now have a shared inventory of GIS data from Blackfeet lands for use with mapping. Through ongoing community discussions, live polling and paper surveys about land use and livelihoods, conducted with a cross section of tribal members (including elders and youth), we are continually learning Blackfeet values that inform land planning and policy for that Nation.
Having acquired the equivalent of 323,513 acres of fractionated land through the Cobell Settlement's Land Buy-Back Program in 2017, the story of excellence in Indigenous planning at Blackfeet continues. Using spatial GIS mapping, media rich storytelling platforms like 360 video and audio recordings, print publications and exchange with other tribes we see tremendous potential to share the story and practice of Blackfeet land stewardship with others in the Northern Rockies and beyond.
Projects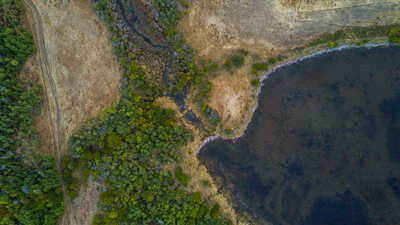 ōt"kwaipiiksaakii (Yellow Bird Woman) Sanctuary
The Sanctuary was founded for the mutual well-being of Amskapi Piikani land and people. Here, Elouise Cobell envisioned bringing the land and the people together, and hoped that the Sanctuary would be protected by and for her people as a place of natural wonder and abundance. It is one part of her enduring legacy and the first Native American land trust in the nation.

About the Blackfeet Nation
The Blackfeet Reservation, headquartered in Browning Montana, is the third largest reservation in the state encompassing approximately 1.5 million acres, roughly the size of the state of Delaware.
The reservation is home to around 7,000 people (56% of the enrolled tribal members), the largest Indigenous population in Montana
The greater Blackfoot Confederacy spans north and south of the US-Canadian border, and includes from north to south: the Siksika (Blackfoot), the Kainai (Blood), the Piikani (Northern Piegan) in Canada, and the Amskapi Piikani (Southern Piegan) in the U.S.
Niitsitapi (the real people) is what members of the Blackfoot Confederacy call themselves