Traditional BSN Application
Welcome!
We are very excited that you are considering joining the Bobcat Nursing family. We strive to make our application process as easy as possible. Please read the information below, and if you have any questions don't hesitate to reach out to an advisor. We look forward to hearing from you soon!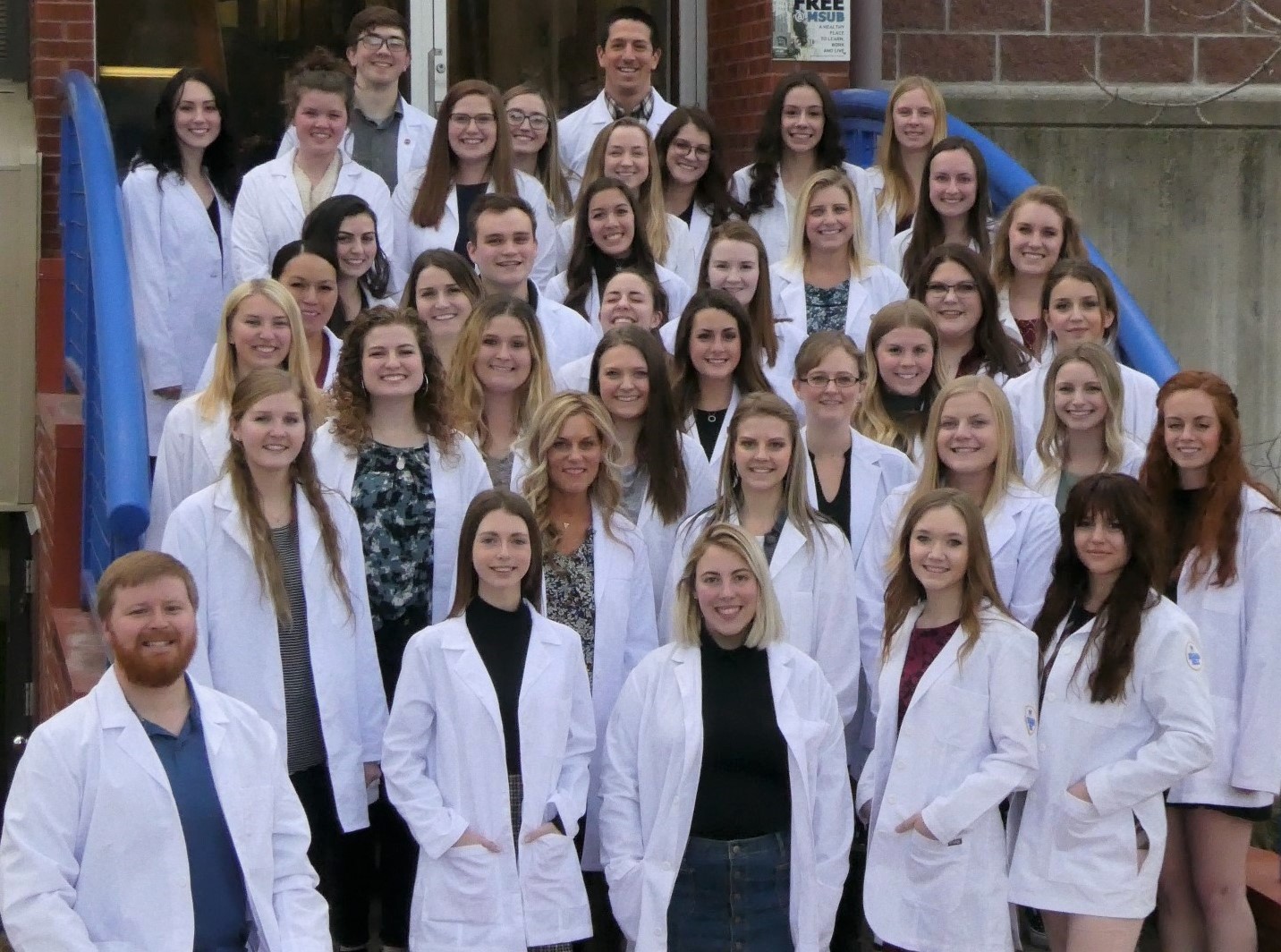 Traditional BSN nursing students are placed into campus cohort groups (Billings Spring 2020 Cohort above) and advance through the last four semesters of nursing courses together before graduation. It is important to complete the application for placement prior to starting the final semester of prerequisites in order to prevent a semester gap of courses. During this final semester of prerequisites you will receive notice regarding acceptance into the program and campus cohort placement.
For students planning on applying for Fall 2023 placement (application opens November 15, 2022 and closes January 5, 2023), please watch a recording of the information session held on Thursday, November 10.
Timeline
Spring placement:
June 15 – The NursingCAS Application will be open for placement the following spring semester
August 15 – NursingCAS will be closed at 10pm MST time and urine, drug screen, and background check are due
August 31 – Official transcripts are due through NursingCAS. Summer grades will be calculated in for the Spring application
October 3 – Notification regarding placement in the Spring campus cohort
Fall placement:
November 15 – The NursingCAS Application will be open for placement the following fall semester
January 5 – Nursing CAS will be closed at 10pm MT time, Urine, drug screen, and background check are due
January 31 – Official transcripts are due through Nursing CAS. Fall grades will be calculated in for the Fall application
March 1– Notification regarding placement in the Fall campus cohort
Requirements for Application
A calculated GPA of 3.0 or higher in required prerequisite courses.
Be on track to complete all prerequisites prior to placement start date, with a grade of C- or better ( prerequisites must have been completed within the last 15 years). No more than 2 repeats total across the required prerequisite courses. A grade of "W" counts as a repeat. If you are interested in appealing, please contact an advisor.
At least 3 of the 5 required natural science courses must be completed with a grade of C- or better to apply to the nursing program. Those courses are: BIOH 201**, BIOH 211, BIOM 250, CHMY 121 and CHMY 123.
**BIOH 201 (Anatomy and Physiology I) MUST be one of the three completed science courses in order to apply.
Campus cohort placements will be based on your campus ranking in the application. If you are not offered your 1st campus choice, you may decline your guaranteed placement and request placement on the wait list for the desired campus. If you are not offered initial placement, you may also request a spot on the waitlist. If you are not placed from the waitlist, you may re-apply during the next application period.
Application Process
There are two required steps to the application process for placement into nursing courses.
1) NursingCAS:
To apply to the BSN Program at MSU you must use the NursingCAS portal, the nursing profession's online application service. The Traditional BSN application will only be available beginning on June 15th (for Spring placement) and November 15th (for Fall placement).
Please refer to the

MSU NURSINGCAS APPLICATION INSTRUCTIONS

for assistance while filling out the application.
2) Clinical Compliance Tracking: The College of Nursing utilizes Complio (American Databank), an accredited member of the Professional Background Screeners Association (PBSA). All applicants must order and complete an Application Package from Complio, which includes a background check and urine drug screen, prior to the application deadline. *Only Complio background check and urine drug screen reports are acceptable, no other organizations results will be utilized.
Opens for FALL PLACEMENT applicants on December 1st
and SPRING PLACEMENT applicants on June 15th.
Portal link: Complio MSU Compliance *When you enter the portal, select the $63.95 Application Package.
If accepted into the program you will be given information on completing the rest of the Clinical Compliance Tracking needed prior to the start of the program.

This requires creating an account and submitting documents through the clinical compliance tracking portal.

e-learning **
Immunization **
CPR - must be American Heart Association (AHA) BLS for Healthcare Providers **
Proof of Health Insurance **
**These items must be completed prior to the start of the program, Aug 1 (fall) and Dec 1 for (spring).
*On November 3, 2020, Montana voters passed Initiative 190 and Constitutional Amendment 118, which allows for limited recreational use of marijuana for adults age 21 and older. However, use or possession of marijuana remains a federal crime. Per the Montana Board of Regents, the possession or use of marijuana on campus property and in MUS programs is prohibited. The MSU Code of Student Conduct described this policy in more detail including that all forms of marijuana are prohibited including tinctures, edibles and topicals. Students who use or possess marijuana on campus are subject to discipline.
In addition, as a nursing student -- and when you become a nurse -- you are obligated to meet the clinical compliance requirements of a clinical agency. These requirements include a negative urine drug test when you apply to nursing school and annually while in the program. Per CON policy, applicants or current students with a positive urine drug test are not allowed in the program. Applicants may re-apply in the next admission cycle with permission of the CON Scholastic Committee. Current undergraduate or graduate nursing students may seek reinstatement through the CON Scholastic Committee.