Bobcat Parent & Family Program Webinars
Continue Your Education, Support Your Student
We understand that the process of selecting an institution and supporting a student through college is a daunting task. Often, we get asked by parents and family members of our Bobcats, "How can I best support my student?" The best answer is to be an educated source of support.
The Bobcat Parent & Family Program (BPF) is here to support you in this important role. Not only do we offer specific one-on-one support through our email and our hotline (406-994-7359), but we also provide webinars as an opportunity to further understand collegiate challenges and strong family support so that your student may develop into a professional, independent, and well-rounded graduate!
Webinars are live, online programs with both video and audio elements. The webinars are free. You will not need to buy any additional software, although a free download or two may be required to make sure your computer is up-to-date.
Watch Previous Webinars On Demand
Off-Campus Living 101
Recorded January 26th, 2022 at 6pm MST
The Bobcat Parent & Family Program has partnered with MSU Residence Life, Peak Property Management, and Berkshire Hathaway HomeServices to provide parents and families with a webinar focused on moving off-campus. The purpose of this webinar is to discuss the pros and cons of moving off-campus and to identify important aspects of moving into Bozeman's neighborhoods. This webinar will also help to explain more about MSU's resources for making the successful tranisiton to off- campus living. Expand to view in full screen mode for best quality.
Search Strategy slide discussed by Kevin O'Brien: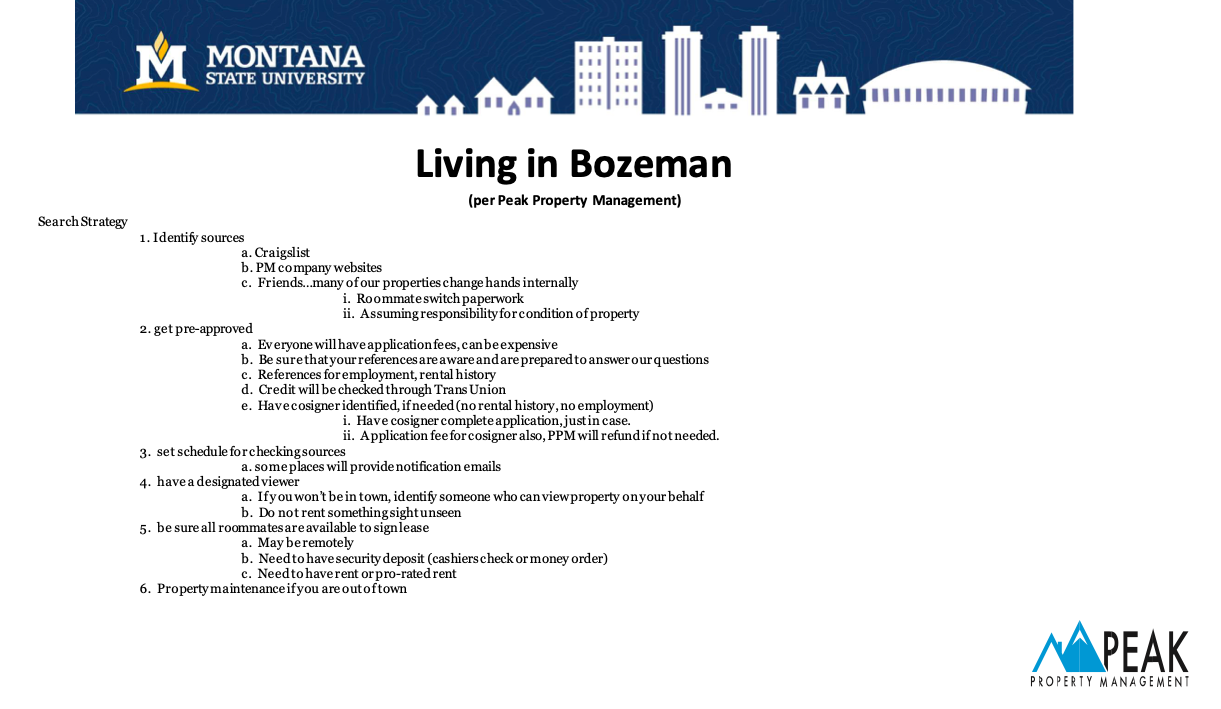 You can find ot more about those recources at our website: https://www.montana.edu/offcampusliving/
Please contact us to request a copy of the PowerPoint.
Summer 2021 Residence Life /Move-in Day Webinar
Recorded June 24th, 2021 at 6pm MST