If you are new to our department (freshman, transfer student, change of major) you will meet with Jeffrey Nelson, the Social Sciences Academic Advisor. You can schedule an appointment with Jeffrey here.
As a new student in our department, your Academic Advisor will be Jeffrey Nelson for your freshman and sophomore years. After the completion of your second year, you will be assigned to a Faculty Advisor based on your last name, using the system below. Your Advisor is able to help you with a variety of issues, such as course scheduling, degree requirements, class registration, graduation, career advising, and can provide information on potential Graduate Schools. To make an appointment with your Advisor, please contact them directly. If your assigned advisor is unavailable, you may contact another advisor for assistance.
Faculty Contact Information and Office Hours:
Plan your curriculum
Meeting regularly with a psychology advisor before each registration period is important to ensure you understand your graduation timeline and are able to successfully complete your major. Keep in mind that the required courses for our major are pre-requisites for the next required course (see graphic below). Students tranferring in or changing their major to psychology without any of these courses should therefore expect AT LEAST five terms to complete the required course progression. Psychology students are required to receive a "C" or better grade in their coursework.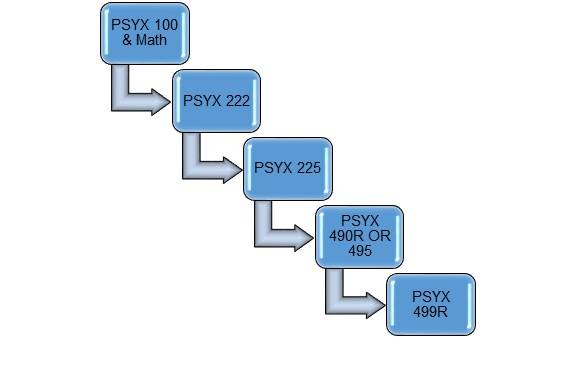 You can find the complete curriculum at the links below:
PSYX 490R: Undergraduate Research
Student have a chance to engage in one of our faculty research labs.
PSYX 495: Field Practicum
Helpful Guides
Find a Career Path! You can do a lot of things with Psychology
Graduate Study in Psychology