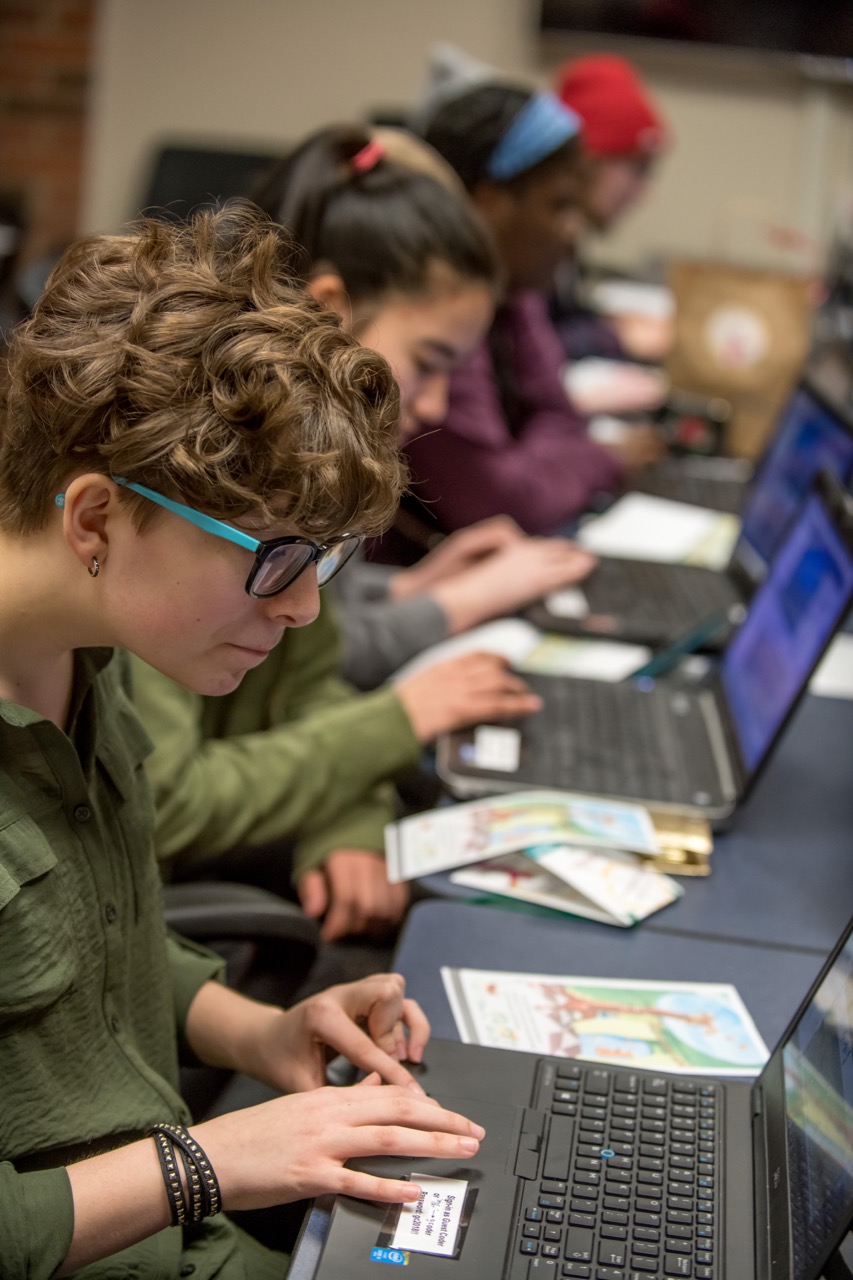 Outreach event at Girls for a Change.
Our team has several paid positions for Summer Research Experience for Undergraduates (REU) students, Undergraduate Work Studies, Undergraduate Research Assistants, and Graduate Research Assistants. There are also many volunteer opportunities to help with outreach events.
This work falls under two NSF-funded projects entitled "Improving the Pipeline for Rural and American Indian Students Entering Computer Science Via Storytelling" (NSF 1657553) and "Collaborative Research: Indian Education in Computing: a Montana Story" (NSF2031795). Through these projects, the team engages American Indian and rural Montana middle school students in learning computer science and computing skills through Alice, an object-based educational programming environment.
Project roles and duties of the positions will vary according to the student's background. Though students from all disciplines are encouraged to apply, familiarity with computer science, education, and/or American Indian studies is preferred. In particular, we are looking for someone with experience in 3D graphics to help us generate culturally appropriate models for use in our lesson plans.
HOW TO APPLY?
Please click on the button below to apply.

Applications are accepted on a rolling basis. If you have questions about the positions, or the application process, please contact us at [email protected].
Eligibility
All are welcome to join our team as volunteers at our outreach events!
All current undergraduate or graduate students are eligible to apply for Research Assistant positions. Undergraduate students must be enrolled in 6 or more credit hours if working in a Work Study position.
Undergraduate REU student participants must be citizens or permanent residents of the United States or its possessions. An undergraduate student is a student who is enrolled in a degree program (part-time or full-time) leading to a baccalaureate or associate degree. Students who are transferring from one college or university to another and are enrolled at neither institution during the intervening summer may participate. High school graduates who have been accepted at an undergraduate institution but who have not yet started their undergraduate study are also eligible to participate. Students who have received their bachelor's degrees and are no longer enrolled as undergraduates are generally not eligible to participate.