COVID-19 Resources: See OPI's latest updates and information regarding School Nutrition Information/Guidance for Meal Service During COVID-19 and COVID-19 Meal Service Resources.
Current News:
Spring 2020 Wellness in Action Newsletter
Learn about creating a stronger wellness policy, our summer Montana Cook Fresh Leadership Institute, the Farm to School Summit and more featured in the spring 2020 issue of Montana School Wellness in Action newsletter.
Interested in becoming a Team Nutrition School?
Show your commitment to healthy kids by becoming a Team Nutrition School. It's quick and easy to do. Sign up to be a Team Nutrition School.
Montana Team Nutrition supports schools in building healthy nutrition environments so that children: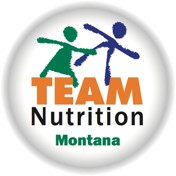 Learn about food through nutrition education and farm to school activities,
Enjoy delicious, healthy meals served in smart lunchrooms that nurture positive and pleasant mealtimes, and

Practice healthy eating and physical activity habits during the school day.
Team Nutrition staff provide training and technical assistance to school staff, community members, and local and state wide partners. Utilizing the Dietary Guidelines for Americans and the USDA School Wellness policy as the foundation of our services,we are proud to support children in eating smart and playing hard for a healthy future.
---
Montana Team Nutrition Program works in close collaboration with the Office of Public Instruction School Nutrition Programs, and is funded by the United States Department of Agriculture (USDA), Team Nutrition Training Grant Program. The USDA is an equal opportunity provider and employer.With Montana Team Nutrition being within the Department of Health and Human Development at Montana State University, collaboration with faculty especially the Food and Health Lab, and MSU Extension Nutrition Education Programs naturally occurs and provides a strong foundation for active partnerships to maximize resources and strengthen research. Team Nutrition staff invite students and interns to learn through service learning projects and is excited to be preceptors for the Montana Dietetic Internship Program and other programs within the Department of Health and Human Development.