Self-Service NetID Password Portal
MSU NetID Password Management
In order to utilize this service, all current, and past, MSU faculty, staff, and students must set up a new user profile for NetID password management. This process replaces the MyInfo PIN login process. NetID is now the login ID for MyInfo.
New user setup requires configuration of challenge questions and also the choice to set up email and/or text authentication for future use.
User profiles can be set up (and updated at any time) without having to change your NetID password.
Passwords can be changed at anytime, waiting for expiration is not required.
Cell Phone, Tablets or any other devices that access accounts/services with your netID must also be updated as soon as you change your password. Failure to update these devices with the new password will cause them to continually try and access these account using the old/wrong password, eventually locking your account. After 10 minutes the system will eventually unlock the account, but if the password is not updated, this behavior will occur again. The most common culprit of lockouts is Wifi passwords. More information on updating password on mobile devices can be found at this URL: https://www.montana.edu/uit/ids-services/pw-update.html

I can login Into D2L, but I cannot login into other services like email. There are a few reasons this can occur. To solve this issue, reset your password. How do I set/change my NetID password? If this is not successful, please contact the UIT Service Desk.
To Reset your NetID Password
Click on the Password Portal button above then click the Go to Reset button and follow the onscreen instructions.
Instructions to get started
New User Setup
Go to

Password Portal (see blue button above).

Click Go to Setup Tool button in New User Setup tile (see fig 2).
Enter NetID and click Continue (see fig 3).

If you are new to MSU and have never set a password for your NetID you will:

Enter MSU ID and Date of Birth and click Continue* (see fig 4).
ID example: -01212121
DOB format example for April 23, 1989: 04231989

Those who've set a password for their NetID prior to Aug 16, 2018 will also have the option to enter it during this step and as long as it hasn't expired. If it has they'll be able to enter their MSU ID and DOB instead.
Select and configure Authentication method(s).
The methods (challenge questions, email, text) you choose to set up during New User Setup will be available for you to use in the future when you log into the portal.


5 challenge questions - (see fig 5)
You are required to configure 5 challenge questions.
Email - (optional) provide an email address to use to receive a verification code (no fig, see fig 6 for reference)
Text- (optional) provide cell number that can receive a verification code (see fig 6)
NOTE: You only need to set up one authentication method however, you are required to set up challenge questions regardless (you'll be prompted).
TIP: Use the SKIP button to pass over options you don't want to setup. You can always update your profile later to add or update an option (see image below)
fig 6 -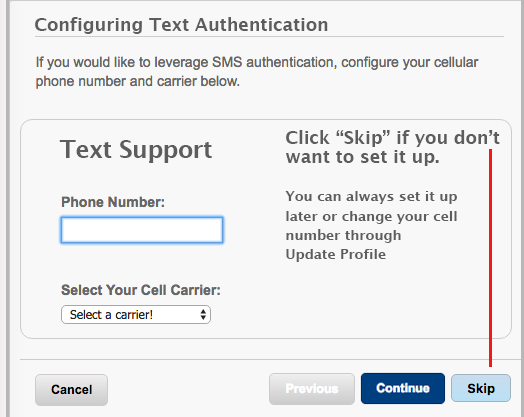 Upon completion of setting up your new user profile you can leave/close the page, or continue to set/reset your NetID password.