Law News and Announcements
Watch for news about Pre-Law club meetings and events!
Have an idea for a guest speaker or activity? Let us know!
Sign up for the email list: [email protected].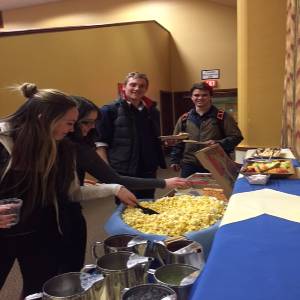 Pre-Law Club movie night Pre-Law Club movie night - food and fun
Pre-Law Club at Catapalooza

Pre-Law Club at the Not in Our House
Taskforce Graduation Ceremony
LSAT - 2019/20 Test Dates
Saturday, September 21, 2019
Monday, October 28, 2019
Monday, November 25, 2019
Monday, January 13, 2020
Saturday, February 22, 2020
Monday, March 30, 2020
Saturday, April 25, 2020
For other test dates or Saturday sabbath test dates, please visit the LSAC website.
LSAC strongly encourages early registration!
US 140 - Intro to Law and the Legal Profession (1-credit, online only)
This course is a great opportunity to explore your interest in law school and careers in the law. In Intro to Law and the Legal Profession, we'll explore the process of a legal education, identify areas of possible interest for careers in the law, and develop an understanding of the law school process.*online only