Professional Coaching Clinic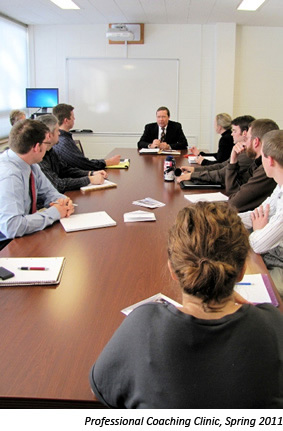 About the Clinic
The Professional Coaching Clinic (PCC) is a program where business students will be paired with a personal coach who has significant experience working and coaching in professional business environments. Each student will meet regularly with his/her coach throughout the semester to explore his/her professional strengths and weaknesses and to develop and carry out an action plan designed by leading business professionals and will have other opportunities to develop their professional networks.
The PCC Opportunity is available to only 12 upper-level students in fall and spring semesters. Students must apply for the opportunity to participate. Please review the criteria for eligibility in the PCC application.
Interested? Please e-mail t.machowiczolsztyn@montana.edu for an application.
Benefits to students include:
Receive one-on-one attention to improve your professionalism by identifying your strengths, weaknesses, competencies, interests, and personal and professional aspirations.
Gain insights regarding your intended career path through self-assessment and reflection, as well as feedback from experienced professionals.
Build your professional network.
Prepare to succeed in your job and your career by completing assignments catered to your field of study.
Assemble your professional portfolio.
Earn 1 credit, substituting BGEN 303, Professional Coaching Clinic.
Commitments required of students:

True engagement in the concept of professionalism and an eagerness to improve your self-awareness and professional skills through one-one-one coaching sessions.
Ability to meet Mondays, 3:10-4:00 p.m. periodically throughout the semester.
Ability to participate in two to three master meetings that may require 2 hours on a Monday, from 3:10-5:00 p.m..
Jake Jabs College of Business & Entrepreneurship (JJCBE) News:
Business Students Turn to Professional Clinic to Help Reach Career Goals
Professional Coaching Clinic Proves Beneficial to Student Success
MSU College of Business Takes Students from Backpack to Briefcase
Interested? Please e-mail t.machowiczolsztyn@montana.edu for an application. Applications for spring and fall are accepted during registration and PCC seats are filled upon receipt of qualified applicants. Questions? Please contact Tammy Machowicz Olsztyn, 250D Jabs Hall, 994-2642, t.machowiczolsztyn@montana.edu.