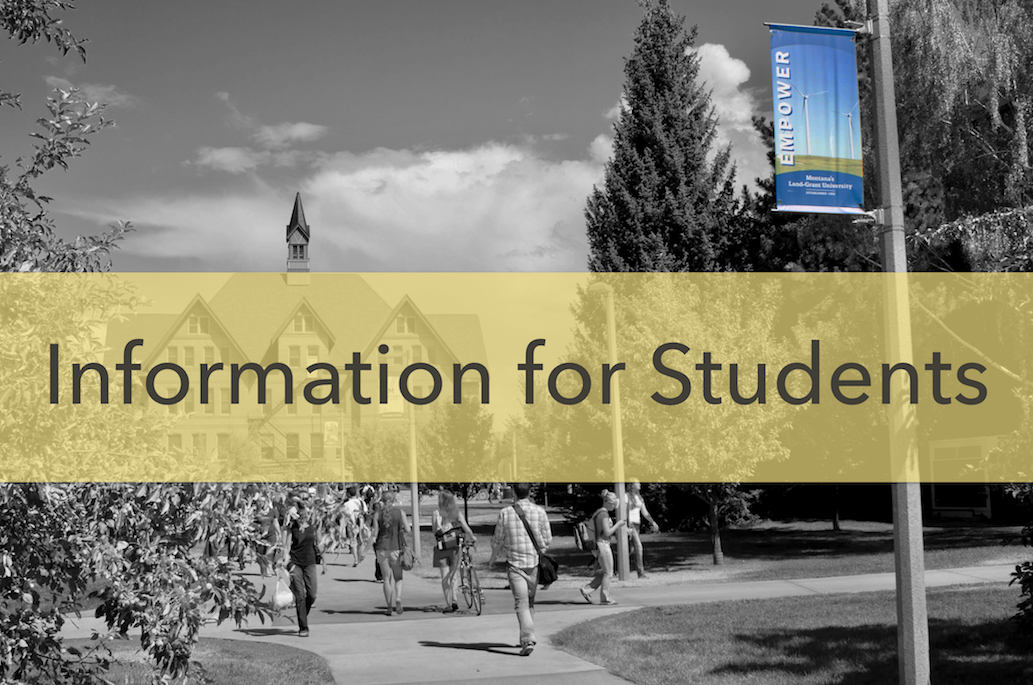 Montana State University - Bozeman has a proud history of accommodating persons with disabilities, and the staff at the Office of Disability Services is committed to ensuring equal educational access and full participation in all of the university's programs, services and events.
Students seeking academic accommodations should contact the Office of Disability Services to inform the office that they have a disability and are requesting an adjustment or by clicking on the "Click Here to Register" button on the left-side. A meeting with a staff member will be set up to discuss the student's request and to gather information about the functional impact of the disability in an academic setting and adjustments that have addressed limitations in past settings.
The accommodations process is an interactive one that usually requires documentation of the disabling condition and functional limitations that result. Under the 2008 ADA Amendment Act, key questions that should be addressed in documentation include:
Is there clear evidence of a disability?
What is the impact of the disability?
Does it substantially limit a major life activity?
Is there history of receiving services?
---
Documentation Guidelines
Guidelines for specific disabilities may be found at the following links:
---
Student Forms
---
Student Policies
---
Confidentiality and Privacy of Records
Your right to privacy and confidentiality is a high priority at MSU's Office of Disability Services (ODS). All records are kept in locked file cabinets. Except as noted below, no information regarding a student's disability or use of services will be released to parties outside of ODS without prior written consent:
General information concerning the student such as name and address will be released in the same manner as other student records. See the MSU Catalog for description of MSU's policy regarding the release of student records.
Confidential information, such as the student's disability or use of ODS services, may be shared in the course of consultation with or referral to other appropriate professionals within MSU, when the person has a legitimate educational interest.
For legally mandated audits and investigations.
When required by court order or subpoena, the specific information requested will be released.
In extreme situations where immediate harm to self or others may result, the law may require that essential information to be reported to necessary agencies or parties.
Special Housing Requests
Some requests for special housing considerations can be recommended for approval by Office of Disability Services after verification of medical or disability-related need. The process should be started with Residence Life by indicating needed or requested accommodations on the student's Housing Application or on the Request for Exemption from First Year Live In Requirement. Residence Life makes a final decision based on Disability Services' recommendation, room availability, and the student's application date. Some decisions may also be subject to committee review. Students who wish to be considered for special housing requests are encouraged to apply for housing and contact our office well before the March 1 priority deadline.
Single Room Requests
Residence Life has a limited number of single occupancy rooms for which students with qualifying disability limitations may be given priority placement. Documentation supporting housing requests must contain the following criteria:
It must be written by a licensed health professional and must include a formal diagnosis that rises to the level of a disability. This can be included with documentation to be considered for academic accommodations.
It must establish a clear connection between the recommended housing request and the impact/current functional limitations of the condition.
It must address why the accommodation requested is a medical/disability need for the student in order to ensure equal opportunity.
Note on single room accommodation: In general, diagnoses such as ADD/ADHD or Specific Learning Disability do not lend themselves to single room accommodations. A single room cannot guarantee a quiet environment. Students who need to study in a quiet environment can have their study needs met in areas such as the library or other designated quiet study areas on campus or in the Residence Halls. We will evaluate each request on a case-by-case basis.
---
Preparing a Core Appeal
Prepare an appeal to the Core Equivalency Review Committee (CERC) for students with math learning problems caused by learning disabilities.
Disability Grievance Procedures
A client who believes he/she has been unlawfully discriminated against as a result of a decision by the Office of Disability Services personnel or other MSU-Bozeman personnel to refuse a requested accommodation or modification or to reject his/her claim of disability may file a complaint through one or all of the offices or agencies listed below.
Office of Institutional Equity
118 Montana Hall
Montana State University
Bozeman, MT 59717
Voice: (406) 994-2042
TDD: (406) 994-4191

Montana Human Rights Bureau
1625 11th Ave.
PO Box 1728
Helena, MT 59624-1728
Voice: (406) 444-2884
Toll free: (800) 542-0807

U.S. Department of Education Office for Civil Rights
Seattle Office
915 Second Avenue, Room 3310
Seattle, WA 98174-1099
OCR.Seattle@ed.gov
Voice: (206) 607-1600
Fax: (206) 607-1601
TDD: (206) 607-1647