The LIFE Scholars curriculum consists of three main domains: academics, campus engagement and career development.
Students:
Audit 1-4 classes each semester to gain knowledge in their areas of interest.
Engage in extra-curricular campus activities to develop social networks.
Participate in campus and community internships to develop job skills and explore careers.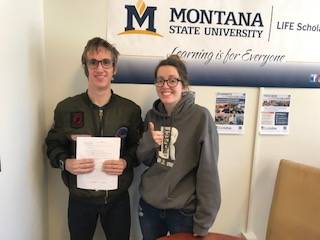 A LIFE Scholars Certificate is awarded upon successful completion of program requirements. Graduates are eligible to participate in the MSU Commencement ceremonies. Opportunities to develop self-determination and independence are woven into each aspect of the program. Students identify a career pathway and set goals for their learning by choosing which courses to take, making decisions about joining clubs and attending events, and learning how to advocate for themselves to get what they want and need. LIFE Scholars direct their own college experience with support from staff and peers. The primary role of LIFE Scholars staff is to facilitate the inclusion of students into classes, campus activities and work opportunities, not to instruct. Students are instructed by college faculty, like all other college students.
Values
Learning is for everyone (LIFE).
Individuals with intellectual and developmental disabilities can engage in and do benefit from higher education learning.
College is a path to self-determination, independence and competitive employment for all students.
An inclusive college environment benefits the campus and broader community by raising expectations of all learners, expanding our definition of diversity, improving teaching methods to include Universal Design for Learning, and providing skilled workers to meet the needs of community businesses.
Program Goals
To create a fully inclusive campus community at MSU with high expectations of success for all diverse learners.
To facilitate engagement in campus activities and events to encourage social connections and create community membership.
To provide opportunities for students to develop self-determination skills, addressing ones wants and needs through decision-making, problem solving, and goal setting.
To prepare students for integrated, competitive employment.
To offer on-campus residential housing to students within 5 years of piloting the MSU LIFE Scholars Program.
Student Learning Outcomes
Students Will:
Become lifelong learners.
Develop self-determination to achieve individual life goals.
Gain knowledge by enrolling in courses that interest them.
Explore careers by working in a variety of internships.
Expand social networks and develop authentic peer relationships.
Be actively engaged in the campus community through involvement in extracurricular activities.
MSU LIFE Scholars Certificate.
Obtain meaningful, competitive employment upon graduation.