FIRST LEGO® League Tournament Information
The 2017 Montana FLL Championship Tournament will be held on January 28, 2017 on the MSU campus in Bozeman.
You can only register a team for the tournament if you have registered with FIRST. FIRST- MT registration filled in early October. It will open December 1 for a non-compete season. The next competition season opens May 2017.
Please make sure you've done all of the following steps to register for our tournament by January 13th

1. Log into the FIRST Portal http://www.firstinspires.org/
2. Verify which teams are registered with FIRST- MT region.
3. Sign up registered teams for our event, under FLL Team Events--2016 Animal Allies- Region Montana-- Event Montana State Championship Tournament.
4. Your portal will show either team as either pending or registered. Confirm that you are registered.
5. You'll get this automatic email from FIRST:

Greetings,
Thank you for registering for the Montana Championship Tournament. Please send in your paper registration form along with $100. If you need a copy of the form please send me an email, cforeman@montana.edu or visit our website http://www.montana.edu/first/.

See you in Bozeman!
Christine

6. Fill out the following pdf and return one for each team to us with the $100 fee, payable by check or purchase order.
7. Once we process your payment, your team in portal will show 'paid.'
8. You'll also get email confirmation from Christine Foreman that you are paid and registered.
Watch a video about the 2013 competition from KTVM, NBC Montana. (in a new window)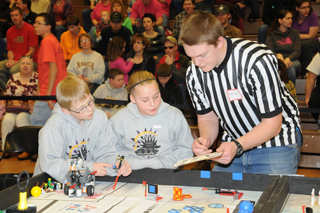 Montana Regional Championship
7:30 – 8:30 am
Registration
North Lobby
Brick Breeden Fieldhouse
7:30 am – 5:00 pm
Pits open
South Gym
8:00 – 8:20 am
Coaches meeting - MANDATORY
Bleachers Shroyer Gym
8:00 – 8:30 am
Judges Meeting
Shroyer Gym
10:00 am
Referees Meeting
Shroyer Gym
8:30 – 12:15 am
Judging (Students only)
Shroyer Gym
10:20 am – 11:15 pm
Practice Rounds
Shroyer Gym
12:00 – 12:30 pm
Lunch Break
12:30 – 12:45 pm
Opening Ceremony
Shroyer Gym
12:50 – 4:30 pm
Competition Rounds
Shroyer Gym
4:30 – 5:15pm
Closing Ceremony
Shroyer Gym
Check out the national website for information about this year's FLL challenge (in a new window).
Click on map for larger version.
Click here for a Printer Friendly Map of Tournament Location (PDF)
---
You will need Adobe Acrobat or Acrobat Reader to view PDFs.