Montana FIRST
Verizon provides grant for 2016 FIRST robotics tournaments
The FIRST Robotics competition held at Montana State University will receive a grant from the Verizon Foundation for the 2016 competition.
FIRST (For Inspiration and Recognition of Science and Technology) is a non-profit organization that designs robotics competitions for elementary through high school students.
FIRST holds three annual competitions, the FIRST Tech Challenge (FTC) and FIRST Robotics Competition (FRC) for high school students and the FIRST LEGO® League (FLL) for grades 4 through 8.
FIRST programs challenge student teams and their mentors to solve complex problems in a limited timeframe using a standard "kit of parts" and a common set of rules. Teams build robots from the parts or LEGO® bricks and enter them in competitions.

Click here or on the image below to see a KXLF video of FIRST Tech Challenge qualifying rounds held in Butte, Montana, in December 2012.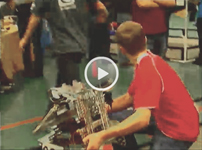 FIRST Values (Gracious Professionalism)
Respect each other in the best spirit of teamwork
Behave with courtesy and compassion for others at all times
Honor the spirit of friendly competition
Act with integrity
Demonstrate gracious professionalism
Encourage others to adopt these values