FIRST Tech Challenge

The FIRST Tech Challenge (FTC) is a mid-level robotics competition for high-school students. FTC grew out of the existing FIRST Robotics Competition (FRC), and was developed to provide an affordable way for teams of high school students to create a robotics program.
FTC teams who qualify for national competition in the news
Learn about this year's FTC Challenge at the USFirst website.
Watch the video introduction in your preferred format, Flash or QuickTime.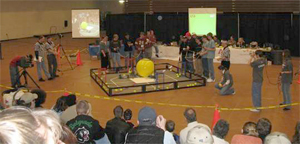 Montana FIRST
The Hardest Fun Ever.